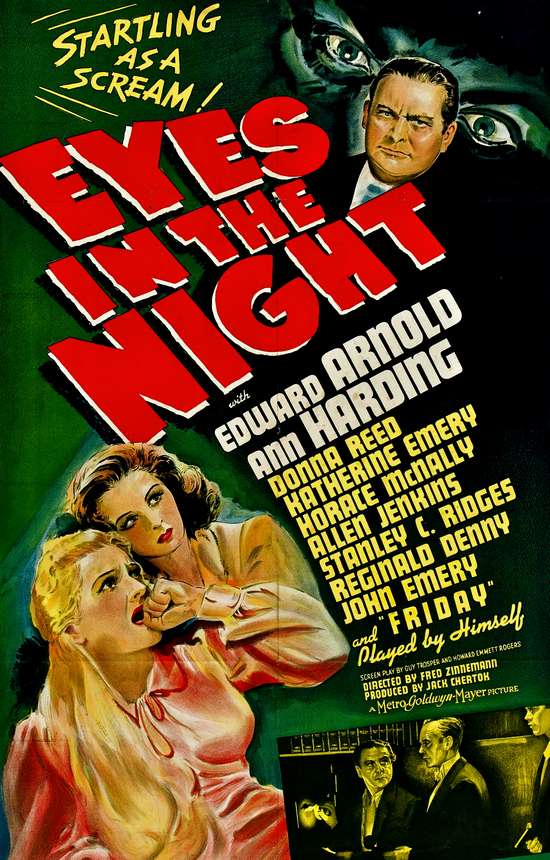 Welcome! The lobby of the Deranged L.A. Crimes theater is open. Grab a bucket of popcorn, some Milk Duds and a Coke and find a seat.
Tonight's feature is EYES IN THE NIGHT [1942], directed by Fred Zinnemann and starring Edward Arnold, Ann Harding, Donna Reed and Friday (the dog–who plays himself and steals the show).
Enjoy the movie!
TCM says:
New York detective Duncan Maclain refuses to allow blindness to interfere with his work, which is aided by his faithful dog Friday, his butler, Alistair, and his assistant, Marty. One day, actress Norma Lawry, an old friend, visits Mac and asks him to help her prevent her stepdaughter Barbara from doing something foolish with actor Paul Gerente. Paul, a cad who had once been Norma's lover, has convinced Barbara that Norma only married her father Stephen for his money. Mac tells Norma that she doesn't need a "gumshoe" and suggests that she talk to Paul herself. Paul refuses to listen to Norma's pleas and insists that he loves Barbara, who is appearing in a local theatrical production with him, even though she is only seventeen. That night, Stephen has to go away on a business trip to test a secret formula on which he has been working for the government. Because Norma is worried about Barbara, she decides not to accompany him and goes to Paul's apartment. When Barbara arrives, she finds Paul's dead body and thinks that Norma has killed him, even though Norma insists that he was dead when she arrived.