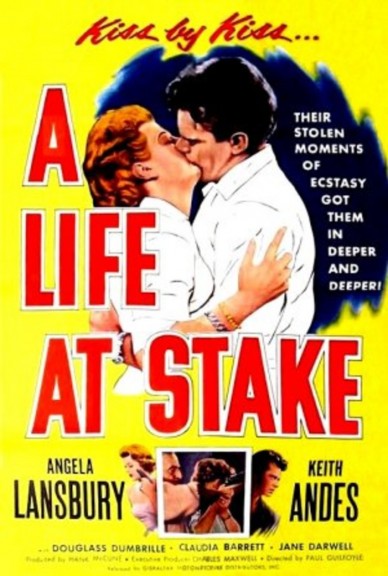 Welcome! The lobby of the Deranged L.A. Crimes theater is open. Grab a bucket of popcorn, some Milk Duds and a Coke and find a seat.
Tonight's feature is A LIFE AT STAKE [1954], starring Angela Lansbury, Keith Andes, Douglass Dumbrille, Claudia Barrett, and Jane Darwell..
Enjoy the movie!
TCM says:
Building contractor Edward Shaw is brooding over his recent business failures, due to his partner's gambling, when he is approached by lawyer Sam Pearson. Pearson, who scoffs at Shaw's determination to repay his debts, offers to introduce him to a client who can invest a half million dollars in his company. Curious, Shaw agrees to meet with Pearson's client, Mrs. Doris Hillman. At the luxurious Hillman home, Shaw is intensely attracted to the flirtatious Doris, who states that she wants to form a partnership with him in which he will build homes on the properties she finds. Doris asserts that Augustus, her much-older, wealthy husband, wants to keep her happy, but Shaw is suspicious of his sudden good fortune. Doris explains that she knows about Shaw's work because her cousin lives in a home he built, and so Shaw agrees to further negotiations, if the Hillmans supply the funds for him to repay his original investors. Doris promises to ask Hillman about the provision and Shaw leaves, although he finds himself preoccupied with thoughts of the sexy Doris.