By May 1941 Alfred Wells had been in trouble with the law for most of his 31 years. In 1927 he was sentenced to from 18 months to three years in Pittsburgh, PA for robbery, and in September, 1934, he was arrested while robbing a gas station in Fullerton, CA. He served five years of a five to life sentence in San Quentin before he was paroled on November 24, 1939. Over the next couple of years he was busted for vagrancy and various other petty crimes, but nothing big enough to send him back to prison.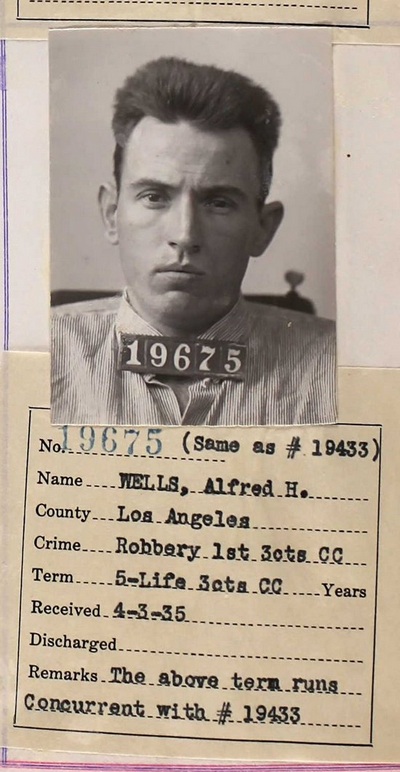 Alfred was neither the brightest guy, nor was he the most articulate, so his go-to behaviors for problem solving were threats and violence. He had learned his people skills at home as a kid. His stepfather used to restrain him while his half-brother, Ray, savagely beat him. He was the perfect size for a punching bag (4′ 10 3/8″ according to his prison records), and he was slightly hunchbacked. He was described as having "very dark brown or black hair, a knot on back just above waist, very pronounced hunchback, limps when walks, leans forward and to left when walks, knife wounds left side of abdomen, left hip and back." With no report of a traumatic injury to his spine, Alfred's hump may have been the result of congenital kyphosis. If there was any medical help available for the condition at the time neither Alfred nor his family could have afforded it.
Not long after his parole Alfred moved to San Bernardino. Most of his family lived there and no matter what they had done to him at least they were blood.  He asked his stepmother, Violet Wells Davis, if his 19 year old half-sister, Violet, could work as his live-in housekeeper. She agreed and when Violet went to live with Alfred nobody thought anything of it. None of the family knew that Alfred had become obsessed with Violet and that he immediately coerced her into a sexual relationship. Alfred threatened to kill family members and/or himself if Violet ever left him. The incestuous relationship was kept a secret for nearly a year before relatives finally became aware of what was happening and, without saying a word to Alfred, spirited away the object of his obsessive lust to her parent's home in Escondido. When he learned that Violet had disappeared, and nobody would admit to knowing where she had gone, Alfred went berserk.
On May 7, 1941Jean Wells, Ray's wife, their 13 month old daughter, Hester Violet, and a house guest, 17 year old Rose Destree, drove Alfred out to the Devore brush lands, ostensibly for a job at a chicken ranch. When they arrived at a secluded spot Alfred forced the two women from the car  and then confronted them with a gun. He demanded to know the whereabouts of Violet, but neither woman would talk. Alfred then demanded that Jean write a note to Ray–it read: "Honey, Al is holding Rosie and the baby and me. He wants Violet returned to him. I think it is better that you do what he says and go with him, and then you can come to us." Jean must have sensed she had little time left so she added a postscript: "Don't forget our slogan, Dear–I love you always."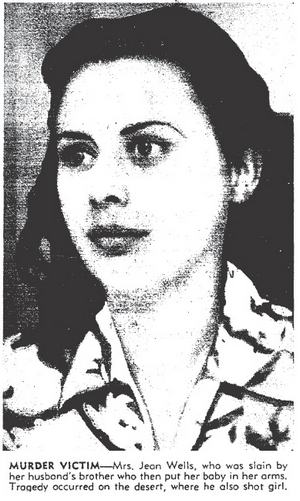 Alfred pocketed the note and held the baby in the crook of his left arm. Then he jammed his .32 caliber revolver against Jean's chest and pulled the trigger. She died where she fell. He turned the weapon on Rose and fired. She collapsed on the hard, sandy ground, just as Jean had done. Altogether Alfred fired four shots, two into each of his victims. He placed Hester on Jean's chest. Even if she lived through the night, Hester faced a horrible death the next day–the temperatures were expected to reach triple digits.
Satisfied with his handiwork Alfred turned away from his victims, got into the car, and drove away. He was determined to locate Violet.
NEXT TIME: Alfred's search for Violet, and his deadly rampage, continues.