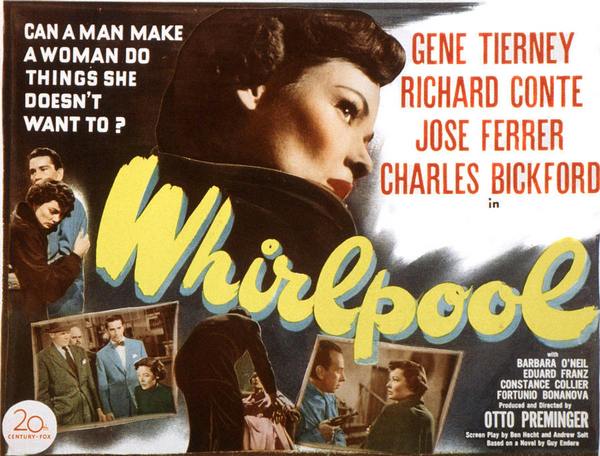 Welcome! The lobby of the Deranged L.A. Crimes theater is open. Grab a bucket of popcorn, some Milk Duds and a Coke and find a seat.
Tonight's feature is, WHIRLPOOL, starring Gene Tierney, Jose Ferrer, Richard Conte, and Charles Bickford.
Enjoy the movie!
 TCM says:

In a Los Angeles department store, unorthodox therapist David Korvo watches as Ann Sutton, wife of famous psychoanalyst Dr. Bill Sutton, is stopped for shoplifting. After convincing the manager that arresting her would mean a scandal for the store, he arranges to meet her the next day. Although Ann assumes that Korvo is a blackmailer, he gives her the store records to destroy, and invites her to a party a few days later. There, Korvo informs her that he can tell that she is a kleptomaniac, and is tired and hurt by emotional pressures. When Ann admits that she cannot sleep, Korvo assures her that he can help and then hypnotizes her without her knowledge.
https://youtu.be/eg91vy0U_9k