In late December 1930, Emery Ells went on trial for hiring Benjamin Brown to murder his estranged wife, Merle Ells. The prosecution called it "murder on the installment plan" because Benjamin had been given $2.20 worth of dimes to commit the crime with the promise of $2000 more to come.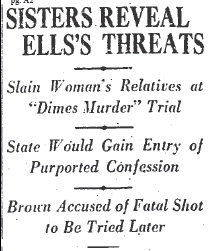 Benjamin confessed to police, but his trial was postponed until January 1931. His attorneys needed time to gather evidence regarding his sanity.
Emery retracted his confession and through his attorney, William T. Kendrick, Jr., accused the cops of giving him the third degree. The defense fought to keep Emery's confession out of court, and they won the battle–for a while. The confession made to officers was continuously blocked, but Emery had apparently confessed not only to the police but in the presence of newspaper reporter, George White. Since White had been in the room during Ells' statement he was able to testify that the suspect had not confessed under duress.
Merle's five sisters appeared in Judge Schauer's court ready and willing to testify against their former brother-in-law. Merle had often spoken to them of her fear that Emery might do her harm if she didn't allow him to have custody of their toddler son.
Emery took the stand in his own defense. He reiterated his accusation of police brutality to force a confession from him. He testified that he had been denied food and sleep for four days following his arrest. He also charged that he was kept near Merle's body in the County Morgue until 3 a.m.–all the while being peppered with questions. Deputy Coroner Russell Monroe refuted Emery's claim.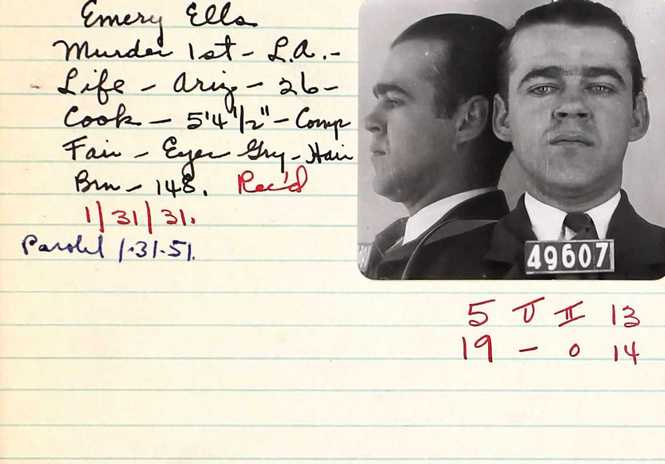 Emery's trial lasted two weeks. On January 8, 1931 after deliberating for just a few hours the jury found him guilty of first degree murder. They recommended life in prison rather than the death penalty asked for by the prosecution. When Emery heard that his life had been spared he turned to his attorney and grinned.
Benjamin Brown withdrew his plea of not guilty by reason of insanity and threw himself on the mercy of the court. Given Emery's sentence Brown had good reason to expect the same treatment. Brown's Public Defender, George A. Benedict, made an impassioned plea for leniency on his client's behalf, but Judge McComb sentenced the defendant to hang.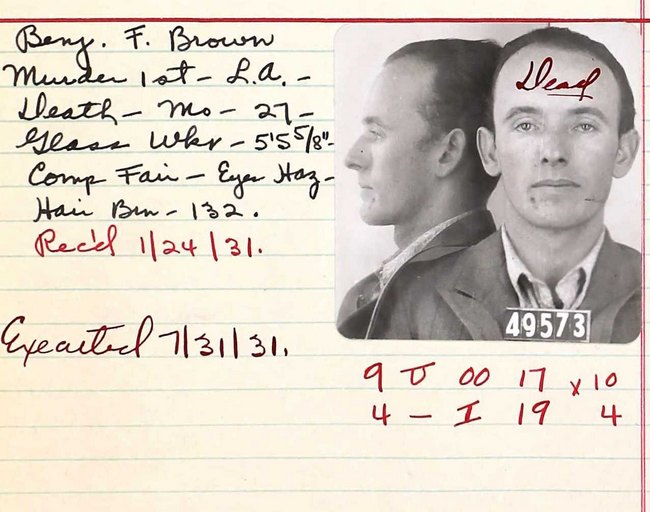 On July 31, 1931, Benjamin Brown climbed the thirteen steps to the gallows. On his way he tripped on Warden Holohan's heel. "Sorry Warden" were his last words. Earlier in the day Emery begged the Warden to be allowed to see Benjamin. He said Benjamin could exonerate him. Pretty ballsy considering he was lucky to have escaped the gallows himself. Warden Holohan denied the request. When he was told about it Benjamin said: "We are equally guilty. We did it together and we ought to hang together."