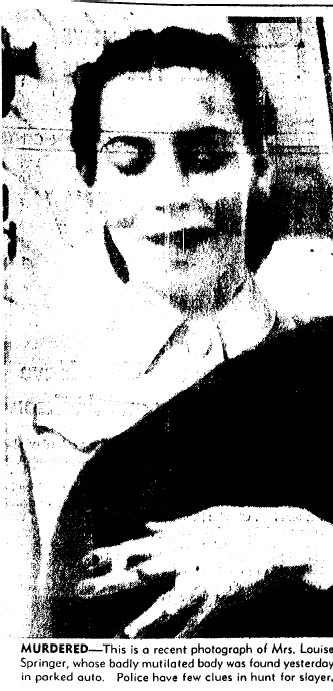 June 16, 1949, the decomposing body of thirty-five year old Louise Springer, a beauty shop operator, was found huddled in the rear seat of her husband's convertible automobile parked at 125 W. 38th Street. Springer had been garroted.
A length of clothesline was knotted around Springer's neck, with two knots under her
left ear. Her face was swollen and nearly black. Her brown skirt and yellow suede
jacket had been twisted around her body, with her skirt tangled around her hips.
A stick 14 inches in length and 1/2 inch thick had been violently driven into her vagina .
Laurence Springer had reported his wife missing about sixty hours before her body was discovered. Louise, a hairstylist, had been working until shortly before 9:00 p.m. on the night she disappeared. Laurence had arrived to pick her up from work and take her to their beautiful home in the Hollywood Hills.
He'd parked in a lot on Crenshaw across the street from the shopping center in which Louise worked. The couple walked to their 1948 convertible and Louise, who had spent hours on her feet, pulled off her shoes and put on a pair of slippers that she kept in the car. They were just about to head for home when Louise exclaimed: "Oh, I've forgotten my glasses." Laurence told her to relax and listen to her favorite radio show while he went to retrieve her specs.
Laurence got Louise's glasses, then stopped to buy a magazine and chat with a friend. He wasn't gone for more than 10 or 15 minutes, but when he returned both Louise and the car were gone.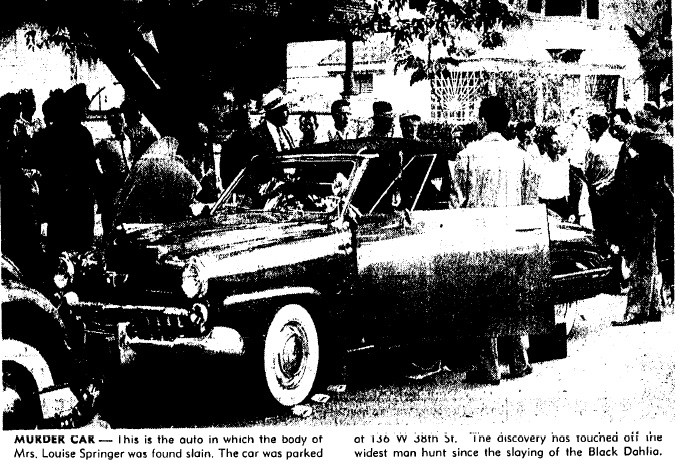 Laurence knew that something was wrong, she wouldn't have driven off and left him. He looked around for a few minutes but he couldn't find his wife. He called the cops at about 10:00 pm and a few moments later a prowl car met him at the parking lot. The officers looked around but they didn't find anything either. Laurence accompanied the police to the University Division Station where he filed a missing persons report. He then went home to be with his 21 month old son.
The Springer's housekeeper and nanny, forty-nine year old divorcee Elizabeth Thompson, nearly collapsed when she received the news of her employer's disappearance. Thompson told police that the Springers were happily married and that as far as she knew they had no enemies. She said that the couple had sold the beauty shops they owned in Northern California, then moved south to L.A. They hadn't been in town for very long before Louise was slain. 
Thompson injected a note of mystery into the investigation when she said that she had received an obscene phone call from an unknown woman about three months prior to Louise's disappearance. The caller asked several times for Thompson to identify herself, which she refused to do — then the caller made a lewd proposal and Thompson hung up on her. Cops didn't believe that the phone call had anything to do with Louise's disappearance, but during the initial stages of the investigation they couldn't rule anything out.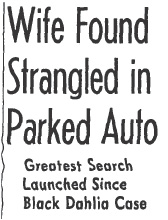 One of the most disturbing aspects of the case was that the parking lot from which Louise Springer had been abducted was only about a block away from the lot where the body of Elizabeth Short had been discovered in January 1947!
Women were terrified by the thought that the Black Dahlia's killer was once again hunting the streets of L.A. for victims. An enormous manhunt, the largest since Short's murder, was soon underway.
Witnesses in the neighborhood where Louise's body had been found came forward to say that they had seen a man in the murder car and watched him as he seemed to adjust something on the backseat – which is where Louise's body had been found covered with a tarp. A man was seen exiting the car, and some people thought that he may have been wearing a military uniform.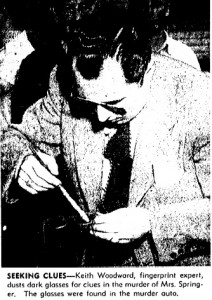 Police forensics investigators were having a difficult time trying to determine if Louise had been slugged before she was strangled, or if she'd been sexually assaulted. A relatively new test called the acid phosphatase test was used to try to determine if semen was present, but the test was inconclusive due to decomposition.
The main piece of physical evidence, the twig that was violently inserted into Louise's vagina, was becoming a huge problem for investigators — it couldn't be identified. Bonnie Templeton, curator of the botany department at the County Museum, had been called in to lend her expetise in identifying the twig. She said that it could have come from "four of five" species of trees or shrub.
It was beginning to look as if the LAPD was going to have another unsolved homicide of a woman on the books.
NEXT TIME: The investigation into the murder of Louis Springer continues.