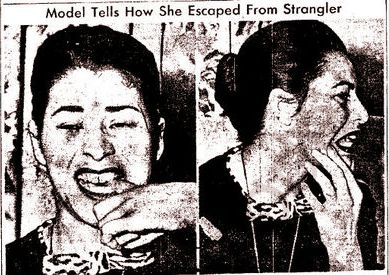 Lorraine Vigil was a hero — she had disarmed Harvey Glatman and was responsible for his capture. I love that it was a woman who took him down.
Once in custody the jug-eared little freak (sometimes I can't stay objective, sorry) was only too happy to take cops on a tour of the body dump sites for his three victims: Judy Dull, Shirley Bridgeford and Ruth Mercado.
Glatman boasted to the cops about how he carried out his attacks:
"With each one I did it the same way. After I attacked them I knew I had to kill them, for they could identify me and identify my car. So I would drive into the desert, sometimes on the pretense of taking more pictures, sometimes without any reason."

"I would make them kneel down. With every one it was the same. With the gun on them I would tie this 5-foot piece of rope around their ankles. Then I would loop it up it up around their neck. Then I would stand there and keep pulling until they quit struggling."
Harvey told investigators that he had buried Judy Dull in a shallow, sandy grave, but he didn't bury Shirley Bridgeford, his lonely hearts club date, because he walked her "almost a mile into the desert and I didn't think anyone would find her there."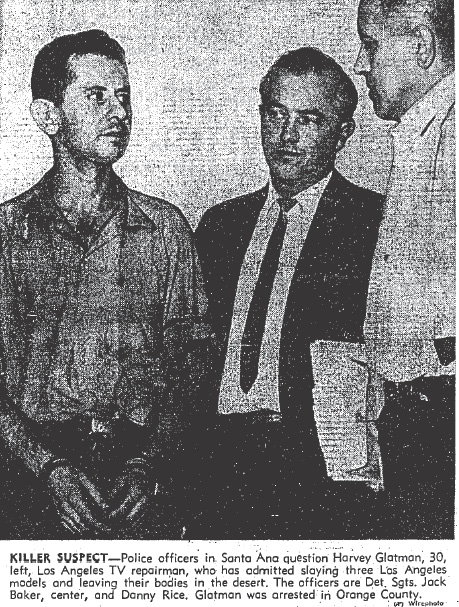 For once in his pathetic life Harvey Glatman was the center of attention and he seemed to revel in it. He explained in gruesome detail how Ruth Mercado had become his final victim. He said that he had first called on her through a modeling advertisement. But when he went to pick her up she was too ill to go out. He left for a little while, but returned to find no light on in her apartment. He was at a crossroads — should he move ahead with his plan? He stopped in at a bar to contemplate his next move. He decided to drive by her place one final time and there was a light on so he knocked on her door.
Harvey spent the night in Ruth's apartment repeatedly raping her at gunpoint. The next morning he forced her to walk to his car which was parked a couple of blocks away.
Harvey told the cops that he didn't want to kill Ruth:
"She was one I really liked. so I told her we were going out to a deserted spot where we wouldn't be bothered while I took more pictures. We drove out to the Escondido district and spent most of the day out on the desert. I took a lot more pictures and tried and tried to figure out how to keep from killing her. But I couldn't come up with any answer, so I got out the rope and did it the same way I did the others. I piled some brush and debris on her body and left her there."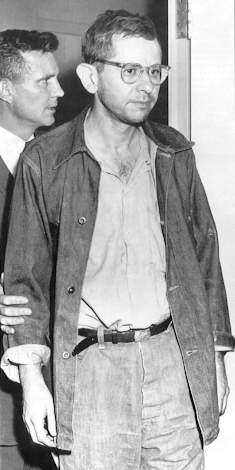 Glatman left Ruth's naked corpse and took her clothing home with him, except for her underwear which he threw from his car on his way back to Los Angeles. The cops found Ruth's slip, stockings and a photograph of her when they searched his apartment.
Each of the women Glatman had assaulted had suffered for hours before he killed them. They had to endure multiple rapes and the further humiliation of posing for photographs so that Harvey would have trophies. Robert D. Keppel (retired as chief criminal investigator for the Washington State Attorney General's Office; author of Riverman) said this about Glatman's photos, particularly the postmortem shots:
"They were even more horrifying to police (than the in-life ones) because they revealed Glatman's true nature. They showed the ways the killer had positioned his victims, and the psychological depravity they evidenced was deeply revolting. That a human being could so reveal the depths of his own weakness and feelings of insignificance through photographs was something investigators had not seen before."
The bondage photographs that Glatman took of his unwilling models followed a pattern that was truly horrifying. The following quote comes from Robert Keppel's book, Signature Killers.
"They were images of Glatman's detailed methodology of murder, which showed a sequence of terror by re-creating the entire psychological arc of the crime. He first photographed each victim with a look of innocence on her face as if she were truly enjoying a modeling session. The next series represented a sadist's view of a sexually terrorized victim with the impending horror of a slow and painful death etched across her face. The final frame depicted the victim's position that Glatman himself had arranged after he strangled her."
NEXT TIME:  Justice for Judy, Shirley and Ruth.