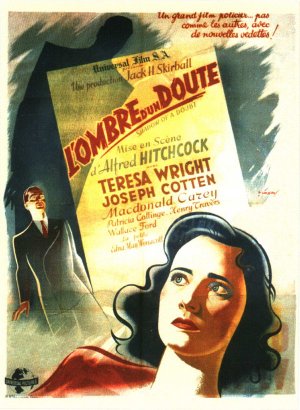 Welcome!  The lobby of the Deranged L.A. Crimes theater is open! Grab a bucket of popcorn, some Milk Duds and a Coke and find a seat. Tonight's feature is SHADOW OF A DOUBT, directed by Alfred Hitchcock and starring Teresa Wright, Joseph Cotten and Macdonald Carey — with a fine performance by Hume Cronyn.
The script was a collaboration between Thornton Wilder, Sally Benson and Alma Reville (Hitchcock's wife).  This was Hitchcock's favorite of his films. 
Of course Hitch makes a cameo appearance in the film, and Wikipedia tells you when to look for him:
Alfred Hitchcock appears about 15 minutes into the film, on the train to Santa Rosa, playing bridge with a man and a woman (Dr. and Mrs. Harry). Charlie Oakley is traveling on the train under the assumed name of Otis. Mrs. Harry is eager to help Otis, who is feigning illness in order to avoid meeting fellow passengers, but Dr. Harry is not interested and keeps playing bridge. Dr Harry replies to Hitchcock that he doesn't look well while Hitchcock is holding a full suit of spades, the best hand for bridge.
Before the feature, enjoy this short subject from the CRIME DOES NOT PAY series.