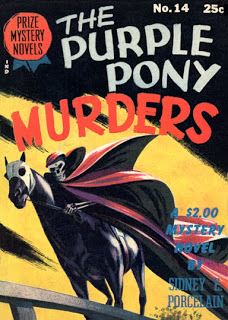 Mabel Monohan had been spending a quiet evening reading a mystery novel, The Purple Pony Murders, when she was interrupted by a knock at her front door. Monohan was security conscious, but the young woman on her doorstep looked harmless enough and she said she needed help. Mabel overcame her fears and opened the door. Barbara followed Mabel into the house — and after her came John True, Jack Santo, and Emmett Perkins.
After a cursory search of the house, Jack Santo went out to get their safe cracker, Baxter Shorter to tell him that they couldn't find a safe. When Shorter got into the house he saw Mabel on the floor of a hallway, she was bleeding profusely and moaning through a gag over her mouth. According to John True's statement, Graham was holding a nickel-plated revolver. She allegedly handed it to Perkins and said "Knock her out!"
Shorter supposedly grabbed Perkins and threw him to the floor and yelled at him: "What the hell are you doing? This isn't the way it was supposed to be! This is no good!" When Shorter glanced down at Mabel she appeared to him to be choking on the gag. Shorter was a safe cracker, sure, but he wanted no part of cold-blooded murder. He managed to get John True to cut the gag off Mabel's mouth, but she looked to be in bad shape.
True would tell the story a little differently later on — casting himself as the lone do-gooder. He'd also have more to say about Graham's involvement in beating Monohan.
It was chaos in the house as the gang ransacked it, searching for a safe that didn't exist. Furniture was torn apart, closets emptied, nobody really cared what happened to Monohan — the gang had other worries. It was beginning to dawn on the group that the caper was a fiasco; but they were so busy mourning the loss of their cash windfall that they couldn't spare a moment for the woman who lay dying on the floor.
While his companions were getting ready to leave the scene of the bungled crime, Shorter rummaged through a drawer and found a utility bill with the address of the house on it. He was going to make an anonymous call to get help for the woman.
Let's be clear about Baxter Shorter, he was a thug and an ex-con and he didn't care about Mabel Monohan except what her death might mean for him. It was pragmatism and not a burning desire to do the right thing which compelled him. Shorter didn't want to be in the middle of a murder rap. He could do time if he had to, but killing the old lady could mean the gas chamber.
Once it sunk in that they'd botched the whole plan, the gang split up into the two cars in which they'd arrived. True, Perkins and Graham rode in one car, Shorter and Santo in the other.
Baxter told Jack that he intended to try to get help for the woman back at the house. Jack said: "I don't give a damn what you do. That woman stopped breathing before we left."
Baxter dropped Jack off at the meeting place, and he was warned in no uncertain terms to keep his mouth shut or there would be dire consequences.
Shorter went to the nearest gas station and found a telephone booth. He dialed "O", got an  operator and told her that a woman needed an ambulance at 1718 Parkside Drive. Before he could be asked any uncomfortable questions, he hung up the phone and sped off.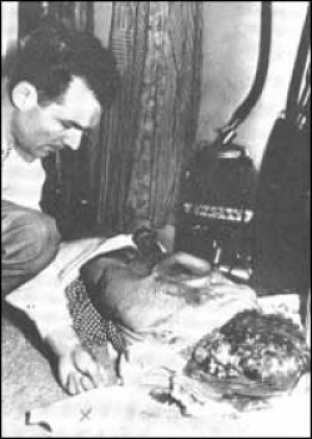 The operator tried to dispatch an ambulance to the address she'd been given, but it didn't exist — not in Los Angeles anyway. Shorter had been so shaken up that he'd forgotten to mention that the house was in Burbank.
Mabel Monohan's body wasn't found for two days. Her gardener, Mitchell Truesdale, had come to do some work and to collect his paycheck. When he went to the front door he noticed that it was ajar, and that was highly unusual. He gave the door a nudge and started in, he could see that the normally neat house had been turned upside down, and the smell of death was pervasive. He found Mabel's body, and he saw blood spatter on the walls and floors. Monohan's Labrador retriever, Ziggy, was whining at the back door.
Truesdale ran to a neighbor's house and called the cops.
An inquest was held and the verdict was that Monohan's death was a homicide caused by person or persons unknown.
Mabel's daughter Iris had only recently returned to New York after spending some time with her mother. She offered a $5000 reward for information leading to the arrest and conviction of the killer(s).
The investigation into the slaying of the Burbank widow began.
NEXT TIME: A witness is kidnapped and the killers are busted.