LAPD Detective Lauritzen played it cagey with the press when they asked for details regarding the arrests of Paul and Thomas Ferguson. He said only that they had "physical evidence" of the brothers' involvement in Ramon's murder. The reporters interpreted Lauritzen's comments to mean they found fingerprints at the crime scene. The County Grand Jury indicted the Fergusons and they arraigned the brothers in a Van Nuys courtroom.
Busted in early November, the brothers awaited trail in county lockup. Early in December new drama in the case erupted with a report that Paul attempted to gouge out his own eyes.  At first he told jailers other inmates attacked him, but they proved he injured himself. If he hoped to eradicate the vision Ramon's murder from his memory, he should have plunged a knife into his heart. The general feeling was that Paul's self-inflicted injuries were an attempt to garner sympathy.

The police found more than fingerprints at Ramon's home. While Paul beat Ramon in another room, Thomas was on the telephone with his girlfriend of six months, Brenda Lee Metcalf. Brenda flew out to Los Angeles on the county's dime to testify before the Grand Jury. She was a wealth of information about the night of the murder.
She testified that Thomas told her he and Paul were at Ramon's house because the actor was going to get him into the movies—then he said no, it was Paul who Ramon was going to get into pictures. While he chain-smoked cigarettes and drank beer, Thomas told Brenda, "… he knew there was $5,000 somewhere in the house behind a picture." Thomas and Paul had plans for Ramon's money. Brenda said, "They would tie him up to find out where the money was."  Brenda told Thomas not to get into trouble.  Brenda said, "He said no matter what happened, he wasn't going to have nothing to do with it because he didn't want to get in any trouble."  The screams she heard in the background sound like trouble to her.  "He (Thomas) said he (Paul) was just probably trying to scare him or hit him with something."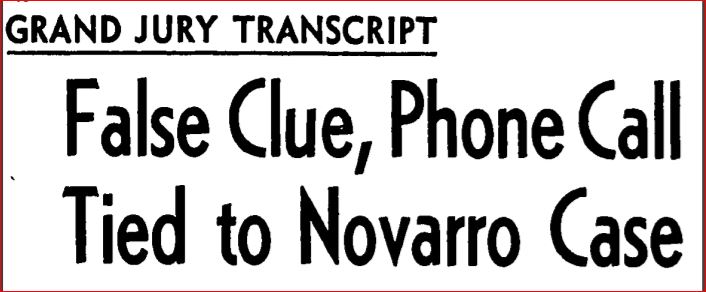 As the phone called neared an end, Thomas said, "Well, I better go now because I'm going to see what's happening. . . I don't want Paul to hurt Ramon."
Another woman surfaced in the case, Paul's estranged wife, Mary.  Mary identified the mysterious "Larry" – the name scrawled several places at the murder scene.  Larry was Paul's brother-in-law, the person Paul blamed for his problems with Mary. Paul's attempt to frame his brother-in-law was amateur hour, but then nothing about the crime was a stroke of genius.
Brenda received one last telephone call from Tom during his stay in Los Angeles. He telephoned her on November 2.  He said, "Well you know about Novarro.  He is dead.  When I bent down over him I saw he was dead and that if we have enough money, we'll fly back.  Otherwise, we will have to hitchhike back.  Before they could leave Los Angeles County, they were in police custody.
On August 5, 1969, four days before the murders of Sharon Tate, Jay Sebring, Abigail Folger, Voytek Frykowski and Steven Parent at Tate's rented home on Cielo Drive, Paul and Thomas were on trial for Ramon's murder.
The jury of seven men and five women heard Deputy District Attorney James Ideman outline the State's case in his opening statement. He said he would prove that the brothers tortured Ramon to death on October 30 while trying to discover a hidden cache of money.
Paul and Thomas did not differ from any of the other idiot criminals who murdered people they believed kept large amounts of cash at home.
On March 9, 1953, in Burbank, California, Barbara Graham, Emmett Perkins, Jack Santo, John True and Baxter Shorter invaded the home of Mabel Monohan, a widow. The gang believed she kept a large amount of cash in a safe for her former son-in-law, a professional gambler and local mob affiliate,  Tutor Scherer. The gang walked away with nothing but a ticket to the "green room" (San Quentin's gas chamber).
Richard Hickock and Perry Smith, two ex-cons, made the same mistake in 1959 in Holcomb, Kansas.  They believed a cellmate when he told them one of his former employers, a farmer named Herb Clutter, was rich and kept his money in a home safe.  It was a tall tale, told by an idiot, to two other morons who believed it. Hickock and Smith executed Herb, his wife Bonnie Mae, and the couple's two teenage children, Kenyon and Nancy. The killers walked away with fifty dollars in cash, a pair of binoculars and a transistor radio.  Hickock and Smith went to the gallows on April 14, 1965 on the grounds of Leavenworth prison.
Truman Capote turned the sordid murders into a brilliant narrative in the mostly true account of the case, In Cold Blood.
Paul and Thomas made the same mistake as their predecessors, but would they pay the same price?
NEXT TIME: Paul and Thomas Ferguson pay for Ramon's murder.