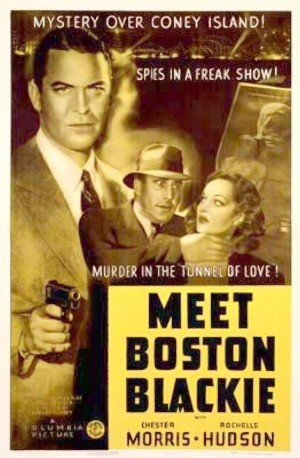 Welcome!  The lobby of the Deranged L.A. Crimes theater is open. Grab a bucket of popcorn, some Milk Duds and a Coke and find a seat. I confess, I'm a sucker for crime dramas, so tonight's feature is MEET BOSTON BLACKIE starring Chester Morris and Rochelle Hudson.
 Leonard Maltin says:
D: Robert Florey. Chester Morris, Rochelle Hudson, Richard Lane, Charles Wagenheim, Constance Worth. First in the Boston Blackie series is a slick and fast-paced mystery-comedy, introducing Morris as the whimsical ex-thief tracking down spies hiding out at Coney Island. Franz Planer's stylish cinematography enhances this solid programmer.
http://youtu.be/rV72aW-MLRc