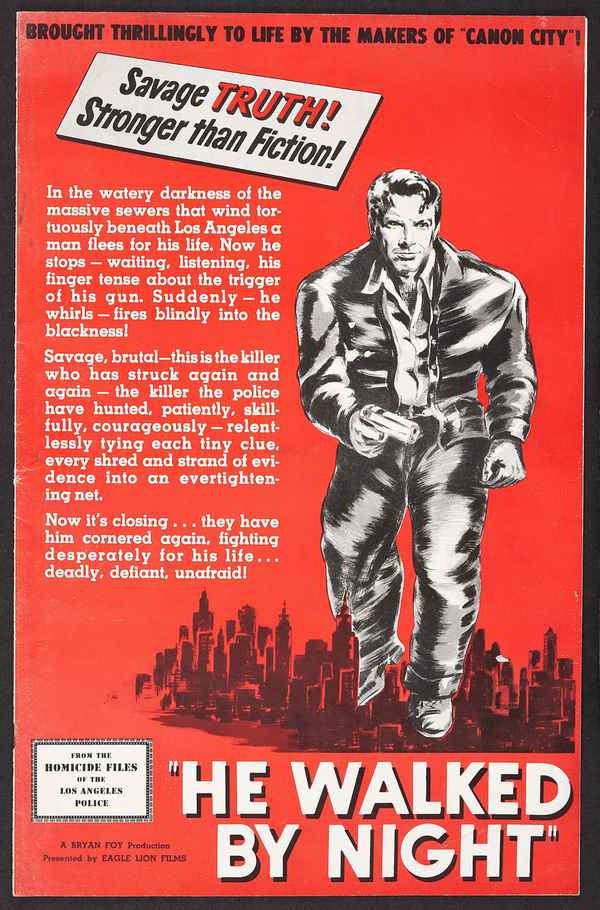 Welcome! The lobby of the Deranged L.A. Crimes theater is open! Grab a bucket of popcorn, some Milk Duds and a Coke and find a seat. Tonight's feature is HE WALKED BY NIGHT starring Richard Basehart, Scott Brady, and Jack Webb. It was during the making of this film that Jack Webb got the idea for DRAGNET.
The film is based on a true story, the Erwin "Machine Gun" Walker case, which I wrote about a few years ago.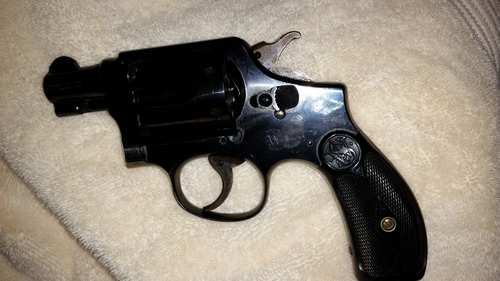 As of a few months ago I have a personal connection to this movie. I was given the blue steel revolver that belonged to the screenwriter, John C. Higgins — it was a gift from his nephew, Eric, and I'm honored to own it. Higgins wrote the screenplays for T-MEN and RAW DEAL, two terrific films.
Enjoy the movie!
TCM says:
Inspired by the true story of Erwin Walker, a WWII hero who turned to crime and terrorized Los Angeles in 1946, He Walked By Night (1948) is a remarkable low budget, film noir thriller that is often overlooked in film studies of this genre. Besides Richard Basehart's chilling performance as a meticulous thief of electronics equipment who becomes a wanted cop killer, the film glistens with the stylized black and white cinematography of John Alton whose use of light has been compared to the lighting in Rembrandt paintings. The film could well serve as a primer on how to shoot a film noir since it incorporates all of the familiar elements of the genre so masterfully into the visual design of the film: splintered shadows from Venetian blinds that transform a cozy bedroom into a prison, street lights over patches of wet pavement, a brief pinpoint of light from a hastily lit match in a dark room. Most memorable of all is the chiaroscuro camerawork in the final sequence as Davis Morgan – Richard Basehart's character – is pursued through the huge drainage canals underneath Los Angeles by the police. This was the first time this unusual locale was used in a film and it would later serve as an equally disturbing setting – the lair of giant mutant ants – for the science fiction thriller, Them! (1954).