If you have hair, you have endured an inevitable bad hair day. But have you ever had a haircut so awful it drove you to violence?
Newlyweds Barbara and William Mihich struggled to adapt to married life. After getting married in Las Vegas in March 1956, they had already split up once by August. They argued about money, and they also argued about how often Barbara's hair was in curlers. William became so incensed by Barbara's beauty routine he cut her hair. Whether by consent or by force, Barbara ended up with a ragged looking pixie. William, a plumbing contractor, not a hair stylist, took too much off the top, the back, and the sides. Barbara was not pleased.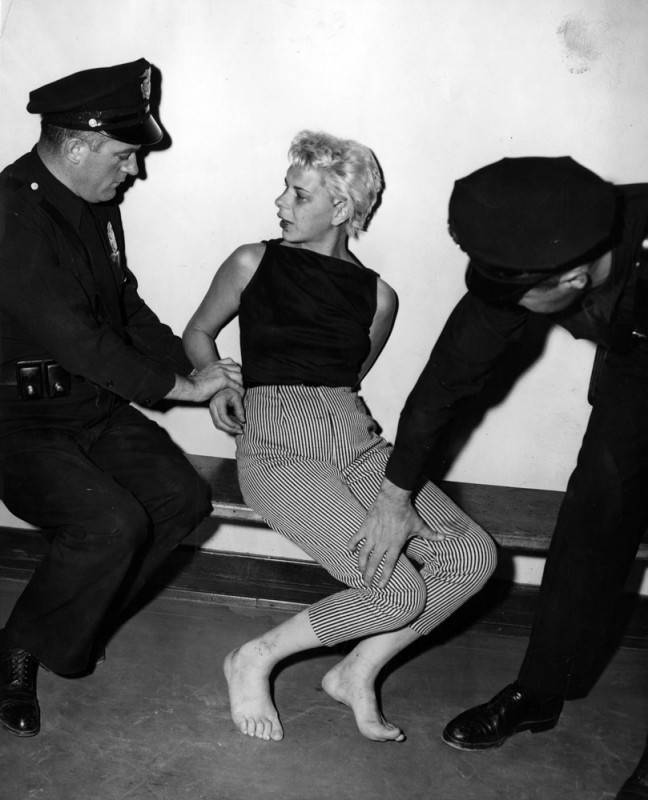 After the hack job on her tresses, Barbara met friends at a local bar for a few drinks and to cool off. She arrived home in the pre-dawn hours, even more pissed off than when she left. Still keyed up, she put a record on the player and turned up the volume. William objected to the music, and to the fact she had stayed out so late. The hostilities resumed.
Their argument spilled out to the front yard, where they raged at each other until Barbara bolted for the front door. Before William could catch up, Barbara locked him out. She grabbed a gun and shot through a window. The round ripped into a neighbor's house and they called police. Other neighbors hid behind trees and cars to avoid being struck by a wayward bullet.
The first officer to arrive outside the Mihich home ducked for cover when four bullets struck his patrol car. He called for back-up. Reinforcements pulled up. Lights flashing and sirens blaring. They cautiously approached, and placed searchlights around the house to prepare for a siege.
Police lobbed cannisters of tear gas through the home's broken windows. Screaming, rubbing her eyes, and choking, Barbara stumbled out of the smoke. They placed her under arrest and transported her to the Lincoln Heights Jail, where they booked her on suspicion of assault with a deadly weapon.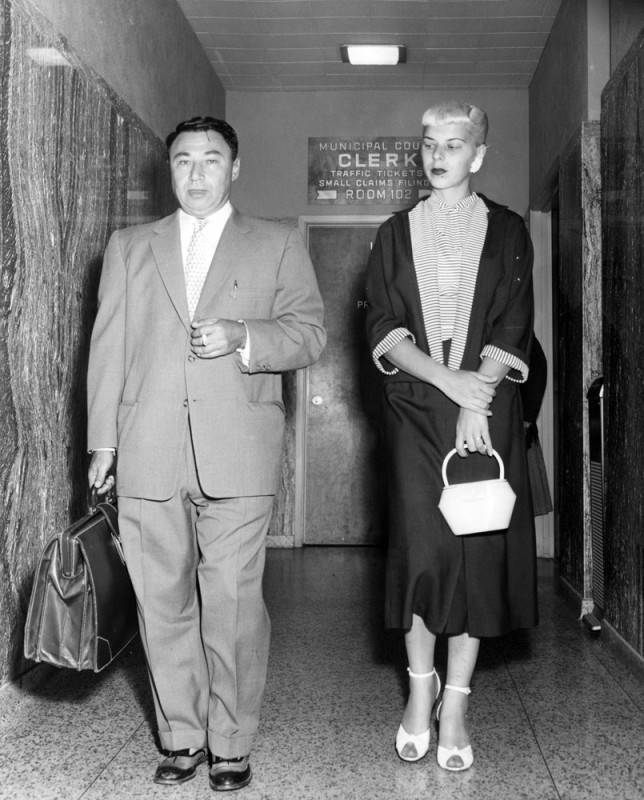 William came to Barbara's defense. "She wasn't shooting at me. She was just shooting away her temper." Maybe, but she wrecked the interior of their home, scared the shit out of the neighbors, and got herself into a major jam.
Barbara told police William beat her. "I just got mad at the world. I wasn't shooting at anybody in particular." No target required. Any of the over fifty rounds she fired at random from a shotgun, two 22-caliber rifles, and a 22-caliber pistol were potentially fatal.
Detectives asked her what caused her rampage. She said William told her he'd trim her hair because he was tired of seeing it in curlers. Describing the chop, she got mad all over again. "He trimmed it all right, and how! He went hog wild and gave me a butch haircut."
William described the incident to reporters. "We were just having a little argument on the front lawn when she ran off in a huff. She dashed into the house and slammed the door. The next thing I knew, bullets started pouring out of the windows."
They freed Barbara on $3000 bail ($34,00.00 in 2023 USD), to await trial. Rather than face a jury, she opted to appear before a judge. A jury would have seen the coverage where reporters described her as the "pistol-packing blonde from Van Nuys," and "the Butch Hair Cut Woman." Unflattering and prejudicial depictions to be sure.
Judge Allen T. Lynch treated her fairly. On December 28, 1956, he fined Barbara $300 ($3400 in 2023 USD), and placed her on five years' probation.
Did Barbara embrace the pixie cut, or did she grow her hair to Rapunzel length? Did the Mihich marriage survive the hair cut incident? I honestly don't know. The couple stayed out of the news after 1956.