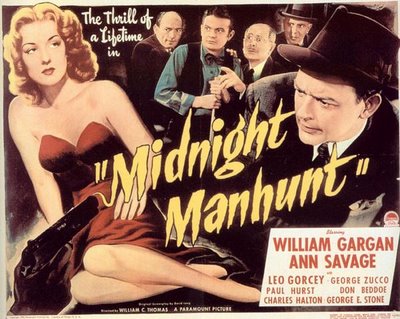 Welcome! The lobby of the Deranged L.A. Crimes theater is open. Grab a bucket of popcorn, some Milk Duds and a Coke and find a seat.
Tonight's feature is the comedy/mystery MIDNIGHT MANHUNT starring William Gargan, Ann Savage, Leo Gorcey and George Zucco.
Enjoy the film!
TCM Says:
At the shoddy New York Empress Hotel, gangster Joe Wells is attacked by Jelke, who then steals a packet of diamonds from Wells's apparently dead body. After Jelke leaves, Wells, who is still alive, struggles out of his room, but is later found dead outside The Last Gangster Wax Museum by policeman Murphy. Murphy reports his finding to detective Max Hurley, who does not believe it because Wells, who has been missing for five years, was presumed dead. When Murphy goes to verify the identity of the body, it has disappeared.
The film has also been known as: CHEEZIT THE CORPSE | HARD TO HANDLE | ONE DANGEROUS NIGHT | ONE EXCITING NIGHT | SHAKE HANDS WITH MURDER