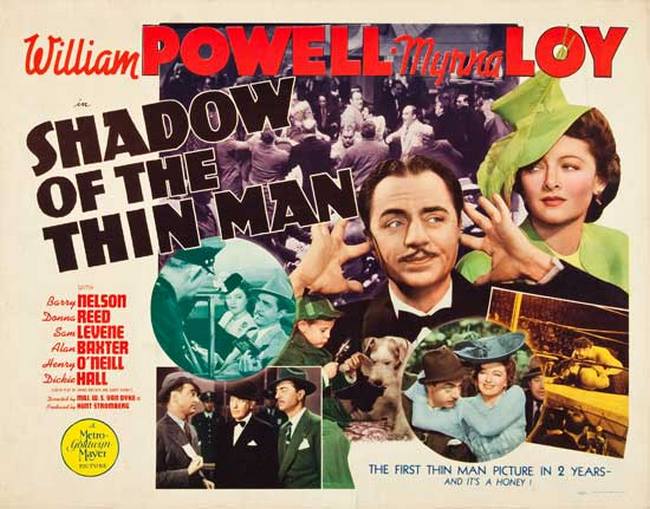 Welcome! The lobby of the Deranged L.A. Crimes theater is open. Grab a bucket of popcorn, some Milk Duds and a Coke and find a seat. Today's feature is SHADOW OF THE THIN MAN starring Myrna Loy, William Powell, Donna Reed, Barry Nelson and Asta (his real name was Skippy).
Imagine my delight when I found this on YouTube today.  The person(s) providing the film say they couldn't find a copyright for it.  I believe they may be mistaken — so watch this immediately!  The Thin Man series always makes me smile, and this particular entry in the series is one I absolutely adore (especially Myrna's hat!)
If you miss this showing for any reason you'll be pleased to know that TCM is showing it on December 31st.
Enjoy the movie!
TCM says:
In San Francisco, former private detective Nick Charles enjoys a peaceful retirement with his attractive wife Nora, their young son Nick, Jr., and their wire-haired terrier, Asta. One afternoon, when Nick and Nora go to the races, they learn from Nick's old friend, Lieutenant Abrams, that a jockey named Gomez has just been fatally shot. In the jockey room, Nick's police and reporter friends think that he is on the case, but he insists that his detective days are over, even when one of the jockeys piques his curiosity by saying that Gomez was killed because he refused to throw a race.