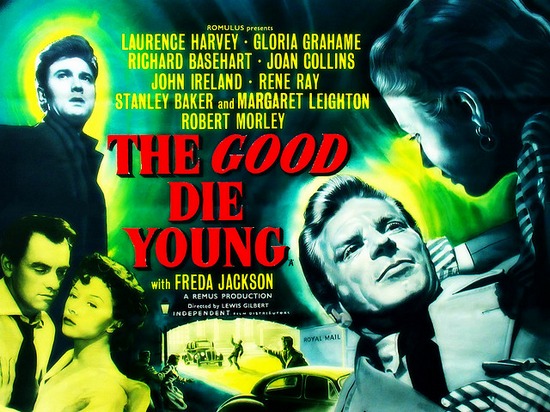 Welcome! The lobby of the Deranged L.A. Crimes theater is open. Grab a bucket of popcorn, some Milk Duds and a Coke and find a seat.
Tonight's feature is THE GOOD DIE YOUNG [1954], the film stars Laurence Harvey, Gloria Grahame, Richard Basehart, Joan Collins and John Ireland.
Enjoy the movie!
TCM says:
Three good men – a broken boxer, an American veteran trying to win back his mother-dominated wife, and an air force sergeant married to a faithless actress – are corrupted by Miles Ravenscourt, an amoral "gentleman." Because they need money, they let Miles lure them into his scheme to rob a postal van with a large cash cargo.