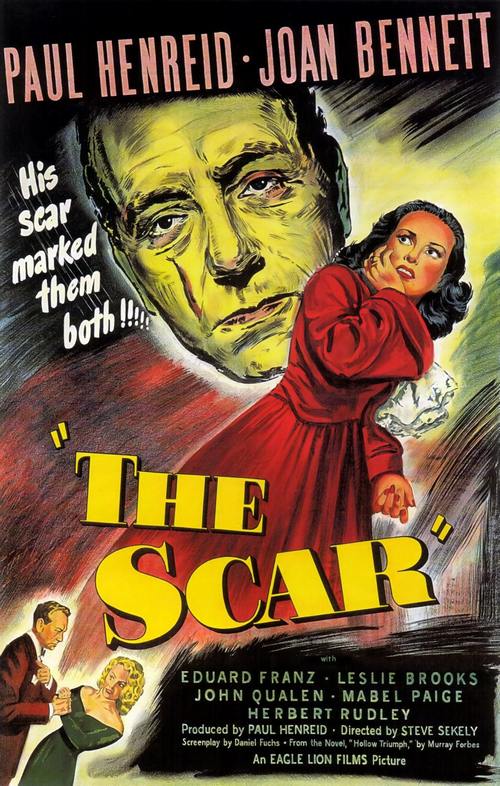 Welcome!  The lobby of the Deranged L.A. Crimes theater is open — a day late. It took us a while to to scrape gum off of the floor and throw away the old popcorn boxes and soda cups. Find a seat and get comfortable. Tonight's offering is THE SCAR starring Paul Henreid and Joan Bennett.
 TCM says:
After serving a jail sentence, gangster John Muller is offered a job by his parole officer at the Meiklejohn company in Los Angeles. Before he settles down, John is anxious to perform one more heist, and convinces his former gang to help him rob a gambling house owned by rival mobster Rocky Stansyck. While escaping with the cash, gang members Big Boy and Rosie are caught by Stansyck, but John and his friend Marcy escape.

Marcy, who is terrified that Stansyck's men will hunt him down and kill him, moves to Mexico, while John accepts the job at Meiklejohn. Later John's brother Frederick tells him that Marcy was murdered in Mexico City and that Stansyck's men have tracked John to Los Angeles.

One day while running an office errand, John is mistaken for a psychologist named Victor Bartok, who, except for a scar on his face, could easily pass as John's double.
I sense a twisted plan of stolen identity!