What's a cold turkey pinch? In the 1930s, it was cop speak for an officer who made an arrest with no effort–no gathering of evidence, no investigation, nothing.
Thanksgiving Day on "The Nickel" (Fifth Street) in 1937 was desperate living personified. LAPD Detective Lieutenants Bailey and Olson sat in the Chicago Cafe at 209 Fifth and watched as drunks shuffled past, oblivious to those who would do them harm. Old Man Depression brought an abundance of misery, leaving The Nickel devoid of warmth, joy, and delicious aromas found in other city neighborhoods.
The detectives sipped their coffees and kept their eyes peeled for predators who preyed on helpless drunks. Known as drunk rollers, the vultures robbed Skid Row inebriates of their few possessions. A man, seemingly down on his luck, seated himself beside Bailey and said, "you wouldn't mind staking a thirsty guy to a nickel beer would you." After looking the stranger up and down, Bailey bought the man a brew.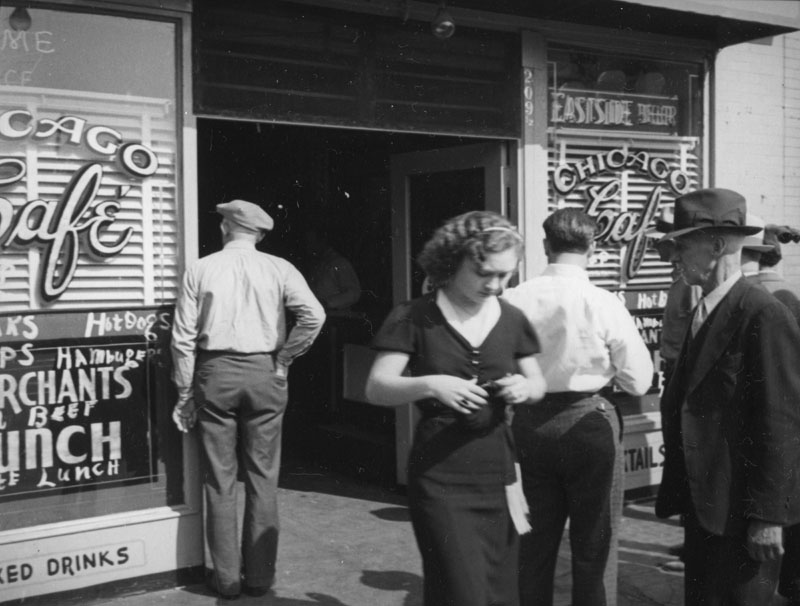 Chicago Cafe at 209 Fifth Street c. 1937. [Photo is from Schultheis collection at the LAPL]
The man sat silently nursing his beer, then he turned to Bailey and pointed at a man in a booth who had obviously passed out. "Watch me," the beer drinker said–then he walked over to the unconscious boozer and searched through his clothing.
When he returned to his seat he grinned at Bailey and Olson and said, "See what I got?" and held up a dollar bill. "Now I guess it's my treat."
"Yes, brother, I sure guess it's your treat all right," said Bailey as pulled out his badge and arrested his would-be benefactor. Bailey booked Jack Orchard, 35, at the City Jail on suspicion of robbery.

If you wonder what Jack Orchard's Thanksgiving repast was like in the county slammer, they served prisoners veal turnovers w/cream gravy, mashed potatoes, sugar peas, combination salad, one doughnut and coffee. The jailers, however, got turkey with all the trimmings. Crime doesn't pay.
May your Thanksgiving be happier than Jack Orchard's (although he got a free beer.) Have a great Holiday and stay safe. Those Black Friday sales can be murder!
NOTE: I'll pick up the rest of Aggie Underwood's Tehachapi series in my next post.