I'm currently working on a series of posts about the murder of Mabel Monohan in Burbank in 1953. Ultimately three people: Emmett Perkins, Jack Santo, and Barbara Graham would be tried, convicted, and sentenced to death for slaying the 64 year old widow.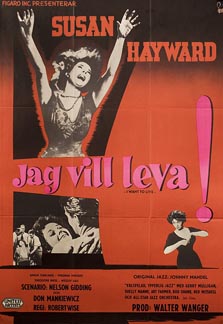 The film, I Want to Live! (1958), was adapted from letters written by Barbara Graham and newspaper articles written by Pulitzer Prize-winning journalist Ed Montgomery.
The film tells the story of the life and execution of Barbara Graham (Susan Hayward) a prostitute and convicted perjurer. Graham is the product of a broken home, and works luring men into fixed card games.
At one point, she attempts to go straight but marries the "wrong man," and has a child. He is a drug addict and she ends their relationship.
When her life falls apart, she returns to her former professions and becomes involved with a man who had murdered a woman. The police arrest them, and her, and her companions accuse her of the murder to reduce their own chances of going to the gas chamber. She claims her innocence, but is convicted and executed.
A prologue and epilogue contributed to the film by Montgomery characterize the film's content — which largely portrays Graham as innocent of the murder — as factual. But there was substantial evidence of Graham's complicity in the crime.
Hollywood writer Robert Osborne, who later became the host of Turner Classic Movies, interviewed Susan Hayward and asked whether or not she believed Barbara Graham had been innocent. According to Osborne, the actress seemed hesitant to answer at first, but ultimately admitted that her research on the evidence and letters in the case led her to believe that the woman she played in the movie was probably guilty.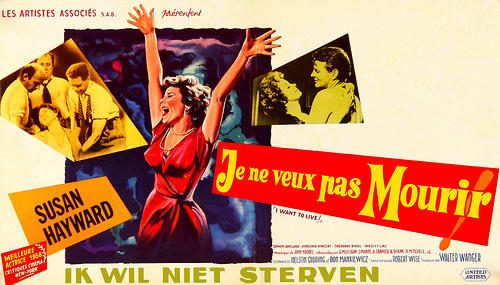 The film is a powerful indictment of the death penalty, but is only partly factual, not entirely as Montgomery's statements would lead you to believe.
While I'm busy writing the story of Mabel Monohan's murder I encourage you to see the film, I Want to Live!, it is worth viewing — but it is absolutely not a documentary.
NOTE: I took most of the description of the film from Wikipedia.