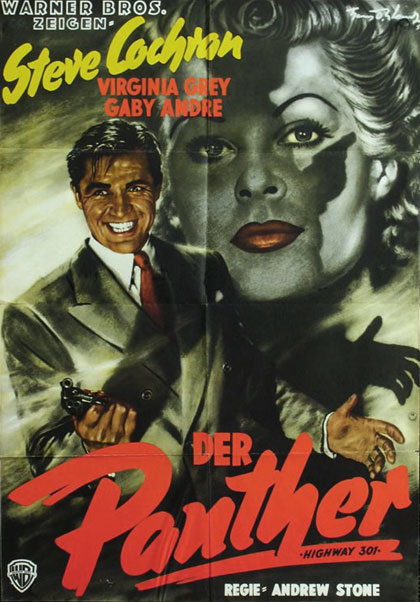 Welcome! The lobby of the Deranged L.A. Crimes theater is open! Grab a bucket of popcorn, some Milk Duds and a Coke and find a seat. Tonight's feature is HIGHWAY 301  starring Steve Cochran and Virginia Grey.
IMDB says:
Led by a psychotic killer, a vicious gang of armed robbers terrorizes Virginia, Maryland and North Carolina, robbing banks and payrolls and murdering anyone who might identify them.
TCM says:
In Winston-Salem, North Carolina, the members of a gang known to the police as the Tri-State Gang because they have robbed banks in North Carolina, Virginia and Maryland, are spotted switching cars during a getaway. The farmer who saw them is able to identify the make of the second car and the first few letters of the license plate. The police have been unable to identify any of the gang members, who are George Legenza, William B. Phillips, Robert Mais, Herbie Brooks and Noyes. All have long police records, but received only light sentences. Now, the police hope the license plate will eventually lead them to the criminals, and a special group, headed by an investigator named Truscott, is put together to pursue them.
http://www.youtube.com/watch?v=_9uTGFrcNpM&feature=share&list=PL8324F6C554122985