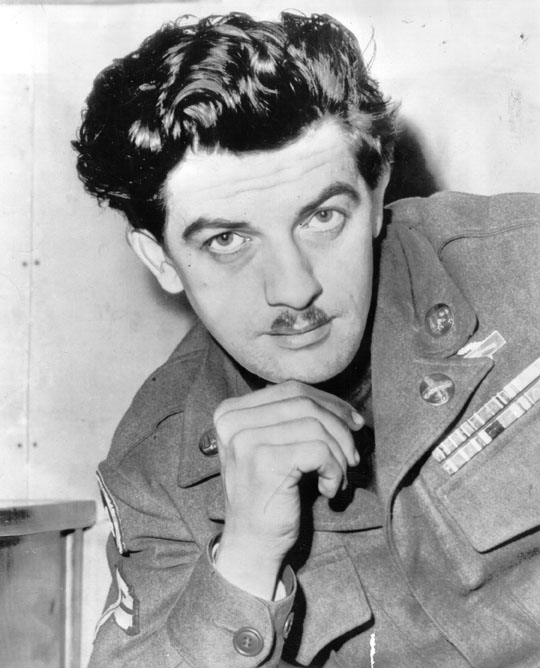 U.S. Army Corporal Joseph Dumais [Photo courtesy of LAPL]
On February 8, 1947, the Herald announced "Corporal Dumais Is Black Dahlia Killer." Could the women of Los Angeles stop holding their collective breath?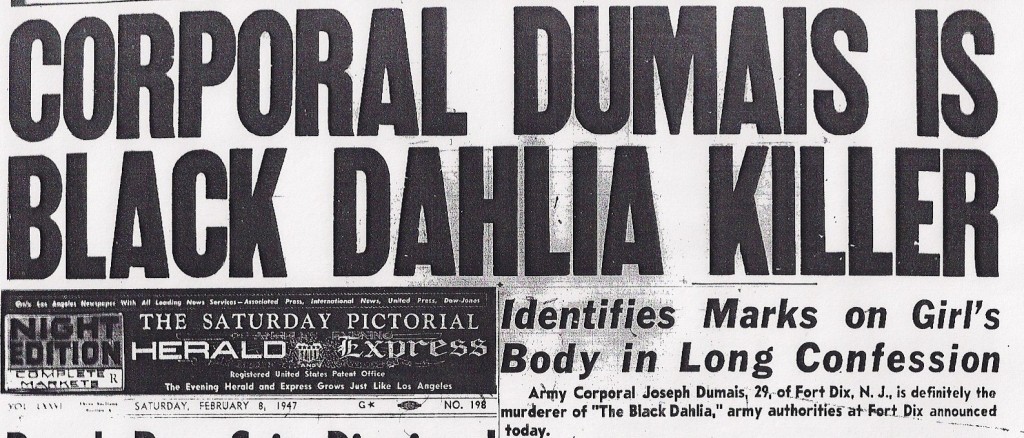 "Army Corporal Joseph Dumais, 29, of Fort Dix, N.J., is definitely the murderer of 'The Black Dahlia,' army authorities at Fort Dix announced today."
Dumais, a combat veteran, returned from leave wearing blood-stained trousers with his pockets crammed full of clippings about Short's murder. Dumais made a 50-page confession. He claimed he dated Elizabeth Short five days before the discovery of her body—then he suffered a mental blackout.
The good-looking corporal seemed like the real deal. He told the cops, "When I get drunk, I get pretty rough with women." Unfortunately, when police checked his story against known facts, the confession didn't hold up. They sent Dumais to a psychiatrist.
Two days after Dumais's false confession, the Herald put out an Extra with the headline: "Werewolf Strikes Again! Kills L.A. Woman, Writes B.D. on Body".
The victim of the "Werewolf Killer" was forty-five-year-old Jeanne French. Her nude body was discovered at 8 a.m. on February 10, 1947, near Grand View Avenue and Indianapolis Street in West L.A.
Jeanne Thomas French's life was as fascinating as a Hollywood screenplay. She was an aviatrix, a pioneer airline hostess, a movie bit player and an Army Nurse. And at one time she was the wife of a Texas oilman. The way she died was monstrous.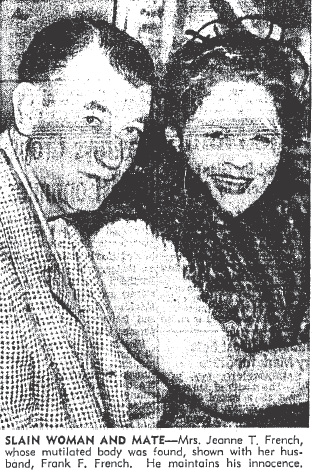 A construction worker H.C. Shelby was walking to work around 8 o'clock that morning along Grand View Blvd. when he saw a small pile of woman's clothing in weeds a few feet from the sidewalk. Curious, Shelby walked over and lifted a fur-trimmed coat and discovered French's nude body.
French was savagely beaten, her body covered with bruises. She suffered blows to her head, probably administered by a metal blunt instrument—maybe a socket wrench. As bad as they were, the blows to her head were not fatal. Jeanne died from hemorrhage and shock due to fractured ribs and multiple injuries caused by stomping—there were heel prints on her chest. It took a long time for French to die. The coroner said that she slowly bled to death.
Mercifully, Jeanne was unconscious after the first blows to her head so she never saw her killer take the deep red lipstick from her purse, and she didn't feel the pressure of his improvised pen as he wrote on her torso: "Fuck You, B.D." (later thought to be "P.D.") and "Tex".
French was last seen seated at the first stool nearest the entrance in the Pan American Bar at 11155 West Washington Place. The bartender later told cops that a smallish man with a dark complexion was seated next to her. The bartender assumed they were a couple because he saw them leave together at closing time.
Police book Jeanne's estranged husband, Frank, on suspicion of murder. The night before she died, Jeanne visited Frank at his apartment and they'd quarreled. Frank said Jeanne had started the fight, then hit him with her purse and left. He said that was the last time he saw her. He told the cops she'd been drinking.
David Wrather, Jeanne's twenty-five-year-old son from a previous marriage, came in for questioning. As he was leaving the police station, he saw his step-father for the first time since he'd learned of his mother's death. David confronted Frank and said: "Well, I've told them the truth. If you're guilty, there's a God in heaven who will take care of you." Frank didn't hesitate, he looked at David and said: "I swear to God I didn't kill her."
Frank was cleared when his landlady testified, he was in his apartment at the time of the murder, and when his shoe prints didn't match those found at the scene of the crime.
Cops followed the few leads they had. French's cut-down 1929 Ford roadster was found in the parking lot of a drive-in restaurant, The Piccadilly at Washington Pl. and Sepulveda Blvd. Witnesses said that the car had been there since 3:15 the morning of the murder, and a night watchman said it was left there by a man. The police could never find out where Jeanne was between 3:15 a.m. and the time of her death, which was estimated at 6 a.m.
Scores of sex degenerates were rousted, but each was eliminated as a suspect. Officers also checked out local Chinese restaurants after the autopsy revealed that French had eaten Chinese food shortly before her death.
French's slaying, known as the "Red Lipstick Murder" case, went cold.
Three years later, following a Grand Jury investigation into the many unsolved murders of women in L.A., investigators from the D.A.'s office were assigned to look into the case.
Frank Jemison and Walter Morgan worked the French case for almost eight months, but they could never close it. They came up with one hot suspect, a painter who worked for the French's four months prior to the murder. He admitted to dating Jeanne several times. The cops discovered the painter burned several pairs of his shoes—he wore the same size as the ones that left marks on Jeanne's body. Police cleared him despite his odd behavior.
There were so many unsolved murders of women in the 1940s that in 1949, a Grand Jury investigation was launched into the failure of the police to solve the cases.
There have been no leads in Jeanne French's case in decades; however, there is always a detective assigned to Elizabeth Short's murder case. A couple of years ago, it was a female detective, and she received several calls a month. To this day, there are people who want to confess.
The detective eliminates the potential suspects with a simple question: "What year were you born?
NEXT TIME: Could A Woman Be The Killer?