In November 1939, police took into custody several performers and comics at the Follies Theater at 337 S. Main Street. Among them was Betty Rowland, the "Red-headed Ball of Fire" and charged them with exhibiting an indecent show. The defense spent a day in jury selection trying to assemble a "shock proof" panel who could withstand seeing the forty-four photos secretly shot by police photographer George T. George, and handle hearing the "hair curling" transcripts from the show read by undercover Policewoman Cheryl Goodwin. Would the jury of nine women and three men be up to the task?
The halls surrounding the courtroom became a popular hangout for citizens hoping to catch a rare glimpse of a burlesque queen in daylight. The ladies arrived demurely dressed, sans makeup, disappointing the gawkers.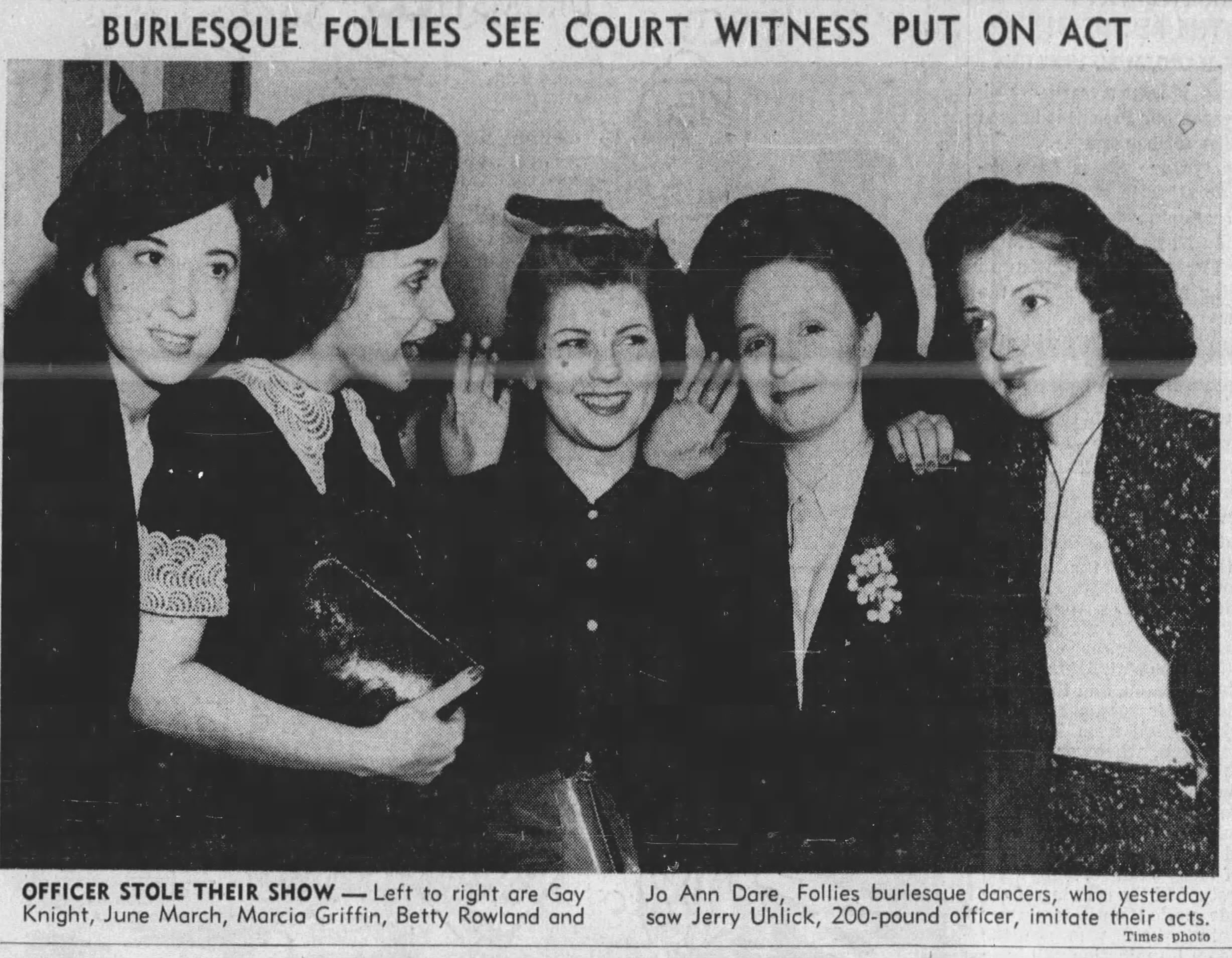 The highlight of the trial came when Officer Jerry J. Uhlick, a husky 200-pounder, stood up at the request of the City Attorney and demonstrated the bumps and grinds he'd witnessed from his seat in the audience.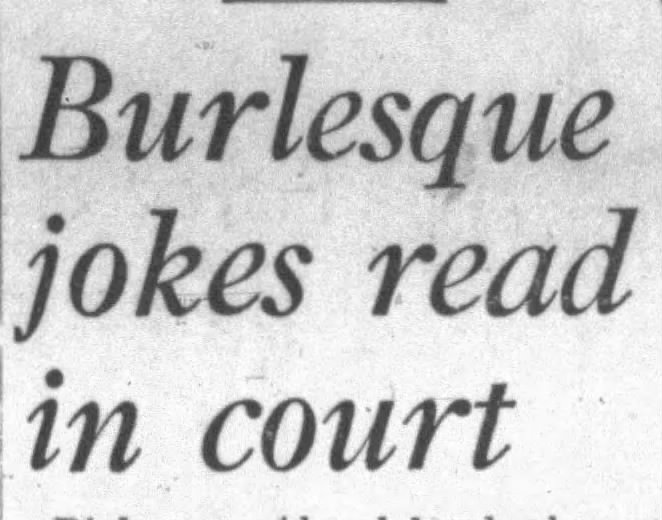 As the courtroom convulsed in laughter, Uhlick quipped, "Miss Jo Anne Dare performed the dance on the theater stage better than I can!" Although he admitted that he "took a fling at the stage in my younger days." We assume the fling wasn't as a dancer.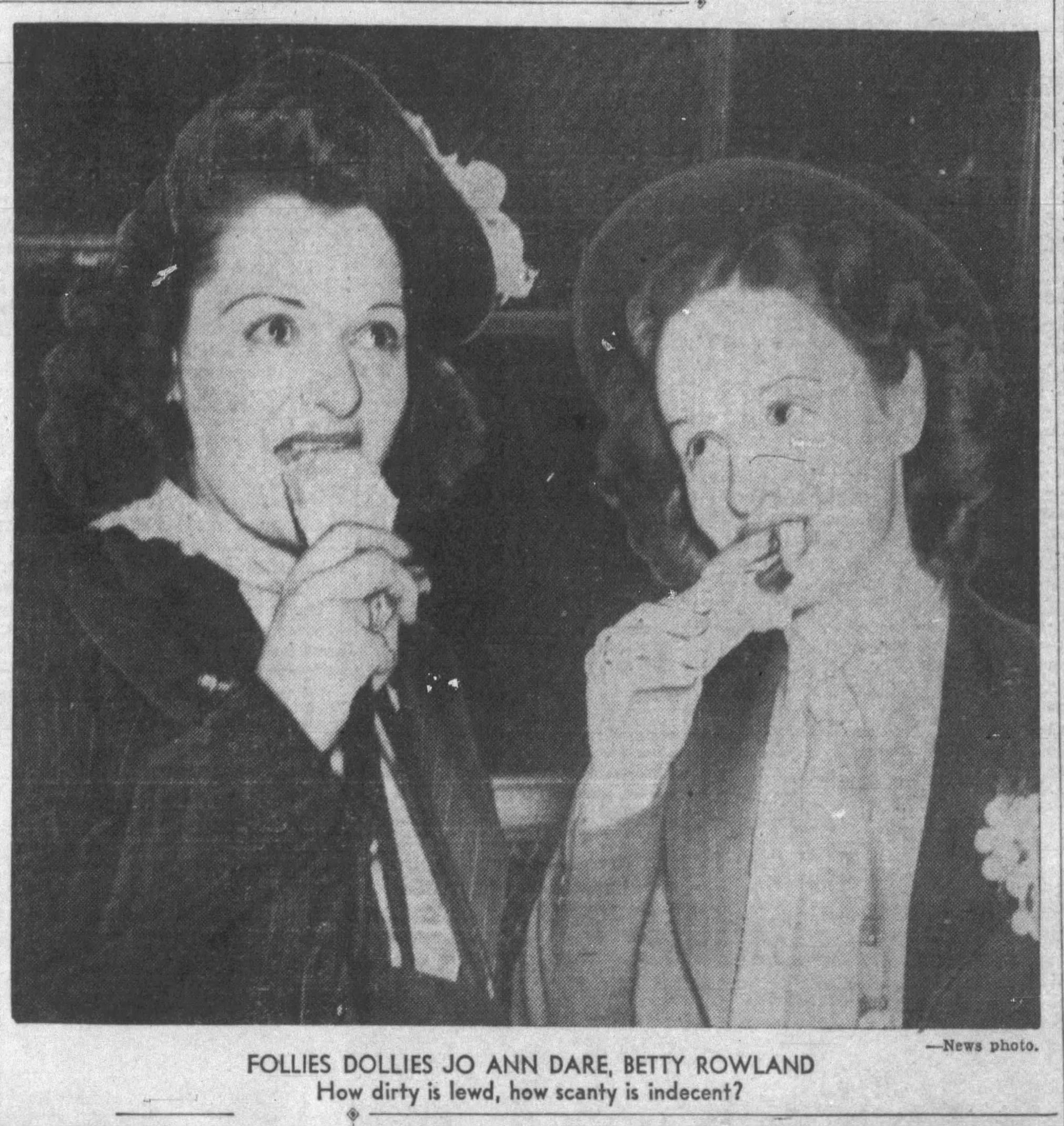 The defense showed photos of jitterbug dancers and said that moves every bit as suggestive as the bumps and grinds seen on the Follies stage were being performed by young people nightly all over town. They also showed photographs from popular movie magazines showing scantily clad movie stars.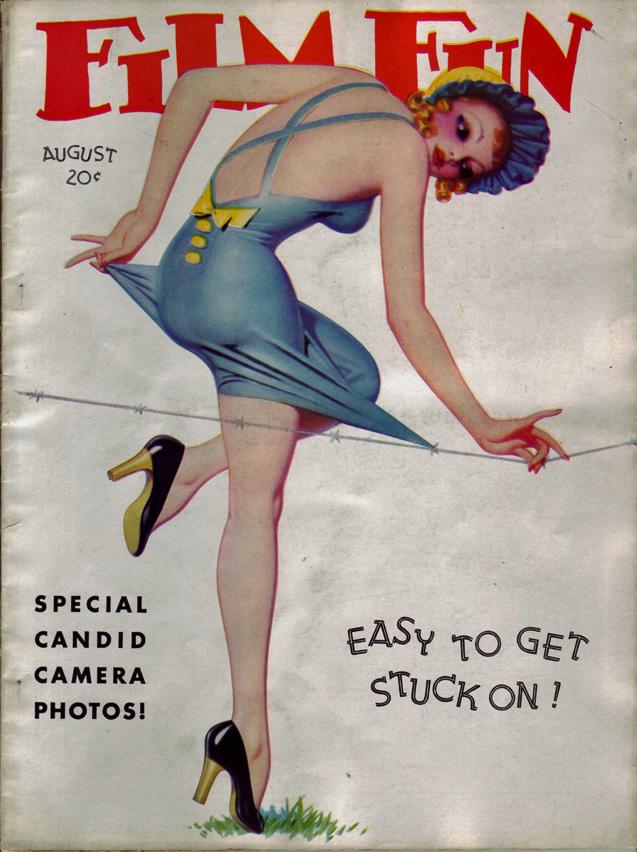 Despite the vigorous defense, Judge Arthur S. Guerin convicted all the defendants. The judge ordered each of them to pay $250 fines as a condition of their two-year probation. During their probation period, they must not engage in immoral shows. The owner, Tom Dalton, paid $3,000.00 in fines.

Betty was a force to be reckoned with during the heyday of burlesque. She had a stage presence that belied her diminutive stature, and she was the highest paid dancer in her field.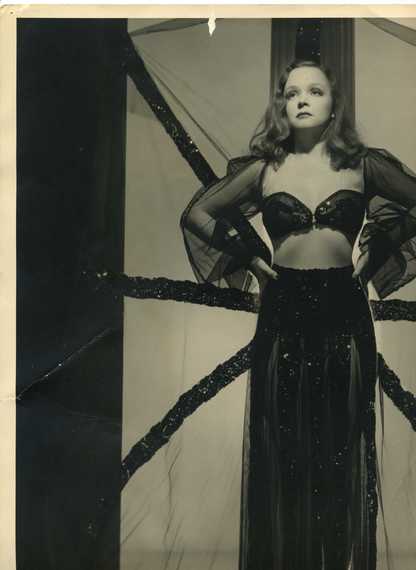 Betty was only in her teens when she began dancing professionally at Minsky's in New York. Burlesque houses thrived in NYC during the early 1930s, but by 1935 citizens' groups were trying to close them, and Mayor LaGuardia had deemed burlesque a "corrupting moral influence". The city's licensing commission tried to pull Minsky's license, but the State Court of Appeals refused to do so without a criminal conviction. In 1937, the mayor and the citizen's groups finally got the break they'd been waiting for when they discovered a stripper at Minsky's working without her G-string. That was enough for criminal charges to be filed, and they revoked Abe Minsky's license. New licensing regulations would allow the burlesque houses to remain in business, if they didn't employ strippers!
Burlesque gigs in New York dried up. In May 1938, Betty and her troupe opened in Los Angeles at the Follies Theater. It was supposed to be a limited engagement, but Los Angeles audiences loved Betty. She continued to perform at the Follies for most of her long and successful career.
I met Betty a few times several years ago. I found her soft-spoken, charming, and a natural storyteller with a wicked sense of humor. Betty graciously answered my many questions.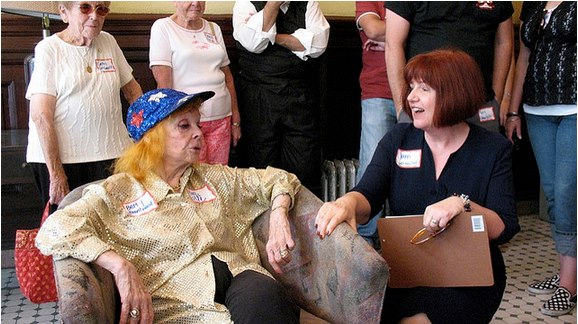 I asked her about the dispute over Barbara Stanwyck's costume in the 1941 film, "BALL OF FIRE." She chuckled and told me the dispute was a publicity ploy. Stanwyck's costume is a knock-off of one of Betty's.
Because I love vintage perfume and cosmetics, I asked her if she had a signature scent. She said she loved Coty's L'Aimant. L'Aimant is the first fragrance from Francois Coty, launched in 1927. L'Aimant means magnet in French. The composition is elegant, sophisticated, and classic combination of flowers—perfect for her. I sent her a bottle in the hope it would evoke happy memories.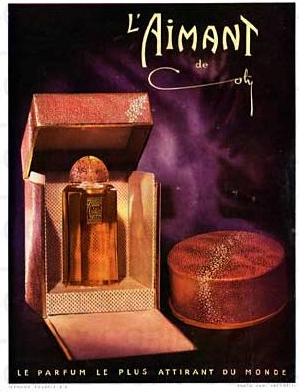 The slow slide to the end for the Follies began after the 1930s, as the theater fell into disrepair. By 1967, it was the last working burlesque house in Los Angeles. That same year Eleanor Chambers, assistant to Mayor Sam Yorty, failed in her bid to get the city's Cultural Heritage Board to protect the theater and the Burbank Theater down the street at 548 (which was a combo film and live performance house in 1967). We give Eleanor high marks for creativity. She suggested to the board there were historic costumes from the Gilded Age stored inside the building–the building opened in 1904 as the Belasco.
Unfortunately, Eleanor's best efforts failed. They bulldozed the Follies in 1974.
Joni Mitchell is right:
Don't it always seem to go
That you don't know what you've got till it's gone?
They paved paradise and put up a parking lot!
Betty Jane Rowland passed away at 106-years-old on April 3, 2022.