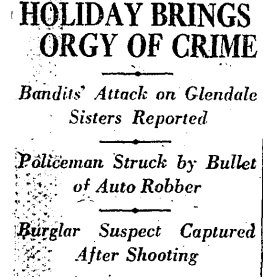 Readers of the Los Angeles Times were bound to have been dismayed when, on December 26, 1930, they saw the headline "Holiday Brings Orgy of Crime". Apparently not all Angelenos were filled with goodwill toward their fellow man, or woman for that matter. The article was a litany of Christmas Eve and Christmas Day misdeeds that began with the shooting of a police officer.
Officer Allen G. Adcock of the Hollenbeck Heights division was shot by a bandit during the early morning hours of Christmas Day. Officer Adcock had been directing traffic during a fire at Macy and Gelardo streets when a car containing two men ignored his command to halt and blew through the intersection at a high rate of speed. Apparently Adcock "badged" a civilian, Earl H. Pfeifer, and commandeered the man's auto to pursue the suspects. With Pfeifer at the wheel, Adcock stood on the running board of the car and held on for dear life. One of the fleeing men leveled his weapon at Adcock, who then whipped out his own pistol. The two men fired simultaneously and a bullet from the suspect's gun struck a glancing blow on Adcock's head which knocked the cop off of Pfiefer's running board.
Pfiefer stopped to render aid to the fallen policeman and the suspects escaped. A subsequent investigation showed that the two suspects were bandits who had held up Irwin Welborn of West Twenty-ninth Street. They drove him out to Long Beach and then robbed him of $2 and his car.
At Pacific and O'Farrell Streets in San Pedro, a local poultryman, Jack Zuanich, was slugged on the head with a wooden club. The reason for the attack was not determined. Zuanich was taken to the San Pedro General Hospital in serious condition.
Two cowardly bandits, turned rapists, dragged Maxine Ungeheur (20) and her younger sister Thelma (19) out of a car under the Los Feliz Bridge (aka Shakespeare Bridge) and brutally attacked them. The sisters were being driven home by Roland Oakley, a Griffith Park employee, following a Christmas Eve soiree. Oakley slowed his auto near the bridge and the bandits stepped out from a clump of trees and threatened the girls and Oakley with guns. Oakley, under threat of death, stood helplessly by as the girls were ravaged. The cops located clues at the scene, in particular a leather glove believed to have been worn by one of the attackers. Detective Lieutenants Hoy and Kriewald of the Lincoln Heights Division were hopeful that the clue would lead to the arrests of the men involved in the assaults.
In addition to all of the other mayhem occurring in and around the city, there was a spate of holiday burglaries for cops to contend with. Two men were discovered plundering a store on Huntington Drive by Officers Cooke and Carter, and a citizen, A. Burke. Upon being found out the two crooks attempted to high-tail it to freedom. Officer Cooke fired at the fleeing suspects and the citizen. A. Burke, unloaded a charge of bird shot from his shotgun at the burglars. Both suspects dropped to the ground, but one of them scrambled to his feet and made good his escape. The other crook was captured by officers and gave the name of Bernave Palacios. He was held on suspicion of burglary.
Benjamin Caldron was held up in his South Western Avenue flower shop on Christmas morning by two bandits and robbed of $110.
The Ungeheur sisters were not the only women who were victims of rape, or attempted rape, over the Christmas holiday. Mrs. Dorothy Loustanau was walking near the corner of Ninetieth Street and Avalon Boulevard when a man drove an automobile up to the curb and leaped out. Snarling that he would beat her to death if she resisted, he clapped his hand over her mouth and pinioned her arms while he attempted to force her into his car. Dorothy struggled desperately and succeeded in staying out of the car. Her attacker, enraged that his victim was putting up a fight, tried to drag her into a vacant lot, but Dorothy broke free and began to scream for help. Her assailant fled the scene.
Lillian Rosine, of 1322 Cherokee Avenue in Hollywood, was driving down Las Palmas Avenue with a friend, Earl Marshall, when a bandit leaped onto the running board of her car. The bandit produced an automatic weapon and commanded Lillian and Earl to stick up their hands. Lillian became furious with the brazen bandit and instead of complying with his order she leaned in front of Earl and shoved the bandit in the face!
The crook was thrown off balance and fired, the round grazed Earl's head inflicting a four inch wound in his scalp! Lillian screamed and stomped down hard on the gas. The bandit tumbled off of the running board, stood up, and then proceeded to walk nonchalantly up Selma Avenue. Lillian dashed to the Hollywood Receiving Hospital a few blocks away where Earl's wound was treated and dressed. The bandit remained at large.
I'll wrap up the orgy of crime with the murder of Jose Lopez (45). Lopez died in Georgia Street Receiving Hospital from wounds received in an attempted hold-up and fight. Lopez's friend, Jose Ayala, told the cops that he and Jose were accosted by two men early Christmas morning and beaten with clubs. Ayala did his best to provide a description of the killers but he had been rendered unconscious by a blow in the mouth early in the affray.
NOTE: This is a re-post from last year's holiday season. Enjoy.