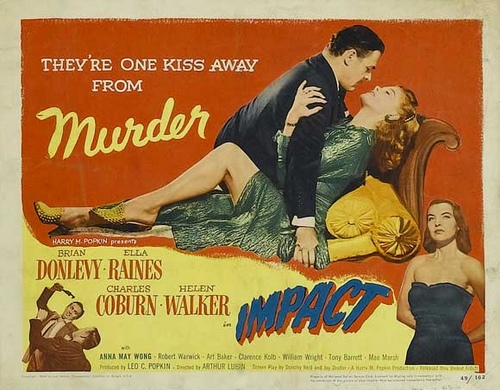 Welcome! The lobby of the Deranged L.A. Crime theater is open! Grab a bucket of popcorn, some Milk Duds and a Coke and find a seat. Tonight's feature is IMPACT directed by Arthur Lubin and starring Brian Donlevy and Ella Raines.
TCM says:
After delivering a passionate speech in which he convinces his company's board of directors to purchase some factories in Tahoe, California, San Francisco industrialist Walter Williams returns home to his wife Irene.

Walter reenacts part of the speech for Irene, and their maid, Su Lin [Anna May Wong], mistakes it for an argument. Walter then leaves to finalize the deal, promising to call Irene on his way home. After Walter leaves, Irene phones her lover, Jim Torrence, with whom she is plotting to kill Walter, and tells him to go to Sausalito.

When Walter phones Irene, she persuades him to give her cousin "Jim," who is stranded in Sausalito, a ride to his home in Denver. Walter meets Torrence and they drive for several hours before stopping at a café. While Walter is inside, Torrence sabotages one of Walter's tires. When the later tire blows, they stop near a steep embankment. Torrence then hits Walter on the head with a wrench, rolls his unconscious body down the slope and tosses his briefcase after him.