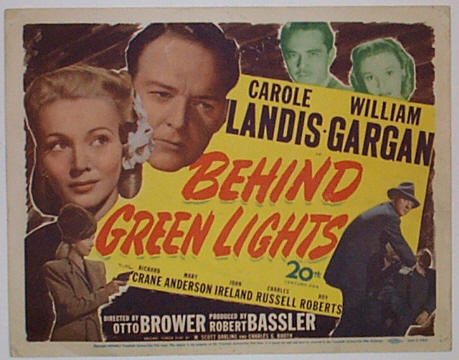 Welcome!  The lobby of the Deranged L.A. Crimes theater is open. Grab a bucket of popcorn, some Milk Duds and a Coke and find a seat. Tonight's feature is BEHIND GREEN LIGHTS starring Carole Landis, William Gargan, and Richard Crane
Turner Classic Movies says:
One night at 10:30 in a typical, cosmopolitan city, Janet Bradley goes to the apartment of Walter Bard, a private investigator who specializes in blackmail. Bard holds letters that would be damaging to someone close to Janet, and when he laughs at her admission that she could not raise enough money to get them back, she steals his gun and takes the evidence by force. As she leaves, she throws the revolver into Bard's car. Up the street, meanwhile, cynical reporter Ames introduces cub reporter Johnny Williams to the policemen at the station house. Ames tells Johnny that Lt. Sam Carson is a good, fair officer, then introduces him to the other reporters. While the men talk, they see Bard's car roll up in front of the station house, and his dead body is found inside. Ames smells a big story, as Bard was also involved in politics, and wonders if his murder was an attempt to discredit the current, corrupt city administration.
Enjoy the film!