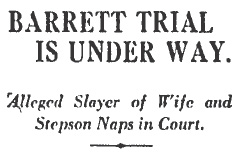 Benton Barrett had confessed to the murders of his wife Irene and his stepson Raymond, but was he guilty? His confession had lacked crucial details and he appeared to have been so highly suggestible during his interrogation by the Santa Monica police that he was willing to admit to anything they tried to pin on him.
Benton's courtroom demeanor reflected his inability to appreciate his predicament. He was at times befuddled and could be heard chuckling for no apparent reason, and at other times he chanted psalms or nodded off.
It was fortunate for Barrett that his attorney had found two girls, Oteil McIntosh and Thelma King, who could testify to having seen the alleged murder victims alive and well long after their bones were supposed to have been pitched into a cesspool by Benton.
On the witness stand Oteil told a packed courtroom how she had seen Raymond Wright driving a woman fitting the description of Irene Barrett in an automobile. She had shouted a greeting to the boy: "Hello, Ray", and he'd answered: "Hello, Oteil. Then he had reached forward to shift the car into gear and speed away.
Oteil was acquainted with Raymond because they attended school together and he'd even come to her home and played football with her brothers!
Thelma took the stand and corroborated Oteil's testimony. She said that the two of them had been out walking and the encounter with Raymond happened exactly as Oteil had testified. When asked what she had said after the car had passed, Thelma said that she had remarked that Raymond wasn't a very handsome boy and Oteil had agreed — then they shared a laugh.
The defense had struck gold with the girls and then did equally well with three unpaid alienists who declared Barrett to be a complete lunatic. The accused was described as a "…man-vegetable, a hopeless victim of senile dementia, human only in frame, still in touch with human kind by occasionally reaching islands of sanity in his mental realm." A very bleak picture to be sure.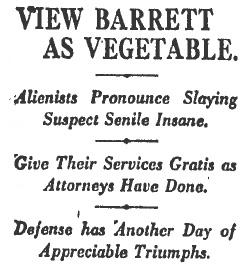 Dr. Hay Rochester offered his opinion that despite the worries and stress of a murder trial, Barrett had managed to gain quite a bit of weight which he stated was clear evidence of the man's insanity!
Another of the shrinks described Barrett as a "week, susceptible, mentally depraved old man" and went on to say that Barrett was unquestionably insane, and could easily have been convinced that he had murdered his wife and stepson.
Of course the only opinions that mattered were those of the twelve citizens in the jury box. They deliberated for hours and it appeared that they would not be able to reach a verdict. They requested clarification on a few points of law then retreated behind closed doors. It took them close to thirty and one-half hours before they concluded that Benton Barrett was not guilty by reason of insanity.
Upon hearing the verdict read, Barrett began to sob then he shouted:
"I ain't crazy. I ain't crazy, and I hadn't ought to go to Patton with them crazy people. I ain't crazy. But God will surely take care of an old man like me."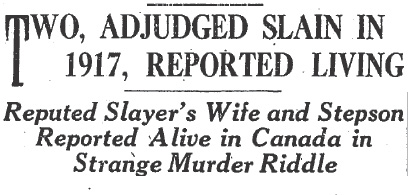 In March 1927 a local newspaper reported that Delia B. Rawson, a long time friend of Irene Barrett's, had recently received a letter postmarked in Canada supposedly written by the dead woman!
Rawson said:
"The letter was mailed from a familiar town Canada. It mentioned briefly the place on Santa Monica Boulevard where the double murder is supposed to have taken place, but there was no mention of the circumstances."

"Mrs. Barrett did say that the tow-headed boy, meaning her son Raymond, who then was a schoolboy, had grown into manhood and was 'a great comfort to her now.'"

"The letter," Mrs. Rawson said, "added that Mrs. Barrett was leaving the town from which it was mailed. It was signed Irene, which was Mrs. Barrett's first name, and I am positive it was in her handwriting which I know very well."
If Irene and Raymond were alive, and it certainly appeared that they were, some important questions would likely go unanswered forever. What did Irene gain by running off? Perhaps the most vexing question was whose bones were found in the cesspool?
When Benton Barrett was given the news that Irene and Raymond had been reported alive in Canada, he said:
"I have always thought the Lord would take care of me. He never has failed. I always believed this thing would clear itself up, and now I am convinced that it will."
Dr. J.M. Webster, superintendent of Patton, the institution in which Barrett had spent nearly a decade following his trial, declared that the man was "competent, with some peculiarities."
I believe that describes us all.