At a press conference on December 23, 1980 at Parker Center, Daryl Gates, Chief of the Los Angeles Police Department, announced that three suspects in the gruesome massacre at the Bob's Big Boy restaurant on La Cienega near Sawyer Street, in which three people were killed, were in custody and would be charged with first degree murder. The suspects were identified as: Franklin Freeman, 22, Ricky Sanders, 25, and Carletha Stewart, 19. [Stewart and Freeman were cousins, Stewart was Sanders' girlfriend.] Gates said that Stewart was a former employee of the restaurant but did not say how long she had been employed or when she had left.
Forbidden by law to disclose the criminal records of the suspects prior to their being charged, Chief Gates said that the alleged gunmen had police records and one of them had a record of "serious violations–real hard-time stuff." Stewart had no criminal record and wasn't in the restaurant during the murders; however, she was thought to have been the getaway driver.
The suspects spent Christmas Eve in court where they were formally charged with murder, robbery, assault with a deadly weapon and conspiracy. Each of them was eligible for the death penalty if convicted; and all of them entered a plea of not guilty.
Once they'd been charged, Sanders' criminal record was made public. He had been released from custody on March 12, 1979 after serving almost a year in Soledad and Tehachapi for a residential burglary in Orange Count.  Not exactly "hard-time stuff", but certainly incarceration in a California State Prison counts as serious.
As far as hard-time goes, Freeman's younger brother, Anthony, 19, stood a chance of doing a major stretch in prison for a murder he had allegedly committed. He was awaiting a retrial for the strangulation murder of seventy-two year-old Rosa Robinson. She had been strangled with a vacuum cleaner cord on August 8, 1979. She was the mother of Inglewood Municipal Court Judge Roosevelt Robinson. Anthony's first trial deadlocked 11-to-1 in favor of conviction. It was possible that the Freeman brothers would serve prison time, if not in the same facility, then at least simultaneously. [Anthony was sentenced to life at his second trial.]
One of the revelations during the preliminary hearing in April 1981 was that the robbery was not committed on a whim, it had been planned. According to an acquaintance of Stewart's, Andre Gilcrest, 21, about two weeks prior to the actual robbery Stewart told him that some of her friends were going to rob the Bob's restaurant that night. Gilcrest, who was held in protective custody, said that after Stewart told him about the plan they drove to the restaurant and drank coffee until closing waiting for the shit to hit the fan. The robbery didn't occur that night because, as Stewart later learned, the manager, thinking that the would-be robbers were customers who hadn't made it before closing time wouldn't open the door for them.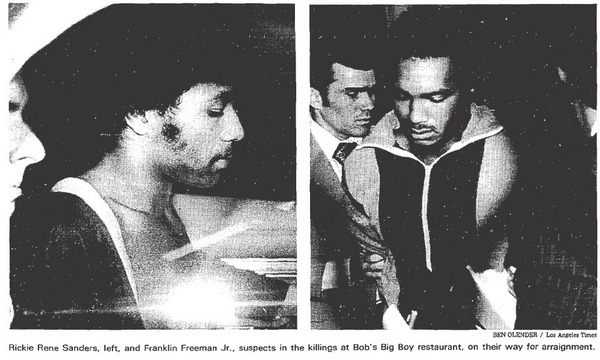 One of the victims who testified at the preliminary hearing, during which all three of the defendants were present, was Rhonda Robinson. She took the stand and almost immediately began to tremble. When she became incoherent a recess was called so she could collect herself. When the DA asked her why she was so frightened she said: "Because I know that's the guy [motioning to Freeman] over there who did it." She was one of the lucky ones in that she was not physically harmed during the shootings, but she was psychologically damaged. She said she had nightmares and wasn't able to return to work. She was consulting a psychiatrist for her ongoing emotional trauma.
Ismael Luna testified through a Spanish language interpreter. He was shocked and bewildered by the violence.  He said: "We were all in a group and they just started shooting." Luna's father Cesario, wounded during the shooting, died after languishing for several months in a coma–bringing the death toll to four.
Michael Malloy, night manager at the restaurant, lost his right eye during the gunfire. He appeared in court with a bandage covering half his face.
Orasteen Freeman insisted her son was the victim of mistaken identity. You might expect a mother to defend her son, but in this case there was possibly something to her assertion. One of the survivors of the massacre, Tami Rogoway, had failed to make a positive identification of Freeman. But less than a week later she testified that she was "positive" that he was one of the two men who shot into the freezer that night. She explained her inability to identify him the first time because she had  been too afraid to make eye contact with the defendant; but later when "he turned back once, our eyes caught…and I flashed back to Bob's Big Boy."
Madelynn Kopple, Freeman's attorney, asked Rogoway if she was "willing to bet your life" on identifying Freeman. Rogoway replied: "I have to be willing to sit up here and say what I just said."

Would Rogoway's initial failure to ID Freeman be enough to plant the seeds of reasonable doubt in the minds of the jurors?
NEXT TIME:  The conclusion of the bloodbath at Bob's Big Boy.