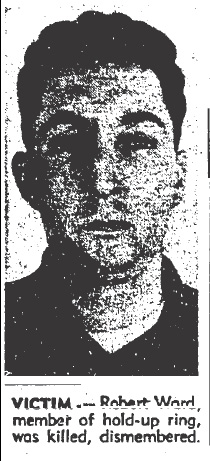 After shooting Bob Ward to death with a .38, Allen Ditson had to figure out what to do with the body. At least Carlos Cisneros was there to help him. Carlos began to dig a grave with his bare hands until Allen brought him a butcher knife from the car. Once the grave was ready Allen said that they would have to dismember Bob to prevent identification if someone should discover his remains. Using the butcher knife they removed Bob's head and each arm at the elbow. They buried the remains and then tossed the head and arms into the truck of the car and drove back Allen's store.
While Allen and Carlos were coping with the dead body, Keith Slaten turned up at the house of his friend Martha Hughes. He told her that he'd been in a fight and wanted to clean up his car. He was covered with blood and shaking like a leaf and Martha told him she didn't believe he'd been in a fight.  He blurted out: "Well, God damn. All right, so we killed him." Allen couldn't keep his mouth shut either. The day after Bob's murder he told Eugene Bridgeford everything that had happened after he pleaded illness and left.
What happened to Bob's head and arms? Allen and Carlos took them to the home of Christine Longbrake a few days after the murder. Christine was an acquaintance of Allen's and a couple of weeks before the crime she'd been in Allen's shop and he'd told her that "there was someone they had to get rid of" because the man was trying to blackmail him.  Allen asked to use her garage as a place to get rid of the guy but she thought he was kidding. When Allen and Carlos turned up with two boxes Christine knew she couldn't refuse any request they made. She stayed upstairs while the boxes were taken to the cellar. Allen knocked Bob's teeth out with a hammer then placed what was left of him in the hole and then poured in a bottle of acid.  When the men came back upstairs Christine smiled nervously and said: "Is it somebody I know?" They smiled back and Allen said that she wouldn't know him. Then he and Carlos drove out to Hansen Dam and tossed Bob's teeth and dental plate into a gravel pit.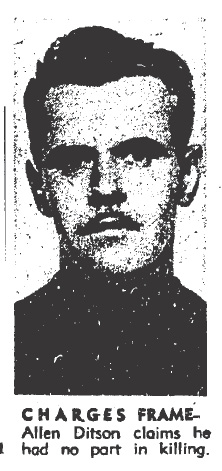 Christine hadn't seen the last of Allen and Carlos. Not more than a few days after they'd buried the boxes in her cellar Carlos stopped by and told her everything. He even told her what was in the boxes underneath her house. Her nerves weren't soothed when he told her that he could never kill a woman. In fact she was so unnerved that she told Allen she was going to move "…because I couldn't stand living in this house …" Allen told her that if it bothered her so much he'd pay her rent if she'd just hang on a bit longer.
A bit longer turned out to be several months. In June 1960 Allen asked George Longbrake, Christine's brother-in-law, if he would dig up the two arms and head under the house. George agreed and Allen bought him some aluminum foil so he could wrap up the bits of Bob that remained. Then, since it seemed the entire Longbrake family was involved anyway, Allen asked Wynston Longbrake, Christine's husband, if he'd "help bury something." Allen, Carlos, and Wynston drove from L.A. on Highway 99 to a place about 14 miles from Castaic Junction. He turned off the highway for about 100 yards. Carlos waited in the car while the other two carried the macabre foil wrapped packages out of sight, then dug a post-hole and buried them.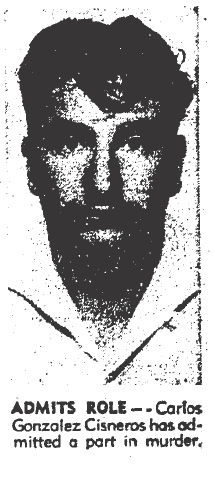 Because Allen and Carlos were incapable of keeping quiet about what they'd done it was only a matter of time before the law caught up with them. The remaining gang members began to fear Allen more than they did the cops. On June 17, 1960 Keith Slaten went to the police and a few days later Eugene Bridgeford did the same. The statements were enough for the police to get a warrant to examine Carlos' Cadillac–they found traces of human blood in the trunk. One day later the police conducted a similar examination of Keith's Ford and found human blood on the upholstery. On June 28, "sometime after 1:00 p.m." Allen and Carlos were taken into custody.
Allen maintained his innocence, but Carlos appeared to be genuinely remorseful and he wanted to talk. In his 1959 book, The Compulsion to Confess, Theodore Reik said "There is … an impulse growing more and more intense suddenly to cry out his secret in the street before all people, or in milder cases, to confide it at least to one person, to free himself from the terrible burden. The work of confession is thus that emotional process in which the social and psychological significance of the crime becomes preconscious and in which all powers that resist the compulsion to confess are conquered."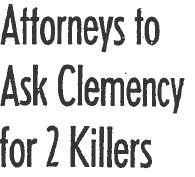 Allen's protestations of innocence didn't sway the jury of five men and seven women.  He was found guilty and sentenced to death. Carlos was also found guilty in Bob's murder and sentenced to death. In early November 1962, with their executions imminent, Governor Brown presided over a clemency hearing. Carlos' remorse saved him. His sentence was commuted to life.
Allen never admitted his guilt to the police, but he did confess to nearly everyone else he knew. On November 21, 1962, without requesting a special holiday meal, Allen kept his Thanksgiving Eve date with the gas chamber.