Not everyone celebrates the 4th of July with fireworks and a BBQ.
On Friday, July 4, 1941, two men armed with a sawed-off shotgun entered the California Kitchen cafe at 410 Glendale Boulevard and held staff and patrons at gunpoint while they stole $67.50 from the register and $35 from their victims. As soon as they left, twenty-year-old Carson Citron, a talented cartoonist who sketched visitors to the 1939 New York World's Fair, called for a pencil, grabbed a paper bag, and drew realistic likenesses of the robbers.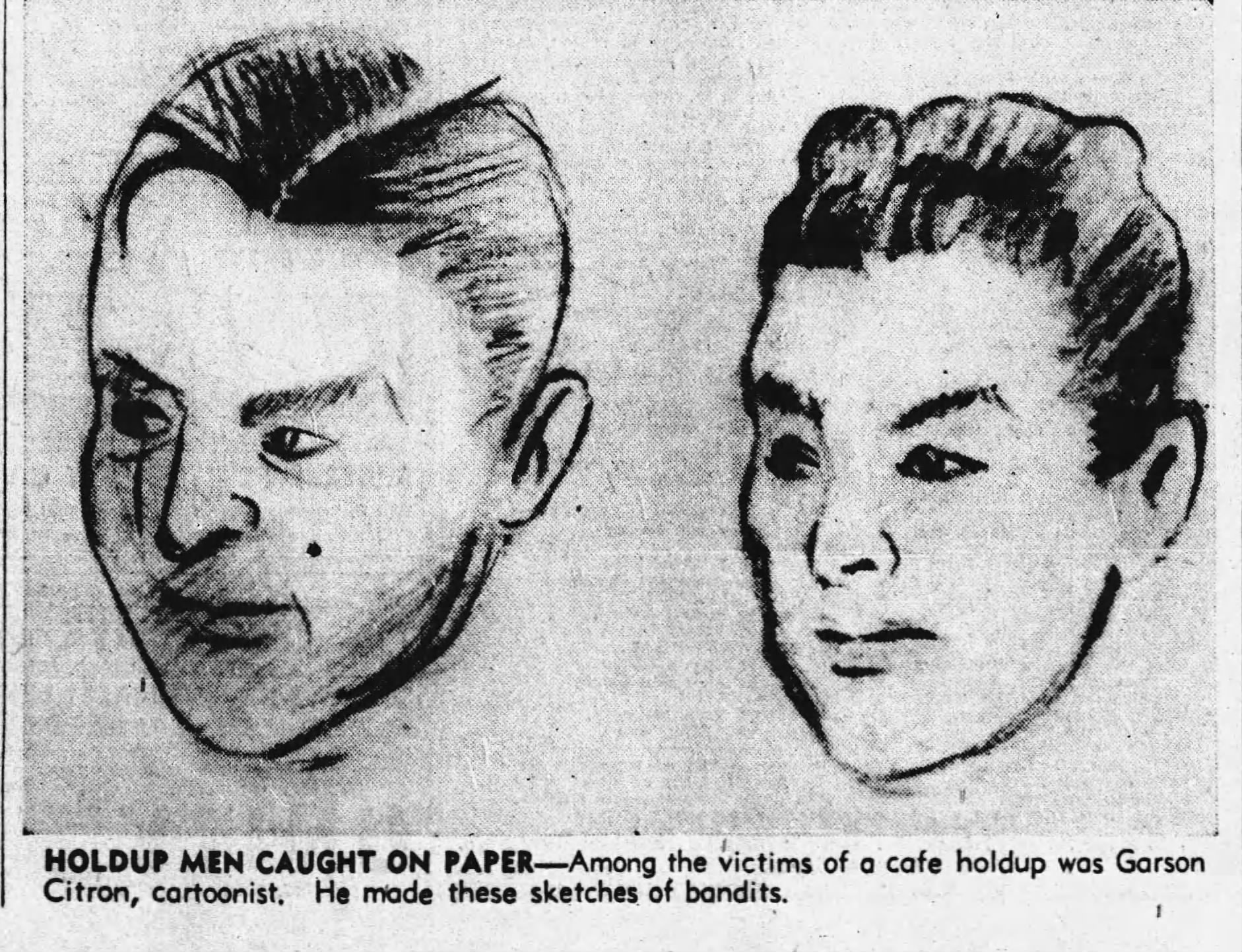 Jerry Towslee, manager of the Kitchen, and all the patrons, attested to the accuracy of Citron's art work. The police immediately reproduced the sketches for circulation.
Over the next week, the Cartoon Bandits continued their spree of robberies, car thefts and kidnappings stretching from LA to Oakland and back to LA. They carjacked Paul Ashbrook and his date, Katherine Dietz, in Oakland. They drove the couple 80 miles east to Stockton, where they tied them up and left them in a cemetery. Ashbrook told police one of their captors said, "We've got to scram out of here now, but we're going back and get that cartoonist!"
Police had victims of the bandits compare Citron's sketches to mug shots and they identified the suspects as Edward Walker, a twenty-six-year-old robber paroled from Folsom Prison, and twenty-two-year-old Carl Westover, a San Quentin alum.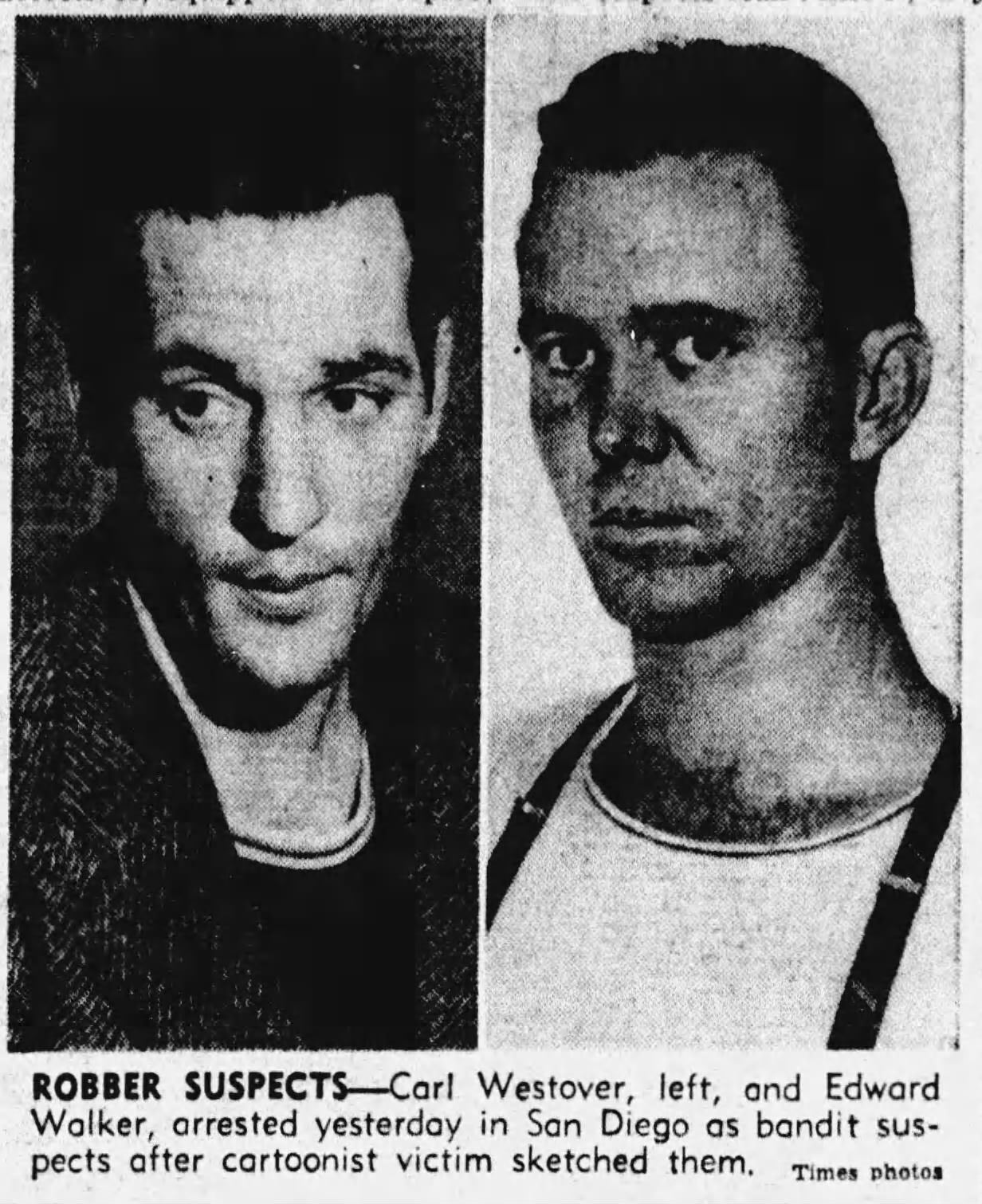 Early on the morning of July 10th, the gunmen abandoned a car in a lot at 450 S. Spring Street. They kept the lot attendant, Fred Hunt, at bay while they transferred a suitcase to another vehicle, which they drove off in.
For the next few hours, the bandit pair added new names to their roster of victims. Alvin Marshall lost $40 in a liquor store on Whittier. They took $8 from Ray Eckenroth at a gas station on W. Washington Blvd. Then they pulled into a gas station at 3251 Eagle Rock Blvd., bought gas and soft drinks, then pulled guns on the attendant, O. R. Bates and relieved him of $40. Evidently proud of their newfound fame, they boasted, "We're the cartoon bandits. You can tell those—Los Angeles policemen we're back in town and going to be plenty of grease in their hair."
The bandits headed south.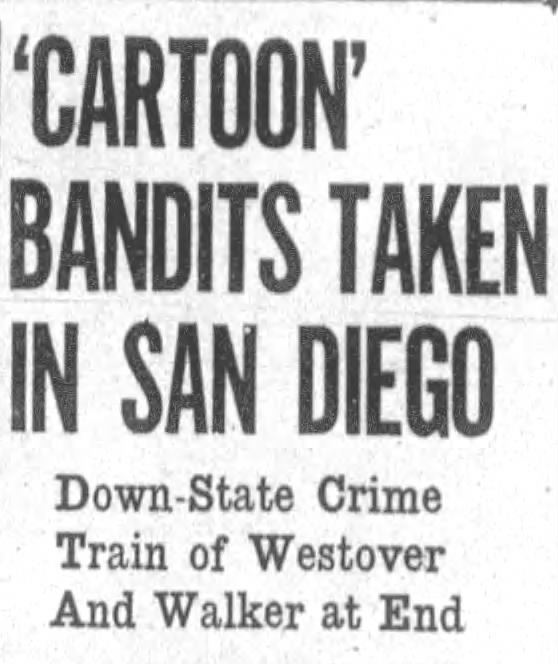 Later in the day, as San Diego patrolmen Earl Myrick and Thomas Hays cruised in their radio car, they recognized a stolen sedan. They followed the car for four blocks, then drew up alongside it with their revolvers drawn. Westover had a.38 caliber revolver in the pocket of his pants. All the way from Los Angeles to San Diego, he held a sawed-off shotgun in his lap. He said, "But we decided to go to the Grant Hotel garage, so I broke the shotgun down and put it in a handbag in the back of the car." Then he sneered, "If I could have got my gun, I'd have blown you cops all over the place."
On July 11th, Detective Lieutenants Claude Thaxter and H. C. Henry drove down to San Diego to take the bandits into custody. Westover, the younger of the two and a former San Diego schoolboy, admitted to Municipal Judge Philip Smith how he and Walker robbed a liquor store.
The bandits also confessed they'd staked out Citron's home and planned to beat but not shoot him, but there were police cars out front and they changed their minds. That is when they left for San Diego.
Westover claimed responsibility for a $3000 supermarket robbery, but it was quickly determined he was still in prison at the time of the crime. Called to the stand and asked about committing perjury, Westover mused, "Well, I committed so many stick-ups I can't remember them all, and won't be able to serve out all my time anyhow!"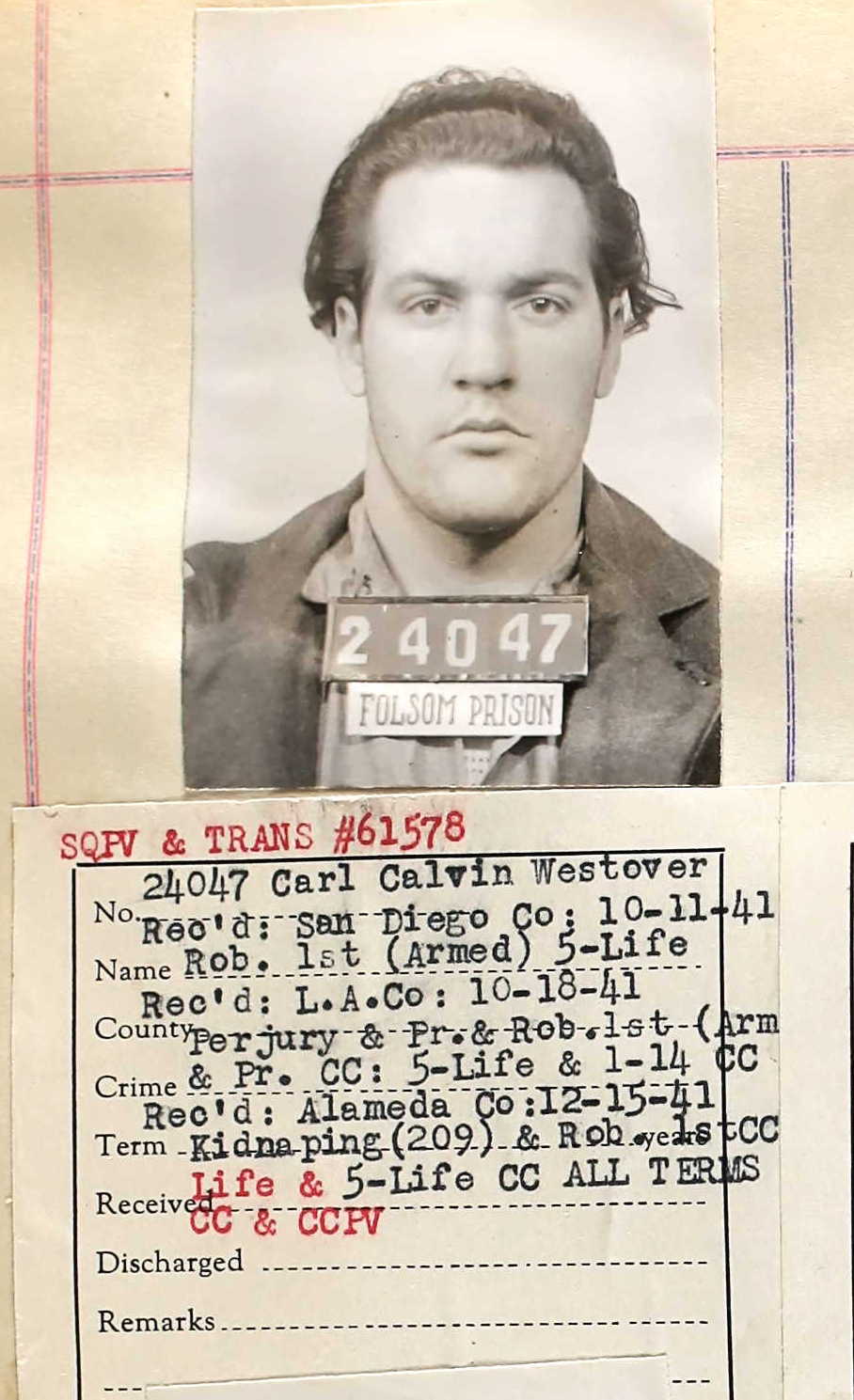 In October, the Cartoon Bandits pleaded guilty to one count each of robbery in Judge A. A. Scott's courtroom. Each of them received a sentence of five years to live in Folsom.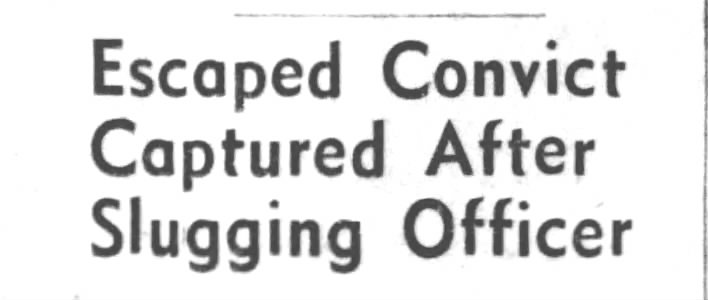 In 1957, Carl Westover, serving his life sentence as an honor worker in the San Quentin prison dairy, escaped. Oceanside policeman Ray Wilkerson captured him as he attempted to break into a car. Westover attacked Wilkerson with a screwdriver and ice pick, fracturing his skull, but two other officers arrived in time to subdue him. A career criminal, it appears Westover may have died in prison in 1998 at age 79.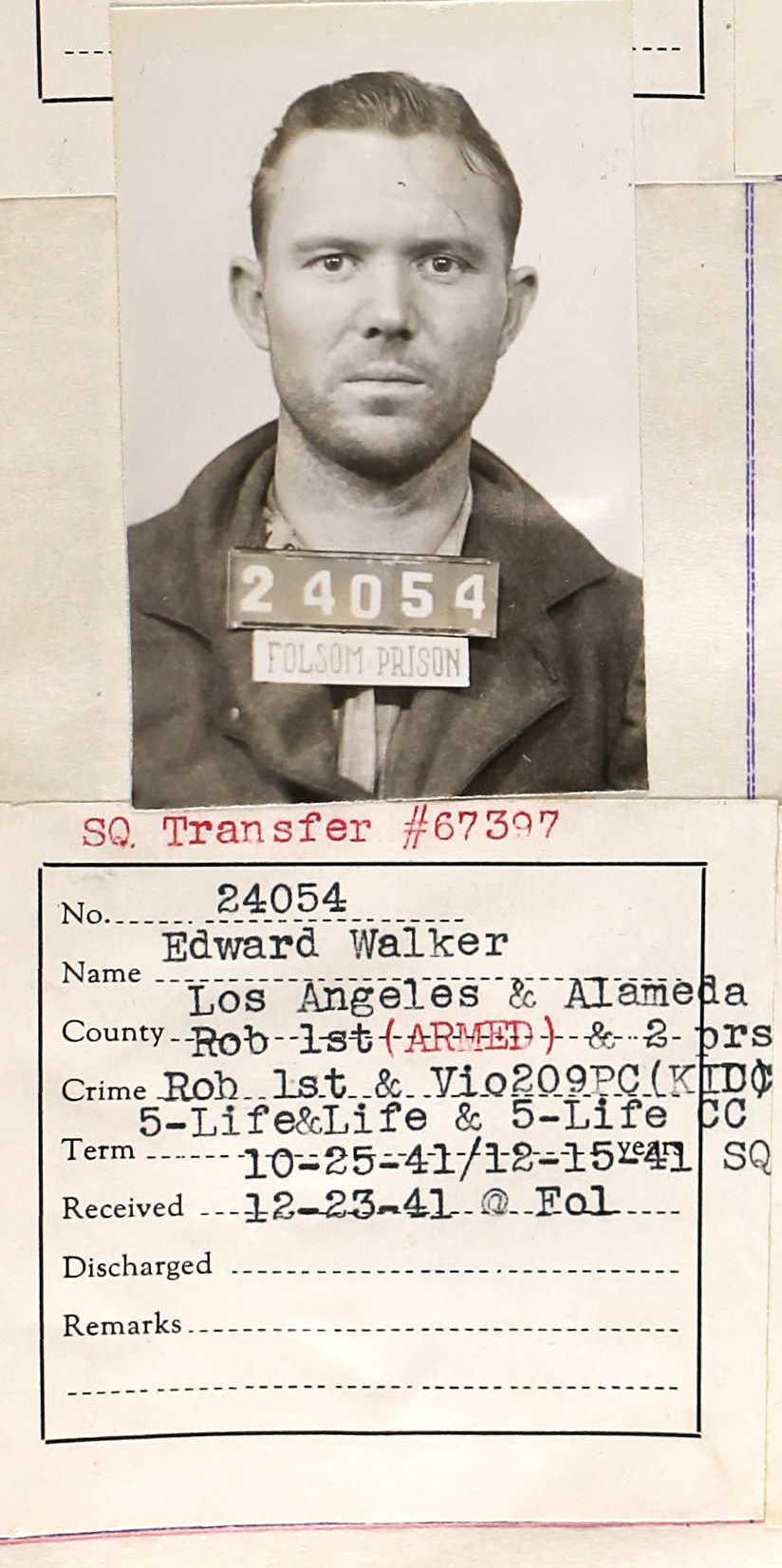 As for Walker, he, like Westover, began his criminal career as a juvenile. The 1950 Federal Census shows him incarcerated in Folsom. I don't know what happened to him after that. If anyone has information on Walker, please share.