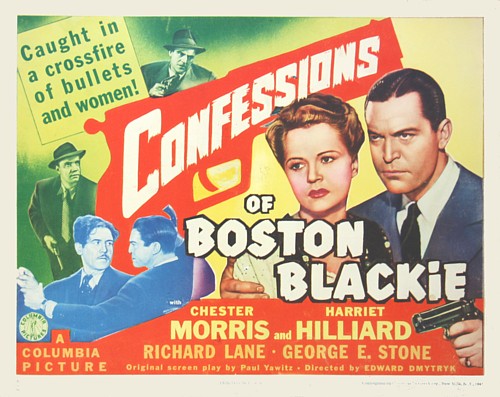 Welcome!  The lobby of the Deranged L.A. Crimes theater is open. Grab a bucket of popcorn, some Milk Duds and a Coke and find a seat. I confess, I'm a sucker for crime dramas with a little comic relief in the mix,  and I'm particularly fond of Boston Blackie, so tonight's feature is CONFESSIONS OF BOSTON BLACKIE starring Chester Morris and Harriet Hilliard (Mrs. Ozzie Nelson).
Leonard Maltin says:
Delightful second entry in the series finds Blackie, trying to smash a murderous art forgery racket, being chased by the killers as well as the relentless Inspector Farraday. George E. Stone joins the cast as Blackie's sidekick "Runt" (replacing Charles Wagenheim), providing ample comic relief.
http://youtu.be/s5joiPN8sjY