BLOOD TRAIL
A trail of blood led from the late 1960s into the new decade of the 1970s: the 1968 assassinations of Martin Luther King, Jr. and Robert F. Kennedy; the stabbing death of Meredith Hunter at a December 1969 rock concert in Altamont, California; the August 1969 bizarre and brutal slayings of Sharon Tate, Abigail Folger, Wojciech Frykowski, Jay Sebring, Steven Parent, Leno and Rosemary LaBianca; the November 1969 revelation of the My Lai Massacre by American troops of hundreds of civilians in a Vietnamese village; and the killing of 4 unarmed students at Kent State University by the Ohio National Guard during a protest of the U.S. government incursion into Cambodia.
It seemed as though the world was on fire and everyone and everything was about to be consumed in a massive conflagration.
Columnist Art Seidenbaum wrote an editorial, The Wind of Fear, for the L.A. Times in which he described the summer of 1970:
"It (fear) swirls and grows around multiple murders. It whistles in the wake of terrorist bombings. It gusts along the roads for hitchhikers and drivers alike."
In his annual report for the year 1969 J. Edgar Hoover, Director of the FBI, stated that while the population of the U.S. had increased only 13% during the previous nine years, the crime rate had increased by 148%. It was a terrifying statistic.
Despite the crime and chaos all around, life appeared to be quiet and safe in Garden Grove, California during the first half of 1970 — but appearances can be deceiving.
JERRY CARLIN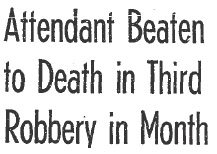 At approximately 2 a.m. on June 2, 1970, the body of Jerry W. Carlin was found beaten to death in the restroom of the Richfield Service Station at 3724 Westminster Avenue. The murder was discovered by David Miller, a driver for Southland Ambulance Service. Miller had made a routine stop at the gas station when he found Carlin face down on the blood smeared floor of the restroom. It was the third time Jerry Carlin had been robbed that month. Carlin was only 20 years old, a newly-wed, and he died not knowing that he was going to become a father.
A reward in the amount of $2,000 (approximately $12,000 in current dollars) for information leading to the arrest and conviction of the person or persons who murdered Carlin was offered by someone who asked to remain anonymous.
FLORENCE NANCY BROWN
Two weeks after she'd gone missing, the body of thirty-one year old El Toro School teacher, Mrs. Florence Nancy Brown, was discovered by a hiker in a shallow grave 50 feet off Ortega Highway near El Cariso, about 19 miles southwest of Elsinore.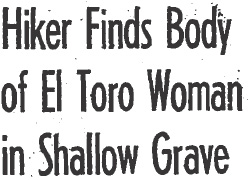 Mrs. Brown had been reported missing on June 4th by her husband, Ralph, after she had failed to return home following a routine errand. It was clear to investigators that Mrs. Brown had been killed elsewhere before being buried off of the Ortega Highway. The Riverside County coroner's report disclosed Mrs. Brown had died of multiple stab wounds in the chest. The weapon used by her killer was believed to have been a large hunting knife or bayonet, and the victim's right arm had been severed and her heart and lungs removed. Her wedding and engagement rings, a wristwatch and a number of oil company credit cards had been taken.
Cops didn't yet know that the two killings were connected, but they would soon get a tip that would reveal the names of the possible killers.
THE KILLERS

By the 1st of July 1970 arrests had been made in connection with the murders of Jerry Carlin and Florence Brown. One of the alleged perpetrators was a 20 year-old transient, Steven Hurd — the other person who was arrested was an old acquaintance of my brother's, 16 year-old Arthur Craig Hulse, the boy who had my brother's back in junior high school, and the same the guy that my brother's best friend and I had picked up hitchhiking shortly before we heard about the murders!
I had never thought of Craig as anything but a kid with an unhappy home life. He wasn't the brightest of the assorted misfits and oddballs who hung out at our home while my brother and I were growing up, but that had never mattered to any of us. All you had to do to be accepted in our circle of friends was simply be yourself, contribute to the conversations if you wished, be able to take a joke at your expense and respect our home.
In our short lives my brother and I had known people who went had gone down a bad road. Some of the people we had known had died of drug ODs and suicide, others had survived minor brushes with the law, but no one and nothing had prepared us for the summer of 1970.
At first it was impossible to conceive of Craig as someone capable of killing, but then the tale of the two slayings started to unfold; and it was grotesque.
NEXT TIME:  Jerry Carlin, Florence Brown and their killers.