Sheriff's investigators first believed someone kidnapped Marina. They, and her parents, waited for a ransom demand.  The wait ended almost as soon as it began with the discovery of Marina's body in the heavy brush down a 30-foot embankment in the 8800 block of Mulholland.
Sheriff's homicide investigator, Lieutenant Norman Hamilton, told reporters they could not tell if her killer threw or carried Marina down the slope.  Marina still wore the brown capris, white turtleneck sweater and a brown coat with fur cuffs that she wore when she left John Hornburg's house for her mother's home.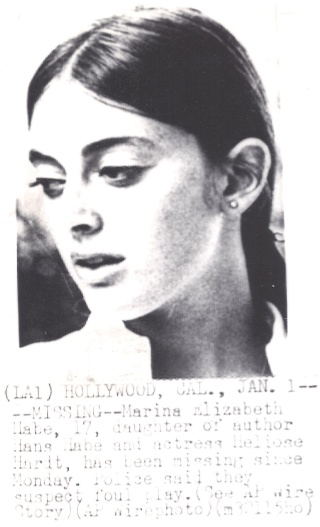 There were no obvious signs sexual assault.  An autopsy, conducted by coroner Thomas Noguchi, determined Marina's cause of death as exsanguination and found no evidence of rape. The small amount of cash in Marina's wallet seemed to rule out robbery as the cause of her abduction and murder.
Her car, left in her mother's driveway, had the emergency brake pulled up.  Investigators said that it took great strength to get the brake into that position and it was doubtful that Marina could have done it on her own.
Lt. Hamilton speculated that her killer (s) abducted Marina and intended to rape her, but she resisted.  According to Hamilton,  In recent weeks Eloise's neighborhood, located  three blocks below Sunset Boulevard, was the scene of several recent rapes.
The autopsy revealed that Marina's killer (s), cut her throat, severing her left carotid artery, and stabbed her multiple times in the chest.  She suffered two black eyes inflicted by a fist and someone beat her with a "small blunt object." She bled to death.  Despite no physical evidence of forcible rape, detectives felt Marina's death was an attempted sex crime.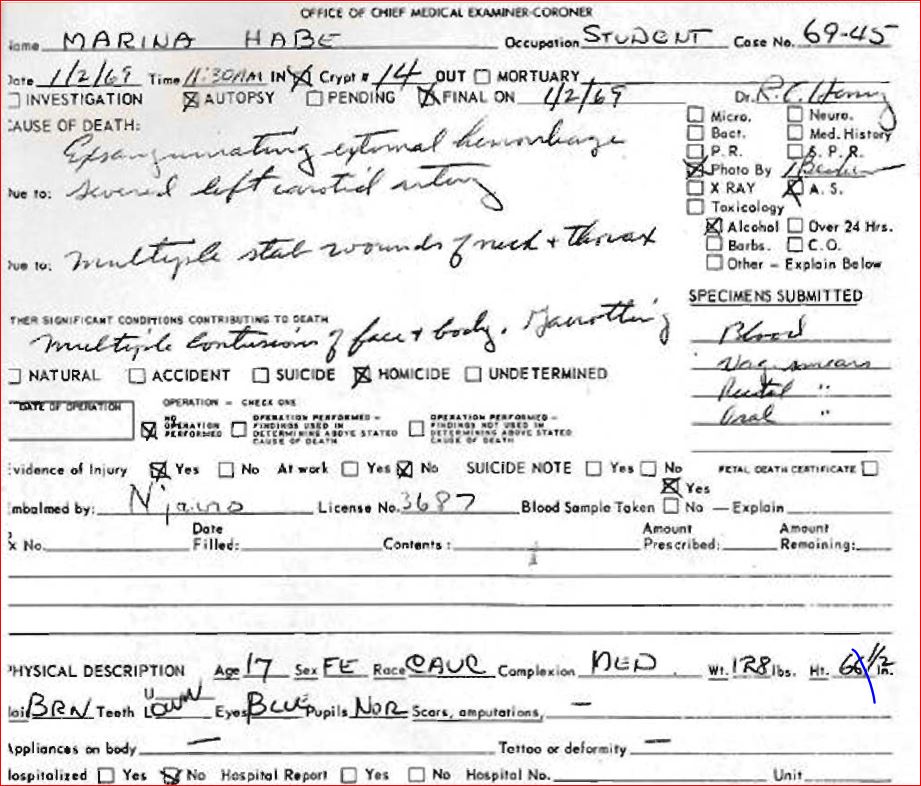 Her parents and 350 others mourned the pretty coed at her funeral. Marina converted to Catholicism in 1966 and they held a requiem Mass for her in the Good Shepherd Catholic Church in Beverly Hills.  Father Acton, who knew Marina in life, said, "We wonder about a society, the products of which can be a large in our midst and capable of such heinous crimes.  There you have the perfect formula for bitterness, resentment, hatred, perhaps despair.  This we must guard against."
Sheriff's Lieutenant Harold White joined in the hunt for Marina's killer (s).  He said, "We're tying very hard. But we have turned up nothing that is even remotely interesting.  There are all kinds of things to check out, but there's nothing conclusive."
White told reporters they assigned six homicide investigators to the case full-time and 20 deputies were also working the case.  Despite their best efforts, Marina's case went cold.
NEXT TIME: Is Marina's murder connected to a Jane Doe case, and is Charles Manson involved?