Purple Haze was in my brain,
lately things don't seem the same,
actin' funny but I don't know why…
–Jimi Hendrix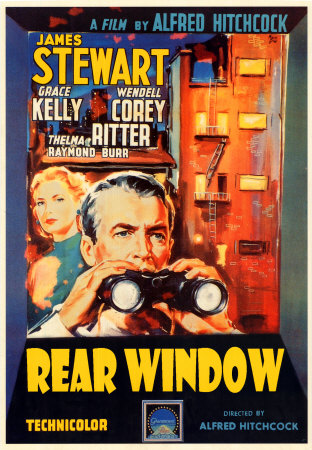 In the 1954 Hitchcock masterpiece, "Rear Window", L.B. "Jeff" Jeffries, a professional photographer, is wheelchair bound while he recuperates from an accident. His rear window looks out onto a small courtyard and he can see into the apartments of several of his neighbors.
One evening  he hears a woman scream "Don't!" and then a glass breaks. He watches as Lars Thorvald, a traveling jewelry salesman with a bedridden wife, makes repeated late night trips carrying his sample case. What is he carrying, and where did Thorvald's wife go? Jeff begins to suspect Thorvald of a grisly murder.
On March 6, 1952, two years before "Rear Window" hit theaters, Jordan Jones, a Sacramento based insurance salesman, was staying in a downtown Los Angeles hotel located at 230 West 7th Street.  Like Jeff Jeffries he was staring out of his window watching the guests in another wing of the hotel. But as just as Jeffries would discover in Rear Window, peeping isn't always merely a spectator sport.
Most of the guests had the good sense to draw their shades against prying eyes, but suddenly Jones noticed a couple putting on an X-rated show–far racier than anything he'd find in a Main Street burlesque house. Their shades were up and the lights in their room were ablaze. He watched, riveted, as the couple hungrily pulled off their clothing and began to have sex. Jones continued to watch the impromptu show–it sure as hell beat whatever was on the radio that night.  But then their lovemaking turned ugly.
The man put his belt around the nude woman's neck and started choking her and it didn't appear to be a part of their sex play. Jones immediately reported the incident to the hotel desk, but he kept his front row seat and watched as a bellboy appeared at the door of the couple's room. The man removed the belt from the woman's neck, and the bellboy presumably returned to his duties.
Moments after the bellboy departed Jones watched in horror as the man turned to the woman and resumed choking her, then he dragged her nude body around the room by the belt that was still tight around her neck.  When she crumpled to the floor the strangler began going through the woman's handbag and clothing.
This time Jones phoned the hotel manager who, with three bellboys, crashed into the couple's room where they found the killer standing dazedly over the woman's nude body. A Fire Department inhalator squad tried to revive the victim and Dr. Alfred Schaffel from Georgia Street Receiving Hospital administered adrenalin injections, but it was too late. The woman was pronounced dead at the scene.

LAPD homicide Lt. Bob Reid said that the woman's papers identified her as forty-eight year old Mae Ellen Mathis from Dragerton, Utah. She had been employed as a registered nurse at Queen of Angels Hospital for a short time, living in the nurses' residence there.
The strangler gave his name as William Klink, a 27 year old refrigerator repairman, but he refused to give a home address. Klink said he had met Mae in a bar on Hill Street and that she agreed to accompany him to the hotel where they registered as husband and wife.
Andrew Faiss (47) the bellboy who had showed them to the room only two hours earlier said that they had carried no luggage.
KIlink, who was on parole out of Ohio for a forgery conviction in 1947, told a different story to detectives and District Attorney Roll than Jones had.
According to Klink he'd been drinking for hours before he had hooked up with Mae.  After he and Mae had made love he said that he had feigned sleep and then watched as his companion got up, put on her clothes, and began going through his pants pockets.
Klink offered no rational explanation for why he'd put his belt around her neck and strangled her to death.
"I was in a kind of purple haze," he said.
A few months following Mae's slaying Klink was found guilty of second degree murder. Superior Judge John J. Ford sentenced him to five years to life in the California Institution for Men at Chino.