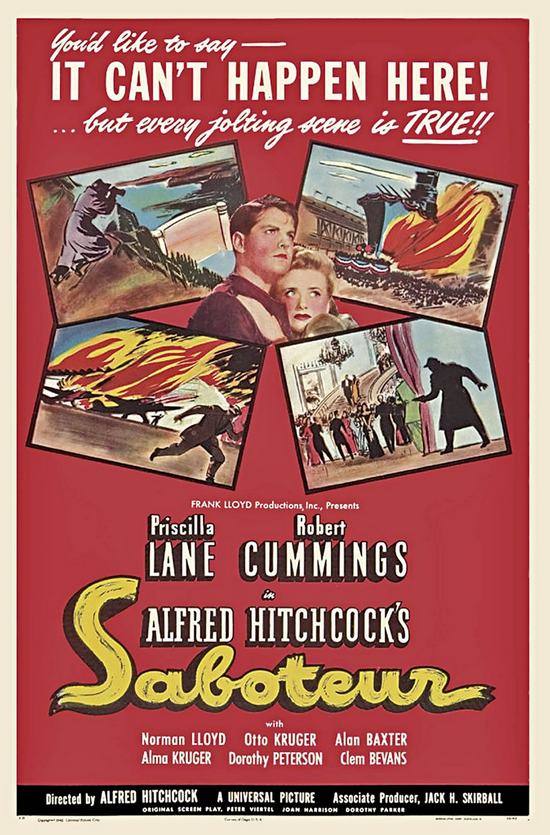 Welcome! The lobby of the Deranged L.A. Crimes theater is open. Grab a bucket of popcorn, some Milk Duds and a Coke and find a seat.
Tonight's feature is SABOTEUR [1942], directed by Alfred Hitchcock and starring Priscilla Lane, Robert Cummings, Norman Lloyd and Otto Kruger. This is a fantastic WWII era thriller by the master of suspense.
Enjoy the movie!
TCM says:
Munitions worker Barry Kane is falsely accused of setting fire to the Stuarts Aircraft Factory in Los Angeles, a fire that caused the death of his best friend, Ken Mason. Barry realizes that the real saboteur is Frank Fry, the man who handed him a fire extinguisher, which turned out to be full of gasoline. Remembering that Fry had an envelope addressed to him from the Deep Springs Ranch in Springfield, California, Barry goes there to find the killer, but the ranch's owner, Charles Tobin, tells him that he does not know Fry. Tobin's granddaughter, however, hands Barry a telegram addressed to Tobin from Fry stating that Fry is going to Soda City. Although Tobin has Barry arrested, Barry manages to escape from the police by jumping off a bridge.
http://youtu.be/NiD11N9dWJY