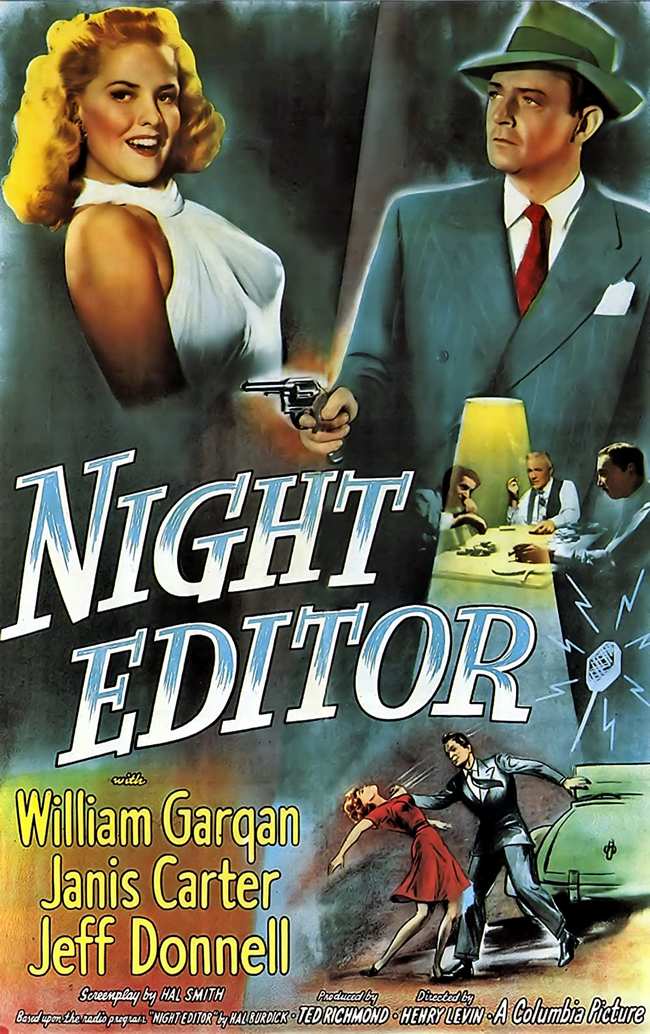 Welcome! The lobby of the Deranged L.A. Crimes theater is open. Grab a bucket of popcorn, some Milk Duds and a Coke and find a seat. Today's feature is NIGHT EDITOR [1946] starring William Gargan, Janis Carter and Jeff Donnell.
The film is based on a radio program of the same name, which ran from 1934 to 1948. Sponsored by Edwards Coffee, the program featured Hal Burdick as the "night editor". Burdick received readers' requests for stories, in a "letter to the editor" format, which he would tell on the program. Burdick played all characters in each episode. The radio series was adapted for Night Editor, a short-lived TV series on the DuMont Television Network in 1954, also hosted by Burdick.
Enjoy the movie!
TCM says:
At the offices of the New York Star , Johnny, a troubled young reporter, slumps despondently at his desk. Johnny's problems cause editor Crane Stewart to reminisce about another troubled young man he knew years earlier: Homicide detective Tony Cochrane dotes on his little son Doc, but is estranged from Martha, his unsophicsticated wife. Tony's estrangement arises from his love affair with Jill Merrill, a cold-hearted socialite. Although Tony has tried to break off their relationship, Jill keeps him ensnared with her sexual depravity. While passionately embracing at the beach one evening, Jill and Tony see a car stop along the road and hear a woman scream. When a man jumps out of the car and flees, Tony is about to give chase when Jill reminds him that his involvement would expose their illicit affair.