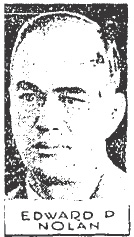 In a drunken rage LAPD detective Edward P. Nolan shoved Robert Wilson, the salesman who had been dancing with his sweetheart, Grace Duncan, into the bathroom of room 815 at the Lankershim Hotel.
Nolan was shouting obscenities and waving his service weapon around. Wilson stayed in the bathroom and locked the door, the other occupants of the room, Dan Smith, Jimmy Balfe, and Helen Burleson, fled into the hallway where they watched through the doorway as Nolan beat and kicked Duncan. The woman's screams were loud enough to bring Floyd Riley, a bellboy, up to the 8th floor—but he didn't want to confront Nolan either.  He said:
"He looked like a wild man to me.  His eyes gleamed and her cursed incoherently.  I could smell liquor on his breath.
Grace rolled over onto her stomach but the beating continued. At one point Dan Smith yelled at Nolan to stop, but was told to "mind your own business". Addressing no one in particular, the drunken cop declared:
"I've done everything for this woman.  I've paid for her room, bought her food and paid installments on her car."
Apparently in his mind the things he'd done for her entitled him to beat her. The terrified witnesses watched as he drew his revolver and repeatedly bashed her over the head until she stopped moving. Then he fired a couple of shots into the floor.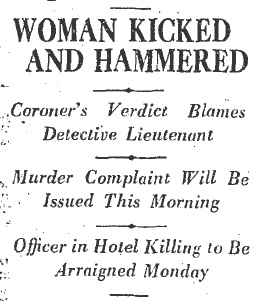 Once it appeared that his rage was spent, Wilson, Balfe, Smith and Riley tentatively approached Nolan.  He allowed himself to be taken back to his second floor room. He muttered the entire way that he loved Grace, but her battered body told a different story—one of uncontrollable jealousy and bad booze. After arriving at his room he downed several more glasses of gin, then he passed out on the floor.
The LAPD was called and Acting Captain Frank Condaffer, who had been Nolan's superior officer for years, swore to out the complaint charging the cop with murder.
Grace's two daughters, Edna (17) and Mary Jane (14) visited "Daddy" Nolan in jail. Sobbing, whether in grief or self-pity, Nolan wrapped his arms around the girls. The girls told officers that he had always been good to them.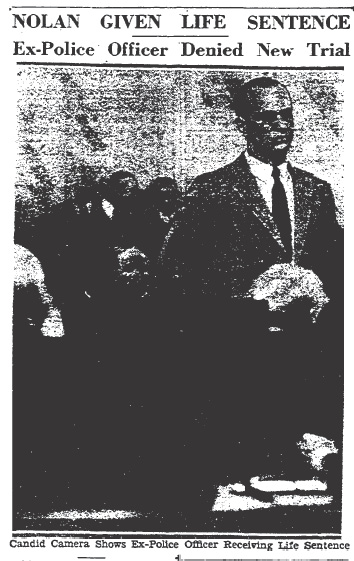 Nolan was denied permission to enter an insanity plea and jury selection began on November 9th. With several eye-witnesses to the fatal beating of Grace Duncan it didn't seem that Nolan had much of a chance to beat the rap. Helen Burleson testified that Nolan had been in a frenzied rage when he cornered Grace Duncan in the 8th floor room and beat her to death.
Attorneys for Nolan tried twice more to get permission to enter an additional plea of not guilty by reason of insanity, but the motion was denied each time. When the insanity plea went nowhere, Nolan took the stand and said that he had no memory of anything that had happened after he threw Grace out of his room.
Following four hours of deliberation, the jury returned a verdict of guilty of first-degree murder and Nolan was sentenced to life. He was lucky, the prosecution had wanted to see him hang.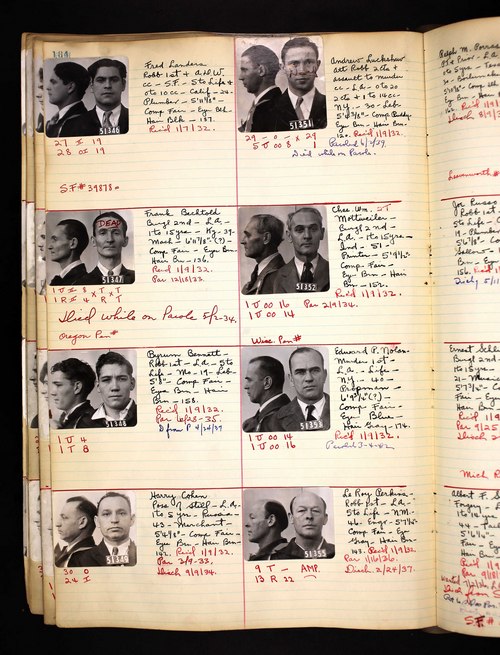 Nolan entered San Quentin on January 9, 1932. Look closely and you'll notice that his stated profession was propman.  Cops, even those who have been disgraced, aren't welcomed by the other inmates. If he was smart, Nolan never mentioned his decade on the Los Angeles Police Department to his cellmates.
On February 1, 1932 the State Board of Prison Terms and Paroles denied Edward Nolan's request for release.  The Board informed him that he would have to serve 10 calendar years before they would review his application again.
Nolan was released in early March 1942, but he didn't enjoy his freedom for very long. He died on July 20, 1943 in a VA facility in San Francisco.