Aggie began her newspaper career at the switchboard of the LOS ANGELES RECORD in 1926. The Record was located at 612 Wall Street near the Pacific Electric station at Sixth and Main. Aggie could see and hear the streetcars as they rumbled past the building, adding an industrial sound track to what she described as the "weird wonderland" of men in shirt sleeves pounding away on old typewriters. She quickly grew to enjoy the ambient hum which was occasionally punctuated by the shouts of reporters as they called out numbers for her to dial.
Her temporary job at the switchboard was nearly at an end when Aggie was approached by the woman's editor, Gertrude Price. Price wrote a column under the pseudonym Cynthia Grey. Each year at Christmas she organized a food and gift basket program for the needy. Hundreds of letters poured in to the Cynthia Grey column from donors and the poor alike. The job of putting together the baskets was an enormous one and Gertrude asked Aggie to assist.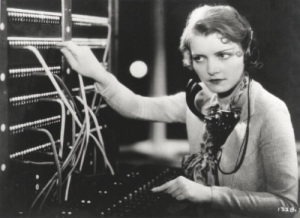 The 1926 holiday season was ending and Aggie was contemplating her return to home and hearth, when Gertrude surprised her with an offer of a part-time job. Price asked Aggie if she would be willing to work two hours a day for her taking phone messages and handling Cynthia Grey letters from readers. Aggie accepted the offer with gratitude.
Gertrude Price became Aggie's friend and mentor. Aggie was an apt pupil. One of the most important lessons that she learned about the newspaper business came near her twenty-fifth birthday; Los Angeles was still reeling in horror from the kidnapping and gruesome mutilation murder of a twelve year old school girl, Marian Parker. The girl's killer had been identified as William Edward Hickman, and he'd become the subject of the biggest manhunt in Los Angeles' history. Aggie was in the newsroom when she saw a United Press flash that Hickman had been captured in Oregon. She was so excited that she telephoned her husband and shared the news with him.
Price overheard the call and told Aggie that she must never discuss a story before it was in print and circulating on the streets. Aggie at first felt ashamed that she'd disappointed her mentor, but quickly realized that Price was instructing her in a fundamental principle of the news business. Aggie would not make the same mistake again.
Aggie couldn't stay at her desk while the bulletins of Hickman's capture continued to flood the newsroom, and she finally ended up looking over the shoulder of Rod Brink, the city editor. Brink said to her "All right, if you're so interested, take this dictation." It was at that moment Aggie realized that she wanted to become a reporter.