It was nearly 3:00 a.m. on February 9, 1930 — a man was driving along Spring Street in Long Beach when he saw a crumpled form ahead of him in the middle of the road. He couldn't make it out right away, the headlights on his old beater didn't work. As he closed in on the shape he thought it was a dead dog and he planned to drag the poor thing out of the  roadway, but when he pulled up and saw the savagely mutilated body of a woman he found a phone booth and called the cops.
At 3:10 a.m. on February 9, 1930, the Norwalk Sheriff's Station received an anonymous call from a tipster who said that there was a dead female body on a lonely stretch of Spring Street, about one-half mile west of the Los Angeles County line.

Officers C. Vandervort and F. Beiler of the Signal Hill Police Department rolled to the scene where they found the body of a woman, approximately 33 years of age, 5′ 1″, 106 lbs., auburn hair, with her clothing in tatters. She was cold.
About three hours following the anonymous call Deputy Brewster of Sheriff's Homicide  arrived and took charge of the scene.
The only thing about the woman's death that was immediately ascertainable was that she'd been horribly mutilated, but whether the wounds were pre- or post-mortem, the cops couldn't tell. They weren't even sure if she'd stumbled onto the road and been hit by a car, or if she'd been murdered and dumped. She had a bruise over her right eye near the temple, and the entire right side of her face, including her chin, was covered with abrasions. Her left arm had been ripped away from her body and was located, along with bits of flesh, 350 feet west of the corpse. On the victim's left hand was a white gold and diamond wedding ring set. Smears of blood, made by car tires, were found on the right side of the highway.
Fortunately the dead woman's handbag was discovered at the scene and the cops preliminarily ID'd her as Mrs. Billie Payne.
Brewster and his fellow investigator, Dep. Croushorn, quickly located Mr. Price E. Payne, from whom Billie had recently separated. Estranged spouses are always of interest to the police, and Payne was questioned at his Long Beach home only a few hours after the discovery of Billie's body.
Price told Brewster and Croushorn that he had met Billie on the Pike at Long Beach, and after a week's acquaintance he'd married her. Price had obviously never heard the adage: "Marry in haste, repent at leisure." The only good news for Price was that his period of repentance turned out to be a mere twenty-eight days! Price told the deputies that following their whirlwind courtship and marriage they'd moved to San Francisco.
On the twenty-eighth day of their marriage Price arrived home to find Billie in bed with a taxi-driver by the name of Brown (I think there's a blues song in there somewhere). The cuckold said that Billie and Brown were both so inebriated, and so involved in their sexual liaison, that they never heard him enter the room! Price packed up his clothes and left.
Price also told investigators that Billie had been cozy with a rum-runner by the name of Charlie Kelly, and that as far has he knew she had intended to make a trip to Los Angeles with Kelly. According to Price, Billie was well acquainted with several rum-runners up and down the California coast and he suggested to the police that his estranged wife may have been "taken for a ride".
After a rigorous grilling, Price was cleared of any involvement in Billie's death. The investigation continued.
One interesting clue surfaced; Fred Meyers, a reporter for the L.A. Times, said that he'd picked up a man's handkerchief bearing the initial "H" at the scene of the crime — he'd actually gotten it at the McFadyen Funeral Parlor — he'd probably bribed an employee to get his hands on it. But the clue was a dead end.
As investigators delved deeper into Billie's life they discovered that she'd had many acquaintances, most of whom seemed to want to party as hard and as often as Billie did.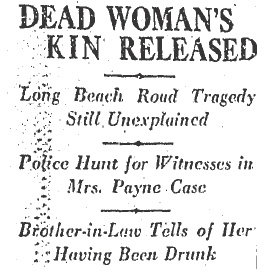 The only person who was ever taken into custody for Billie's death was her sister's former husband, O.K. Kidd (I'm not fooling). Kidd had taken Billie out on the night of her death; they had intended to go to a dance but Kidd thought that Billie was too drunk to be much of a partner. Oh yeah she was swaying, but only in time to the music in her head. The couple got as far as the curb in front of the Blackstone Hotel before Kidd insisted that Billie have a seat and wait for him while he retrieved his car, which was parked a couple of blocks away.
About fifteen minutes later when Kidd returned to fetch Billie, she was gone. He looked for her at the Pike and a few other local hangouts before deciding that she must have bumped into someone she knew and simply taken off. He may have been annoyed, but he wasn't worried; at least not until the following day when he found out that Billie had never made it back to her parent's home. She'd been staying with her folks for the few months following her disastrous marriage to Price Payne.
Witnesses who had seen Billie in front of the Blackstone Hotel came forward. One of them, a sailor named Walter Madon, stated that he'd seen a woman answering Billie's description collapsed in the street in front of the Blackstone.  He said that she had been surrounded by onlookers and was extremely drunk.
A man approached Madon and asked if he'd give him a hand putting the nearly unconscious woman in a car. When Madon attempted to assist, another man pushed him away and told him to get lost. Madon told cops that the redhead was crying. She kept repeating "I don't want to go." Two men decanted Billie into a large blue car, possibly a Packard, while a third man waited in the driver's seat. The car drove up to Ocean Avenue and vanished.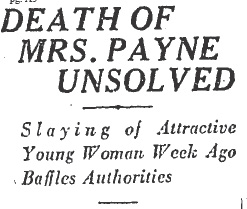 The clues and informants dried up — Deputies Brewster and Croushorn tried hard to catch a break in their investigation of Billie Payne's brutal death, but they finally requested that the investigation be suspended, to be reopened if anything new developed. The case has been cold for 83 years.
On February 22, 1932 a bizarre incident took the life of another Billie Payne (no relation to the party girl). This story appeared in the Los Angeles Times: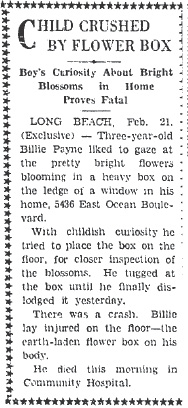 NOTE: Many thanks to my fellow crime historian, Mike Fratantoni, for introducing me to this story.