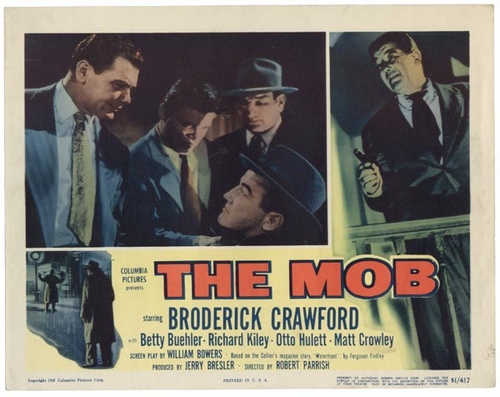 Welcome!  The lobby of the Deranged L.A. Crimes theater is open. Grab a bucket of popcorn, some Milk Duds and a Coke and find a seat.
Tonight's feature is THE MOB [1961] starring Broderick Crawford, Betty Buehler, and Richard Kiley.
Enjoy the film!
TCM Says:
While walking home late one rainy night, off-duty police detective Johnny Damico hears the gunfire of a shootout. A man at the scene identifies himself as a fellow officer and hastens to summon police backup as Johnny examines the victim. When the officer fails to return, Johnny grows suspicious and telephones his commanding officer, Lt. Banks. After Johnny relates the events, Banks summons him to headquarters, where he informs Johnny that the badge shown to him by the man at the scene was taken from an officer murdered a few hours earlier. The victim is identified as the principle witness for a grand jury investigation into the waterfront rackets.
http://youtu.be/Rfc5MwC8zCY