In 1905 the four Boos brothers, Henry, Cyrus, Horace and John moved to Los Angeles from Moscow, Ohio with a dream of opening their own cafeteria. Cafeterias were a new concept in those days; in fact the term hadn't even been coined until 1893 when John Kruger opened an eatery in Chicago modeled on European smorgasbords.
The brothers had worked in restaurants in New York and St. Louis and they were drawn to Los Angeles, as were so many others from the East and Midwest, because of its weather and the opportunity to create something completely new.
Angelenos loved the cafeterias, they offered a multitude of choices and, even better, you didn't have to tip! By 1916 the brothers were operating four cafeterias downtown.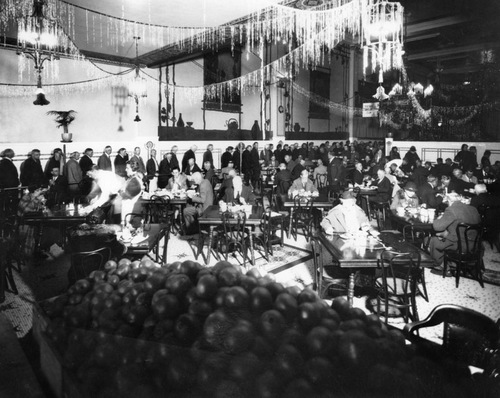 Cassie Altherr arrived in Los Angeles a few years after the Boos brothers. Cassie's husband, William, trained and showed Shetland ponies and was involved in what was referred to as the "amusement" business–I read that to mean carnivals and/or circuses. William may have been good with horses, but he was a miserable husband. The pair had married in 1902 in Alton, Illinois, but the union lasted for only a few years before William deserted Cassie. At least he left her stranded in Los Angeles–not the worst fate that could have befallen her.
In September 1910, Cassie sought to divorce her spouse on the grounds of desertion. Cassie testified that William wasn't a total deadbeat, he had sent her regular checks–usually accompanied by a terse note:
"Cassie, Please find enclosed check for $35."
The judge asked her if that sort of abbreviated communication was typical of William's correspondence, and she said that it was. The judge said:
"Well, they are brief and to the point, but they are not examples of the missive a man would send to his wife if he really cared for her."
Cassie won her divorce.
Cassie remained in Los Angeles; and it isn't clear how she and the cafeteria magnate met but they married on March 20, 1912. The wedding, a small affair, was covered the next day in the Society page of the L.A Times:
"Miss Cassie Altherr, daughter of Mrs. Mary Green of Kingsley Drive was married yesterday, to Henry Boos, a young business man of the city. Rev. J. M. Schaefle read the ceremony at the Hotel Alexandria, in the presence of twenty-four guests. The room was aglow with bride roses, and where the young people stood a forest of palms was effective.
Luncheon was served from a table, enhanced with a beautiful centerpiece of bride roses. A three months' trip through Florida, Cuba and the East will be enjoyed before making this city their home."
Only a few weeks into their honeymoon Cassie and Henry, along with the rest of the world, would hear the news that the luxury vessel Titanic had gone down in the frigid waters of the North Atlantic Ocean just four days into her maiden voyage. They must have felt fortunate knowing that, even if they had wanted to, they would never have been able to make it to Southampton, England in time to take the cruise.
The newlyweds returned from their extensive trip in June and eventually made their home in a palatial mansion on Gramercy Place.
Other than an occasional mention in the society pages the Boos appear to have led a quiet life. But this is Deranged L.A. Crimes, so you know that quiet domesticity never lasts.
On June 24, 1916, LAPD detectives Raymond and Canto, and a private detective named Blair, went to the small home of Naomi and Erwin Ernst at 1321 1/2 W. 25th Street. The Ernst home was about two miles and two million light years away from the Boos mansion.
The police had a warrant issued by Judge Richardson to arrest Naomi and Erwin for being members of a blackmail gang that was said to have extorted large sums of money from well-known businessmen and their wives over the course of about six months. A complaint had been signed by Cassie Boos alleging that the Ernsts had attempted to extort money from her.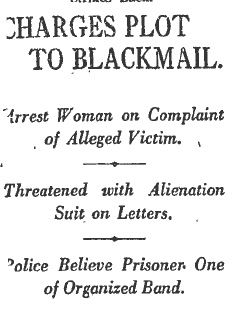 Naomi told the detectives that the charges against she and Erwin were absurd. She said she wasn't a blackmailer at all, in fact she was a wronged woman. She said she was going to name Mrs. Boos in a $50,000 alienation of affection (heart balm) suit.
Erwin, who was cooling his heels in the City Jail, was more than willing to talk about what he considered to be a misunderstanding. He backed up Naomi's claim that neither of them were blackmailers; however, he said that his wife had recently come into possession of some overly friendly letters sent to him the previous summer by Mrs. Boos, and therein was the problem.
Apparently, in August 1915 Erwin had been employed by the Catalina Excursion Company as a boatman and he had met Cassie and several of her wealthy friends when they hired the boat he piloted for an outing. It may only have been a day cruise, but apparently Erwin made quite an impression on the ladies.
Erwin said:
"I met Mrs. Henry Boos and several other ladies on an excursion and extended every courtesy; these ladies seemed to appreciate the kindness extended to them and I later received several letters from them manifesting their interest in me and their intention to help me."
Erwin claimed that he and Naomi had separated a couple of months prior to his meeting Cassie, so there was no way that the cafeteria owner's wife could have been responsible for alienating him from Naomi. He maintained that the correspondence from Cassie was innocent,  and certainly not intended to rupture his already rocky marriage.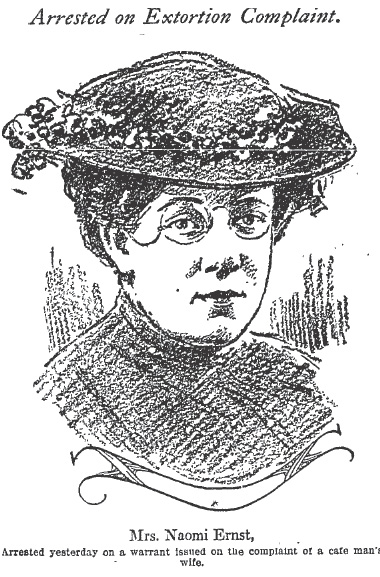 By December 1915, Naomi and Erwin had resolved their differences and resumed their marriage; that was until the letters surfaced. Like most daughters in a similar situation, Naomi sought the counsel of her mother, Mrs. L.C. Osborne, a former Long Beach osteopath.
Mrs. Osborne protested her daughter's innocence to the detectives and recalled her advice to her offspring:
"When my daughter obtained those letters from her husband, last December, I advised her to take them to Mrs. Boos and have it out with her and return them without resorting to any legal action."
Good advice that had fallen on deaf ears.
Cassie's attorney's tried to spin the case as an egregious attempt by two sinister individuals to perpetrate a crime against their client:
"We regret exceedingly that there has been any publicity of this case. The facts unquestionably show that a certain coterie of people deliberately planned and purposely acted to extort money by blackmail from our client. We are prepared to prove this beyond any question from many sources."

"Unfortunately, blackmailing in Los Angeles is becoming a fad."
They continued:
"In this instance they (the alleged blackmailers) have found one who has been strong enough to meet the light of publicity full in the face, for the sake of exposing the attempt that has been made to extort money from her, and the authorities, after a careful investigation are now bringing justice to the instigators of this nefarious plot."
Nefarious plot? Maybe. Maybe not.
The attorneys for both sides traded barbs in the newspaper, but it was tough to tell who was in the right. Were Naomi and Erwin blackmailers–was Cassie a home wrecker; and who would emerge victorious once the smoke cleared?
NEXT TIME: The Boos Cruise continues.