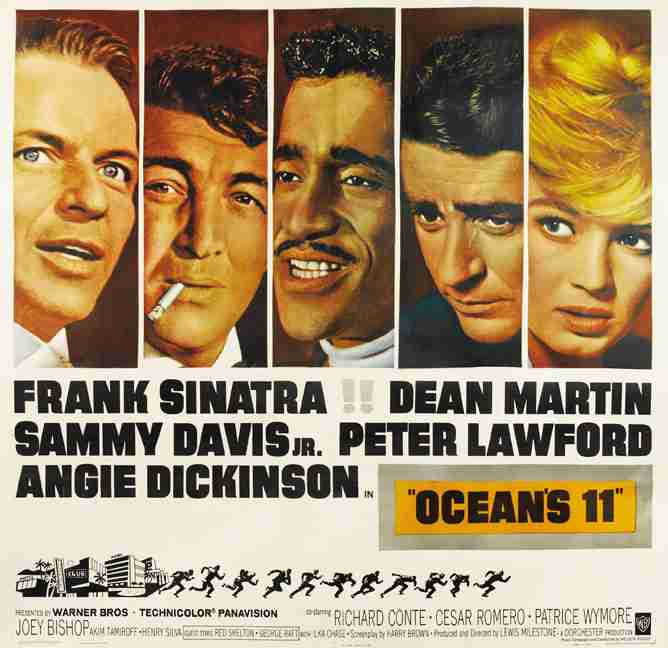 Welcome! The lobby of the Deranged L.A. Crimes theater is open! Grab a bucket of popcorn, some Milk Duds and a Coke and find a seat. Tonight's feature is OCEAN'S ELEVEN a caper film starring Rat Pack members: Frank Sinatra, Dean Martin, Sammy Davis Jr., Peter Lawford, and auxiliary member Angie Dickinson.  Enjoy the film!
TCM says:
In Beverly Hills, around Christmastime, excitable racketeer Spyros Acebos is waiting to hear from former sergeant Danny Ocean, who led the heroic 82nd Airborne unit of paratroopers during World War II. Acebos hopes that Danny will reassemble his highly trained commando unit to participate in a heist that will make them millionaires. Danny and a fellow paratrooper, Jimmy Foster, have worked out a detailed plan for putting Acebos' idea into action that requires carefully timed, military precision. However, they are avoiding Acebos' calls until they locate their former comrades and convince them to participate. After searching Phoenix, San Francisco and other cities where the men have scattered, Danny reunites his ten colleagues at Acebos' home to outline his plan, which is to simultaneously rob five Las Vegas casinos: the Sands, Flamingo, Sahara, Riviera and Desert Inn–on New Year's Eve at midnight.
APRIL 27, 2016 NOTE:  Unfortunately, the YouTube link for this film has been removed–likely due to copyright issues.