"If you remember the '60s, you really weren't there."  Charlie Fleischer, comedian
The United States officially banned LSD in 1967.  The government, media and parents all over the country relied on fear-based tactics to keep kids off drugs. It didn't work.
Attempts to terrify young people into abstinence is nothing new. The Women's Christian Temperance Union (WCTU) held that there was no such thing as "moderate drinking".  A small tipple always led to "an uncontrollable appetite" for more. They used the same approach regarding tobacco. Temperance Helps for Primary Teachers, offered a catchy verse meant to keep young men from smoking:
Say No! to tobacco, that poisonous weed.

Say no! to all evils, they can only lead

To shame and to sorrow, Oh, shun them, my boy,

For wisdom's fair pathway of peace and of joy

(Preese 1901)
Does the "Just Say No" message sound familiar? If you grew up in the 1980s, you'll recall First Lady Nancy Reagan's anti-drug campaign.
Well-intentioned doggerel was replaced by  film.  Watch how a cowboy's experiment with marijuana turns him into a killer.
In the 1930s film, The Cocaine Fiends (a remake of The Pace That Kills) the ham-fisted anti-drug message is very clear.  Small-town girls, beware.  Big city men will get you hooked on coke and lead you down a bad road.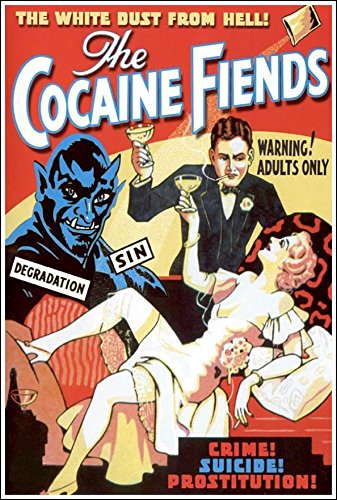 Thirty years didn't change the sledgehammer approach to anti-drug messages for young people. The 1960s saw its share of propaganda.  Drug users found the propaganda laughable.
Lysergic acid diethylamide (LSD) was criminalized in the U.S. by the government with the Controlled Substances Act of 1970. The act prohibits the manufacture, distribution, and possession of LSD without a license from the Drug Enforcement Administration (DEA).
If the possibility of a felony conviction didn't deter people, maybe the stories circulated about LSD would scare them straight. A gruesome tale, the legend of the microwaved/baked baby made the rounds for a long time.  There are variations, but the gist of it is this:
The parents of a newborn leave their child with a sixteen-year-old hippie-chick babysitter. They go to a party. A few hours later the mother phones home to make sure all is well.  The girl reassures her that everything is great. She tells her "the turkey's in the oven."  The mom hangs up, looks at her husband and says, "The turkey is in the oven?  We didn't have a turkey!"  They go home. Maybe there is something wrong with the sitter.
When the couple arrives home the babysitter, high on acid, is sitting in a chair freaking out.  The baby? The sitter, believing the baby was a turkey, popped the kid in the oven.
A film about LSD, produced and directed by the San Mateo Union High School District, came out in 1967. Ostensibly narrated by LSD himself, the film depicted screaming mental breakdowns and a variety of deadly accidents that could befall a person on acid.
The film carefully curates its message. Most of the horror stories associated with LSD use are apocryphal.  LSD doesn't cause death from chemical toxicity, but deaths caused by behavioral toxicity are documented.
You've heard this one before—a young woman drops acid and, believing she can fly, jumps from a window to her death.
Here is the true story that launched the myth.
On Halloween, 1948, a fifth child, a girl, was born to radio personality Art Linkletter and his wife Lois.  The couple named the baby Diane. Her godfather was Walt Disney.
Art worked hard for everything he had. He was born in Moose Jaw, Saskatchewan, Canada on July 17, 1912.   Abandoned as an infant, Art was adopted and raised by a preacher and his wife, Fulton and Mary Linkletter.
Art passed his adopted family's teachings along to his own children and raised his family in a traditional environment.  The kids were healthy and happy.  For a peek into the Linkletter family dynamic, check out this commercial Art and his three daughters made for Kellogg's Corn Flakes
Diane's life was untroubled until her teenage years. Like most teens, she tested boundaries and struggled to find herself.  Diane's path to adulthood was complicated when she eloped at age 17 with  Grant Conroy (seven years her senior). Diane thought she was pregnant, and Grant offered to "do the right thing." When she discovered she was not pregnant, her parents had the marriage annulled.  Diane and Grant never even lived together.
Diane moved into Shoreham Towers, a luxury building in West Hollywood.  The building's residents were older than Diane, so she made friends closer to her age in the neighborhood.  One of Diane's new friends was Ed Durston who lived with a roommate in a building across from hers.
On Friday evening, October 3, 1969, Diane went out with a friend, Robert Reitman, to a show at the Griffith Observatory.  Robert dropped Diane off at her apartment about midnight and she joined a street party on her block.
On Saturday morning, Dick Shephard looked out his bay window and watched in horror as a woman fell from the window of a sixth-floor apartment at the Shoreham Towers. She screamed, then hit the sidewalk with a sickening thud.
NEXT TIME:  A life ends and a myth begins.