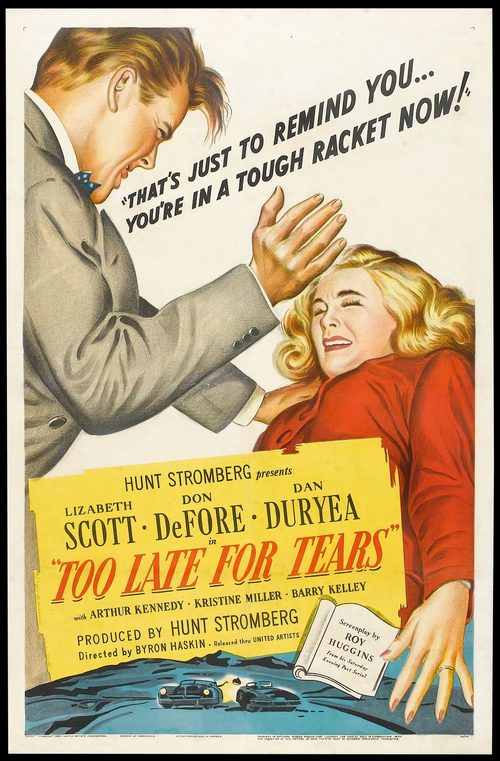 Welcome!  The lobby of the Deranged L.A. Crimes theater is open. Grab a bucket of popcorn, some Milk Duds and a Coke and find a seat.  Tonight's feature is TOO LATE FOR TEARS [1949] starring Lizabeth Scott, Don DeFore and Dan Duryea.
It's not a great print but it is definitely watchable–unfortunately none of the prints prior to the recent restoration are very good Bear with it though, it is a terrific film. Lizabeth Scott is a total badass; the epitome of the noir femme fatale. If you're in L.A. and can get to the Egyptian Theater TONIGHT a restored print will be shown as part of the Film Noir Festival. If you miss this particular film don't fret, the Film Noir Festival runs from March 21, 2014 — April 6, 2014.
For other news on Film Noir Los Angeles, check out Facebook.
TCM says:
One night on a lonely highway, a speeding car tosses a satchel of money, meant for somebody else, into Jane and Alan Palmer's back seat. Alan wants to turn it over to the police, but Jane, with luxury within her reach, persuades him to hang onto it "for a while." Soon, the Palmers are traced by one Danny Fuller, a sleazy character who claims the money is his. To hang onto it, Jane will need all the qualities of an ultimate femme fatale…and does she ever have them!
http://youtu.be/1pRgyhqprPQ