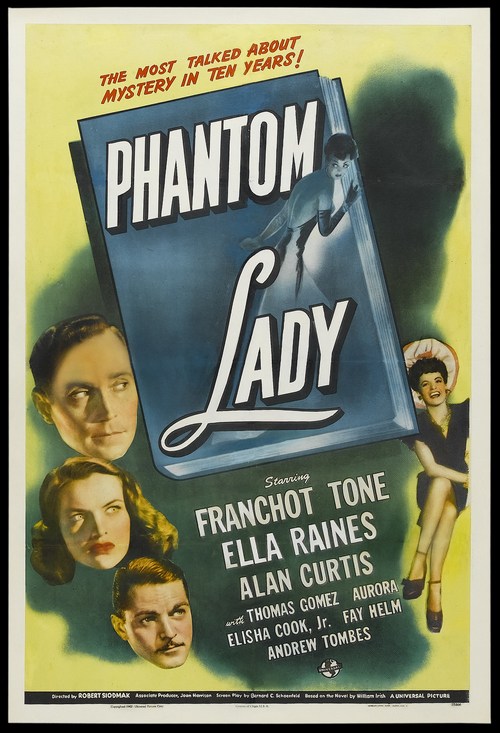 Welcome!  The lobby of the Deranged L.A. Crimes theater is open. Grab a bucket of popcorn, some Milk Duds and a Coke and find a seat.
Tonight's feature is PHANTOM LADY [1944] based on a novel by Cornell Woolrich and written under his pseudonym, William Irish. The film was directed by Robert Siodmak and starred Franchot Tone, Ella Raines and Alan Curtis.
Enjoy the film!
TCM says:
At Anselmo's bar in New York, Scott Henderson sits dejectedly next to an equally despondent woman wearing a distinctive hat. Scott offers the woman tickets to a musical show that he cannot use, but she is not interested until Scott asks if she would like to accompany him to the show. Impulsively she agrees, on the condition that they do not exchange any personal information and just enjoy the evening together. At the show, Scott and the woman sit near the front, where the woman attracts the eye of the orchestra drummer and singer Estela Monteiro, who is furious that the woman's hat matches her own. After the show, Scott escorts the woman back to the bar and they part amicably. Upon returning to his apartment, Scott is greeted by by police Inspector Burgess, who informs him that Scott's wife Marcela has been strangled to death with one of Scott's ties.