On November 13, 1957 a jury of ten women and two men was selected in Santa Monica Superior Court for the second murder trial of nineteen year old Charles Lee Guy, III. The teenager  stood accused of the shotgun slaying of Guy F. Roberts, his mother's fiancee.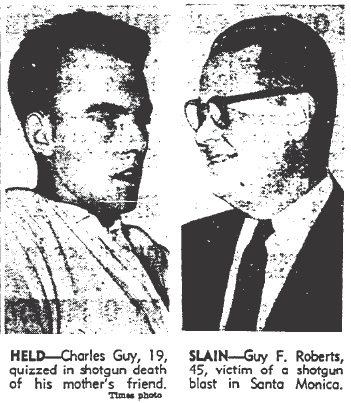 Charles' mother Nina didn't allow minor distractions like a murdered fiancee or a jailed son stand in the way of her happiness. She and Wilson Miles, the man with whom she and Charles had been living prior to her meeting Roberts, eloped to Tijuana!
I believe that the impulsive marriage was a way for the couple to ensure that neither of them could be compelled to testify against the other.
At least Charles had two attorneys who cared about him, his father, Charles Lee Guy, Jr. and one of his former stepfathers, John Angus.
Reporters asked Nina if she would be called as a witness for the prosecution:
"I hope I don't have to testify against my son. I don't see how I can. Sonny and I have always been devoted to each other".
She also said that Charles had said to her:
"Gee, mom, I'm sorry. I don't know why I did it."
With a mom like Nina poor Charles didn't need any enemies.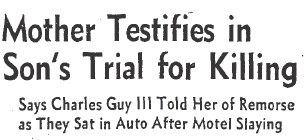 In an attempt to undo any damage inflicted on their case by Nina, Charles' father/attorney explained that:
"He (Charles) had no motive and no reason to commit the crime. He believed his mother was involved and wanted to cover up for her."
At least Charles' father was able to score a couple of important points during his questioning of Detective William Garn.  Detective Garn testified that when he arrived at the Miles' home to arrest Charles, Wilson Miles answered the door and handed him (Garn) the keys to the dead man's car! According to the detective, the car keys had been in Wilson's room and NOT in the room occupied by Charles! In my book that is a smoking gun.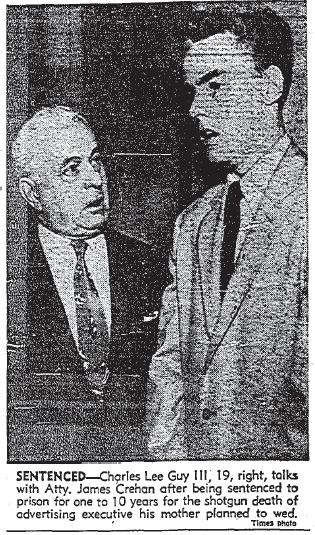 Charles testified that he had covered up for his mother, even though he was angry at her for seeing Miles during her engagement to Roberts:
"I thought that either my mother or Mr. Miles had killed Mr. Roberts."

"She would write on the mirror at Mr. Miles' house, 'I love you,' and then she'd go up to Mr. Roberts' place and write the same thing on the mirror. It was a mess."
Despite evidence that, in my opinion, offered sufficient reasonable doubt to justify an acquittal, on December 5, 1957, after deliberating for 5 hours and 20 minutes, Charles was found guilty of involuntary manslaughter and sentenced to from 1 to 10 years in prison.
When asked to comment on the verdict, Nina said:
"I'm heartbroken. I know Sonny is guilty, but I know he wasn't in his right mind. I don't blame Sonny for what he said about me during the trial. I know he had to do it."
She added that she was thinking of selling the story of her marriages and the crime to a magazine.
Charles spent several years in prison. His mother rarely visited; but his dad continued to offer his support and looked forward to eventually taking Charles with him to North Carolina.
While he was an inmate Charles requested a tape recorder and a guitar to help him pass the time; then he started recording prison folk songs. Capitol Records heard about him from L.A. Times Columnist Paul Coates, and Charles got a record deal.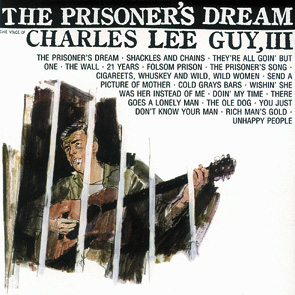 Charles' album, The Prisoner's Dream, was well-received. On October 4, 1963 Time Magazine reviewed the album:
"Charles Lee Guy III has been an inmate of California State Prison since he was 16 [sic 19]. The songs he has learned to sing there all reflect his sorry circumstance – and among them is the latest composition of a prison chum, country music's Spade Cooley [himself a wife killer]. Guy's woeful voice and guitar accompaniment fit the spirit of his music, and in this remarkable album he has the power of a young white Leadbelly."
One of the songs on the album was entitled: "Wishin' She Was Here (Instead of Me)". I imagine Charles spent some awful nights at Folsom fantasizing that Nina was locked up and that he was free.
Another of the songs on Charles' album was an original composition, "Cold Gray Bars", given to him by western swing star, Spade Cooley.  Cooley was doing time for the 1961 murder of his second wife, Ella Mae. Cooley had suspected Ella of repeated infidelities (never mind that he'd been serially unfaithful) so he beat her head against the floor, stomped on her stomach, then crushed a lighted cigarette against her skin to see if she was dead. When the cops arrived Spade claimed that Ella had fallen in the shower.
Upon his release from prison, Charles moved to North Carolina to work in his father's law office. He and his dad had both wanted him to have a life out of the public eye, which he seems to have achieved.
As far as I've been able to discover Nina died in 1977 at age 57. I don't know the cause of her death, but I'll bet that it had nothing to do with a guilty conscience.  Charles Lee Guy Jr. died in 1996 after serving 14 years as a district judge.
I found this 2011 obituary for Charles:
"Charles Lee Guy III, 73, of Elizabethtown, died Saturday, June 18, 2011. Services: Funeral will be held in Boise, Idaho. Survived by: Sons, Donnie and Lee; daughter, Tanya Williams; stepmother, Mildred; sisters, Alicia Horne, Judy Angus, Betsy Horner and Natalie; brothers, Michael and John Angus and Robert and Richard; and six grandchildren. Lewis-Bowen Funeral Home of Bladenboro."
I hope Charles had a happy and fulfilling life — I believe that he got a raw deal from his mother.