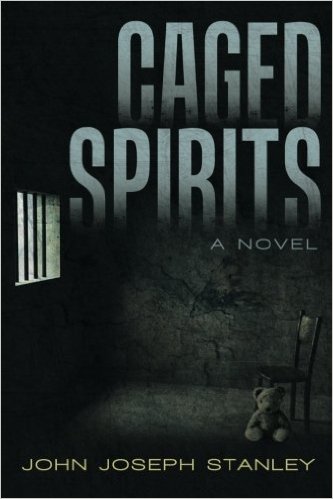 John Joseph Stanley has worked in law enforcement and corrections as a peace officer for over thirty years.  He he is the author of over sixty articles on law enforcement history and tactics and has won awards for his fiction and historical nonfiction. 
In addition to continuing to write fiction, John currently writes a column for the website CorrectionsOne.com, contributes to the website PoliceOne.com and writes a tactical history column for the California Association of Tactical Officers (CATO) quarterly publication CATO News.   He is also the principle contributor to multiple law enforcement related Facebook pages including:  The Los Angeles County Sheriffs' Museum, The Los Angeles County Peace Officers' Memorial, and Tactical Science.

The depth and breadth of his accomplishments continue to astound me–in particular his fascinating novel CAGED SPIRITS. It seems like it was ages ago that he revealed that he to me that he was working on a novel. When I asked him what it was about he offered me only a few tantalizing bits  to ponder: Nazis, the supernatural, and law enforcement. As I discovered after reading it, It is also about love, loss, and redemption.
Recently, John was gracious enough to grant me an interview.
* * * * * * * * * * * *
Joan Renner: John, I want to congratulate you on your first novel, CAGED SPIRITS! I thoroughly enjoyed it. It's a unique book which defies categorization. It combines the best elements of mystery, thriller, and horror fiction. What inspired you to write the book?
John Joseph Stanley: Thank you, Joan. First, I want to thank you for interviewing me and sharing my book with your followers. Caged Spirits reflects my interests and professional experience. As a reader, I'm a big fan of Stephen King, Dean Koontz, J.K. Rowling, Tolkien, and C.S. Lewis, among others. But I also love the works of Tom Clancy, Vince Flynn and Brad Thor. Also, for the better part of thirty years I've worked in law enforcement. A lot those years were spent either working in jails or teaching those who worked in jails. Caged Spirits is the outflow of all those tributaries merging into a larger river flowing downstream from my Christian world view.
JR: Although set in the present day, the narrative of CAGED SPIRITS is driven by events from the past, in particular WWII. Is the book historically accurate?
JJS: Yes, I have a Master's Degree in American legal history and have published articles in many articles historical books and journals. One of the lesser known parts of the Lend Lease agreement between the U.S. and Great Britain in 1941 called for the U.S. to train RAF pilots. Lone Eagle field is the doppelgänger for the very real Polaris Flight Academy at War Eagle field located in Lancaster, California. There were also prisoner of war camps for Axis soldiers all over the U.S. and Canada. Many were attached to existing military bases and the Los Angeles Sheriff's Department's aero squadron before the war did consist mostly of former military pilots.
JR: I read a lot of crime fiction and I know that most authors have to consult experts when it comes to the finer points of handling lethal and non-lethal weapons. How were you able to bring such remarkable authenticity to the scenes in which weapons were used?
JJS: In my case, I was my own expert. I'm currently a lieutenant on the Los Angeles Sheriff's Department and command a platoon for one of our four Department riot control teams. I've taught less lethal weapons and jail riot and disturbance tactics for almost twenty years. I was also briefly a Senior Master Instructor for TASER International. So I know how all of TASER's electronic control devices (ECDs) function. Having taken multiple Taser hits over the years, I also know well how the effects of a Taser feel.
JR: Were the tactics employed to contain violent situations in the jail accurate? I found those scenes heart-stopping!
JJS: Yes. I'm very familiar with responding to all types of jail disturbances. In addition to my current collateral duties as a platoon commander for our riot control team, I spent almost ten years of my career teaching the LASD's Custody Incident Command School. This week long class was designed to teach newly promoted sergeants and lieutenants how to command tactical units in any type of jail disturbance. We even did a shorter version of the class for command officers. I've also written a column on jail tactics for several years for the website CorrectionsOne.com and recently I started writing a quarterly tactical history column for the CATO News, the magazine of the California Association of Tactical Officers of which I'm a member.
JR: Your protagonist, Gary Conner, personifies the traits associated with the term "compassionate warrior". Would you mind explaining to readers what that term means?
JJS: It is the job of law enforcement personnel to be firm but fair. This is especially true when working in a correctional setting. It is not our job to punish. Being incarcerated is punishment enough. Still, inmates expect us to maintain control. Most prefer this. Gary Conner reflects this view. Unfortunately, he finds himself in the middle of extraordinary circumstances when he arrives at Lomax. So his compassion is tempered with his need for decisive forceful action.
JR: Is there anything that you would like to share with readers about the story or its setting.
JJS: At its heart, Caged Spirits is a story about redemption and forgiveness. I set it in a part of the country that is equal parts enchantment and isolation. Those elements are in the story as well. I challenged myself to write a novel that I could throw down with satisfaction next to books of some of the authors I read. I'm very pleased with how Caged Spirits turned out.
JR: Are you planning to write another novel?
JJS: Actually, my next novel is already written. It's titled Racing Apollo. I'm in the process of rewriting it now. My main character is another Los Angeles Sheriff's deputy, but this one experienced a significant episode in his youth that turned his adult life into a mess. In the story, he is given a very unique opportunity to correct this. Like Caged Spirits, Racing Apollo also involves malevolent dark forces at work to tear down my protagonist, but his biggest enemy is the one looking back at him in the mirror. This was a very fun novel to write. It is a road novel that involves time travel. It is actually two parallel stories that intersect over forty-five years apart. In one story my protagonist, at age ten, is reluctantly moving with his family from Buffalo, New York to Anaheim, California. In the other, his adult self is retracing the journey his family took across the country decades before. The original trip took place in July 1969. Specifically, between the 16th and 20th of July. The novel derives its title because my main character's father tries to make a game of their move by saying they are racing Apollo 11 as it journeys toward the moon while they head west for California. Like most road novels, this one takes a while to tell and is quite a bit longer than Caged Spirits.
*************
Many thanks to John for the interview, and I'm already looking forward to his next novel.
CAGED SPIRITS is available Amazon (see right sidebar) and also through Barnes and Noble.