Captain William Bright and the LASD Homicide Squad were being dragged from pillar to post across Southern California in their effort to identify the woman whose dismembered torso was found by father and son scavengers, Jose and Raymond Manriquez.
On April 9, 1929, Bright dispatched deputies to San Juan Capistrano where beach goers had reported seeing two men dumping mysterious packages into the sea. Deputies were also still conducting surveillance on a physician who seemed suspicious and searching for another medical man who had run off with an eighteen year old girl; the pair had so far eluded detection.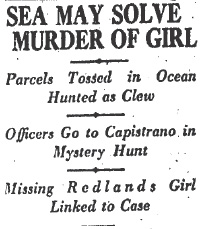 The tally of missing girls grew by one when it was reported that a fourteen year old Redlands girl, described as being as large as a grown woman, was missing.
The Sheriff's Department had been flooded with tips and reports of suspicious men and missing girls but Captain Bright admitted that the investigation had yielded very little useful evidence. If only they could find the missing limbs or, better yet, as horrendous as it would be, the head of the dead woman.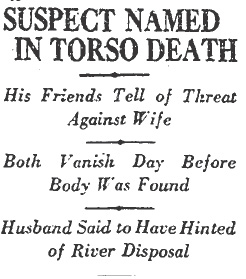 On May 4th the newspapers reported that there was suspect in the torso murder–Leland Wesley Abbott, an ex-con whose estranged wife was missing and had been living in Lynwood near where the torso was discovered. Deputy Sheriffs and LAPD were tipped off by a couple of his co-workers when he failed to turn up at the warehouse where he was employed. One of the co-workers, Ray L. Martin, said that Abbott had told him that his wife was "…in love with another man in Lynwood and had gone there to live."
Martin told investigators:

"He (Abbott) asked me if I would drive him to Lynwood.  When I asked him what for, he said he wanted to go down and get even with his wife.  I told him I had a date and he said that he had a job to finish and that he had to do it in a day or two, or it would be too late, as he was going back east.

The next day, on April 3, it was stormy and raining and Abbott came to me and said that this was an ideal night for him to get even with his wife.  I told him that he was crazy to think of such a thing and that he would be caught.  He replied that there was plenty of quicksand in the Los Angeles River that was close by where she lived.  I feared he might be in some bootlegging scheme and I told him I was afraid to drive him to Lynwood.  He said that it was not connected with bootlegging, but that it was concerned with his wife being in love with another man. He left work and we've never seen him again."
An APB was issued for Abbott who was described as  "thirty-three years of age, five feet six inches tall, weighs 145 pounds, with dark hair and dark brown eyes.  He had a scar on each wrist and one on his right fore-arm."

Ray Martin wasn't the only co-worker Abbott had confided in. He'd told William Spence he planned on "fixing her (his wife) plenty when he got ready."  Abbott had also said that he was aware of the quicksand along the Los Angeles River, and that it would be the perfect place to dump a body that you wanted to have vanish without a trace.

Threats against his missing wife coupled with his habit of carrying a surgical knife in a sheath on his belt, along with an automatic revolver in his pocket, made Abbott a damned good suspect, and his wife the likely victim.
Deputy Sheriff Modie and Detective Allen traced Abbot to a mountain road camp in Chilao, thirty-three miles north of Mt. Wilson. It was suspicious that he'd arrived at the camp looking for work on April 5th, just one day after the discovery of the torso in the L.A. River.
Abbott denied killing his wife–in fact he denied ever being married at all. He admitted that he had told his warehouse buddies that he was married, but it was a lie. When asked his former co-workers said that, come to think of it, they'd never actually seen Abbott's alleged spouse.  But that didn't mean there wasn't one.
What about the surgical knife?  Abbott said that his stepfather was a surgeon and that he'd considered becoming a doctor himself and the knife was a gift. Somewhere along the way Abbot had deviated from the path to a medical career and had instead became a gun runner smuggling weapons into Mexico. He had been busted and served a term in Leavenworth Prison.
Abbott had more explaining to do when cops found a trunk belonging to him that was strained on the underside of the lid–stains that could be human blood. The contents of the trunk were no less ominous: two shot guns, half a dozen pocket knives and four pistol holsters–but the surgical knife wasn't there. Abbott said he'd misplaced it. The trunk was delivered to county chemists for examination.
Attorneys for Leland applied for a writ of habeas corpus, but he said that he'd prefer to stay behind bars until his story checked out. The fact that he was being held as a suspect in such a brutal crime might make him a target if he was freed before he was cleared of any wrongdoing. He didn't get his wish though and he was released from custody, but it was clear from subsequent newspaper reports that the Sheriff's investigation had taken a slight turn away from Abbott based upon some new leads.
A few days following his release Abbott walked into Captain Bright's office with the missing surgical knife. He said he'd found it in the pocket of an old coat in one of his trunks. Even though Abbott was cooperating with the investigation he remained a person of interest.  There were several loose ends that the homicide squad had to tie up–in particular they were troubled by the conflicting stories Abbott had told his co-workers about having a spouse.  Captain Bright received newspaper clippings from Indiana, where Abbott was from, which stated that he had been charged by a Miss Marion Stevens with abduction and robbery.  However, until he got official confirmation from Indiana authorities Bright was willing to let Abbott return to the road camp–at least for the time being.
Whether Abbott had a wife or not wasn't the issue, the fact that he obviously had violent fantasies about women was.  And what if he'd abducted a woman in Indiana?
NEXT TIME:  The investigation into the torso slaying heats up with the discovery of crucial new evidence.