On January 23, 1955 the decomposing body of a woman was discovered lying face down in some weeds, ten feet down the bank of the west side of Latigo Canyon Road in Malibu.
The body was resting on a bed of heavy brush, inches above the dirt, and the head and face were almost completely decomposed. When Los Angeles County Sheriffs Detectives examined the woman in situ she was still completely dressed and her clothing was intact. She was wearing a beige nylon skirt with variable colored horizontal weave; green seersucker blouse; nylon stockings; white cotton garter belt; and a short black wool coat. Her undergarments were not disturbed. The woman was determined to be 25-30 years of age with crooked teeth and a slight overbite. She was a brunette, five feet tall, and petite. No shoes had been found at the location, however the cops thought she would wear a size 4 to 5. There was no jewelry and no ID found on or near the body.
Sheriff's investigators had nearly nothing to go on — and until they had the results of the autopsy they couldn't even be sure that the woman had been murdered.
The coroner completed his autopsy and concluded that Jane Doe had been struck over the head and strangled. It was a murder case. But the cops didn't know who she was, where she'd been slain, or by whom.
With so few clues to sink their teeth into the detectives followed up on the scant leads they had from the clothing found on the corpse. They got nowhere.

On the morning of January 24, 1955, Bob and Joy Monetti arrived at the Sheriff's detective bureau and said that they had read an account of the woman and her clothing and believed her to be their missing friend, Alexandra Roos. Joy was able to positively ID the dead woman's clothing as belonging to Roos, and the coroner confirmed the identification based on her fingerprints — she had worked at an Air Force base.
Joy and Alexandra had worked together in the credit department at the Bank of America located at 7th and Olive. Joy told the detectives that Anita Meloche, who babysat for Alexandra's three year old daughter Allison, might be able to provide further information regarding Roos and her associates.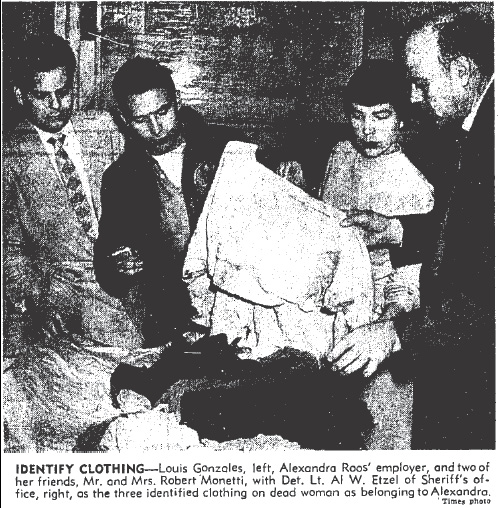 When questioned, Anita stated that she had been caring for Allison and had last seen Alexandra at 8:00 a.m. on Friday, January 7th. When Alexandra didn't turn up to collect her daughter Anita was worried — but not enough to report the woman she knew as "Xandra" missing. Xandra had stayed away for a weekend before, but when Monday rolled around and there was still no sign of her Anita decided she'd better take action. Anita went to the Highland Park Division of LAPD (now the home of the L.A. Police Museum) and filed a missing persons report.
Detectives began to piece together a picture of Xandra. She was thought to have had financial problems, but the supposed financial difficulties made no sense when the cops learned that she had been left a $15,000 (equivalent to $45,000 in current U.S. dollars) trust fund in New York and it had been under her complete control since she had turned twenty-one.
Abbe Miller, the New York attorney who had represented Xandra in litigation connected with the trust fund, said that the young woman had never known her birth father who had died before she was born. She was raised by her mother and stepfather, Hugo and Frieda Schmidt, but she never got along with either of them and finally cut them out of her life.
Xandra had given birth to her daughter in 1951.  The identity of Allison's father was unknown until Alan H. Brown, 46, a married film technician, came forward and admitted paternity.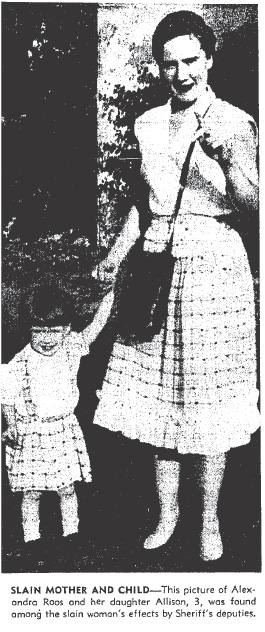 Xandra was described by acquaintances as being "careless" in her relationships with men, she seemed to have a penchant for older guys. Joy Monetti said:
"She had two or three boy friends of her own age, but she seemed to prefer the company of older men. She didn't go out very often, though. She spend a lot of her time at the library."
The characterization of Xandra by her acquaintances calls to mind the expression "damned with faint praise":
Damn with faint praise, assent with civil leer,
And without sneering, teach the rest to sneer;
Willing to wound, and yet afraid to strike,
Just hint a fault, and hesitate dislike.

–Alexander Pope, 1734
In nearly every statement made about Xandra she was described as moody, reserved, but also studious — which, combined with speculations about her careless love life, made her sound like a bookish slut.  A woman should expect kinder epitaphs from her friends.
Xandra had kept a diary for at least ten years and it revealed an independent streak and a strength of character than must have seemed confusing or even threatening to people during a time when women were still expected to be perfect wives and mothers.
Xandra had been a free spirit even in high school where her motto was: "Kiss them for it's a pleasure".
In her diary, Xandra wrote:
"I want to live by my own motivation, attached to someone I would feel the necessity of performing all the small duties and chores that make life worthwhile…"
She also confided to her diary:
"Accept me the way I am, for what I am, or do not accept me at all."
Remarkably, only a couple of weeks after having been handed a murder mystery Sheriff's homicide investigators had a suspect and a confession.
NEXT TIME:  The conclusion of the Death of A Free Spirit.