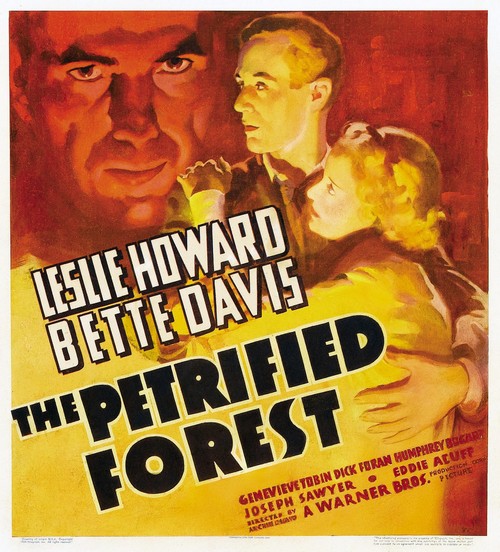 Welcome!  The lobby of the Deranged L.A. Crimes theater is open. Grab a bucket of popcorn, some Milk Duds and a Coke and find a seat.
Tonight's feature is THE PETRIFIED FOREST [1936] starring Bette Davis, Leslie Howard and Humphrey Bogart.
Enjoy the film!
TCM Says:
Alan Squire, a disillusioned and destitute intellectual, is hitch-hiking across the Arizona desert. He arrives at the desolate Black Mesa Bar-B-Q, where he meets the naively idealistic Gabby Maple, whose internal struggle reflects her mixed heritage. Half romantic French, half practical American, Gabby dreams of escaping her dull life to live in France. She is immediately attracted to Alan's lofty philosophies, but their short-lived, innocent romance is shattered by the sudden arrival of Duke Mantee and his gang. Mantee, a brutal killer heading for the Mexican border, uses the restaurant as his hide-out, holding a small group captive while he waits for his girl.
http://youtu.be/FpT0PdKvgpk