Tami Rogoway's failure to identify Franklin Freeman as one of the Bob's Big Boy shooters the first time around was a boon for his defense attorney, Madelynn Kopple. A rumor circulated that Rogoway's failure may have been the result of undue pressure applied to her by Kopple.  In any case, Kopple mounted a vigorous defense. But despite the rumors no verifiable evidence was found to prove that she had applied undue pressure on Rogoway and the witness did finally ID Freeman as one of the killers.
Clearly a pit bull in defense of her client, Kopple went so far as to write letters to the Los Angeles police and prosecutors charging that they were aware of Freeman's innocence and that they were "allowing the actual killer to remain free." Her action triggered a gag order. Undeterred,  Kopple supplied the name of the man she thought should take Freeman's place at trial: Thomas Carver, 29. It isn't clear from the LA Times coverage why Kopple accused Carver. If he had any connection with the other defendants it wasn't mentioned. Yet, at Kopple's insistence, Carver was brought in for a lineup at the Sheriff's Department. The gag order prevented details of the lineup from being reported in detail by the press, but the outcome spoke volumes. Carter was returned to his West LA home and was never charged.
The contretemps over Kopple's letters was far from over though. Superior Court Judge James M. Ideman dismissed her as Freeman's attorney for what he considered her over-the-top behavior. However Freeman refused to accept another attorney in Koppel's place so an appeal was filed and she was reinstated.
None of the defense attorneys were keen to have their clients tried together; so, motions to sever were submitted, and accepted.  The three defendants would be tried individually.
First up was Ricky Sanders. There was a mountain of evidence against him and even legendary defense attorney Leslie Abramson found it an uphill battle. A search of his home turned up a sawed-off shotgun similar to the weapon used in murders–as well as two spent shell cases the same size as those used by the second gunman. Cops also found coins in wrappers of the type used at Bob's.
At every opportunity the prosecutor,  Harvey Giss, reminded the jurors of the carnage in the restaurant—and the continuing pain felt by the loved ones of the dead in the days and months since.
Cesario Luna never regained consciousness and died of his wounds six months after the attack. Jurors learned that he wasn't even supposed to be in the restaurant that night. He came in on his day off to fill in for a worker who was a no-show. His son, Ismael, a dishwasher, miraculously escaped injury but whatever relief he felt was marred by the devastating loss of  his father. Michael Malloy, the night manager, lost his right eye. Evelyn Jackson, a waitress who pleaded with the gunmen for her life after the shooting began, was shot in the head and suffered severe brain damage. Dionne Irvin, waitress, had her arm shattered by a shotgun blast. Rogoway, waitress, who initially failed to identify Freeman, was partially paralyzed with 150 shotgun pellets in her body, three of them lodged in her spinal column.
On August 20, 1982 the jury found Sanders guilty of four counts of first-degree murder, seven counts of assault with a deadly weapon, five counts of robbery, two counts of attempted robbery and one count of conspiracy to commit robbery.
The jury that found Sanders guilty for his part in the December 14, 1980 massacre sentenced him to die.
With her boyfriend sentenced to death Carletha Stewart decided, on the very day she was to go to trial, to plead guilty and avoid the same fate. She copped to all of the crimes she was charged with: four counts of first-degree murder, seven counts of assault with a deadly weapon, six counts of robbery and one count of conspiracy to commit robbery. She admitted to driving the getaway car. Taking everything into consideration she got a good deal, 25 years to life.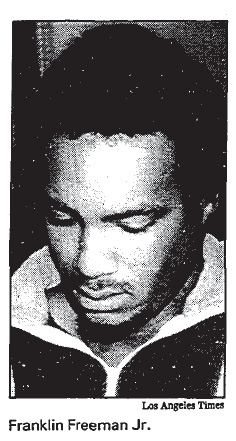 The last to stand trial was Franklin Freeman.
In his opening statement at Freeman's trial in August 1983, Deputy District Attorney Harvey Giss told jurors that they could expect Carletha Stewart to tell them the same story she had told him.  That her cousin had taken part in planning the robbery at Bob's but backed out when a third conspirator said that he might have to kill everyone in the restaurant.  Giss planned to discredit Stewart and prove that Freeman had gone through with the robbery and murders. Carletha threw him a curve when she refused to testify. Giss wasn't broken up about her decision since, as far as he was concerned, she was going to perjure herself.  The prosecution's case went forward without difficulty.
Further, Giss told the jury that he would present  testimony from the manager of a Taco Bell in Santa Monica that was robbed by two gunmen just hours following the slaughter at Bob's. The manager identified Freeman and quoted his accomplice as saying: "We are going to jail for 30 years for what we just did, so we don't care about you." Then the man identified as Freeman said, "Put him in the freezer; put him in the refrigerator and plug him."
The manager would likely have died if he hadn't escaped by batting the gun out of the robber's hand, grabbing it, emptying the shells out of it and then diving through a plate glass window.
The trial lasted four months and the jury deliberated for one week. On December 22, 1983, four days past the third anniversary of the crime, Franklin Freeman Jr. was convicted of four counts of first-degree murder, seven counts of assault with a deadly weapon, six counts of robbery, and one count of conspiracy. He was also found guilty of attempting to rob the Santa Monica Taco Bell and guilty of assaulting the manger with a deadly weapon.
Freeman sat impassively as the verdict was read, and while a young woman screaming "no" and "you liar" attempted to lunge through the short swinging gate that separates spectators from trial participants. Two bailiffs subdued her and she was removed from the courtroom. Whether she was a relative, girlfriend, or just a trial groupie wasn't revealed.
During the penalty phase the jury was unable to reach a decision about Freeman's punishment and announced that they were hopelessly deadlocked.
Because of the deadlock the prosecution and defense were compelled to present their evidence to a second jury tasked with determining Freeman's sentence. Nearly one year following his conviction Freeman was sentenced to life in prison without the possibility of parole. Freeman showed no emotion when his sentence was pronounced but Madelynn Kopple burst into tears.
When asked by reporters why Freeman's life had been spared, the jury's forewoman said that they had some doubts regarding the extent of his involvement in the murders and so decided against sending him to the gas chamber.
WHERE ARE THEY NOW?
Ricky Sanders — is still on death row.  On May 26, 2010, he filed an appeal in the US Court of Appeals for the Ninth Circuit over the denial of his habeas petition in Federal District Court. I don't know the outcome of his appeal, but it was very likely denied. If and when California resumes executions he is certainly at the top of the list.
Franklin Freeman Jr. —  is in prison serving a sentence of life without the possibility of parole.
Carletha Stewart — a petition circulated by a friend of hers a few years ago advocated for her release, but as far as I can tell she is still incarcerated.
Madelynn Koppel — according to  the California Bar Association she continues to practice law.
Leslie Abramson — is best known for her defense of Erik and Lyle Menendez for the 1989 shotgun murder of their parents in Beverly Hills.
Harvey Giss — eventually left the DA's office and went on to become a superior court judge.  He retired in July 2014.
I don't know what became of the survivors of the tragedy. I sincerely hope that they were able to find some measure of peace and, those who were physically and emotionally able, went on to lead happy lives.